Monday Morning Swing Coach: Keegan Bradley, and the new face of clutch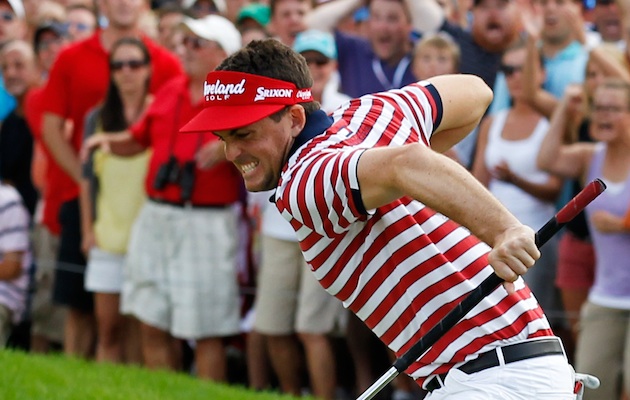 Ever since Tiger Woods entered our lives with his birdie putts for wins and clutch shots to set up victory, we have awaited a second coming of sorts. The successor to Tiger that was able to do what he could do with the golf club when the pressure was boiling. Maybe in our minds we all knew becoming Tiger 2.0 was an impossible task, but we hoped for moments when someone would do what he was able to do so often in his prime.
Sergio Garcia was the first to get our attention when he nearly ran Tiger down at the 1999 PGA Championship. His mix of talent and youthful moxie had us salivating at a potential Woods-Garcia career rivalry.
After that flamed out, it took us years before we got our hands on Rory McIlroy, and all the potential he brings to the game. But McIlroy, while not shy of pressure, is still just potential. So, what youngster really seems to rise to the occasion when nobody else will? That's Keegan Bradley.
He did it in his first PGA Tour win with a par in the first playoff hole to take down veteran Ryan Palmer. Then, after making a nasty triple-bogey on the 15th hole at the PGA Championship last fall -- exactly the type of pressure a rookie might be under to win a major championship -- he buckled down with birdies on Nos. 16 and 17 at Atlanta Athletic Club before making a solid par on the final hole with a putt that nearly caught the hole for his third consecutive birdie.
The playoff was another story of clutch. Bradley answered Jason Dufner's incredible shot on the first playoff hole that nearly went in for eagle with one inside of Dufner's ball, made a birdie there, followed it up with a par when Dufner was making bogey on the par-3 and again made a par on the final hole -- one that had been giving players fits all week -- to beat Dufner by a shot.
Still, my favorite moment in Bradley's short career of clutch came at Riviera, a tournament he didn't even win. Playing with Phil Mickelson and both trailing Bill Haas by a shot heading into the 72nd hole, Keegan watched as Lefty rolled in a 25-footer for birdie.
The crowd went insane. Then Bradley faced a 12-footer for birdie to join the other two in a playoff. He calmly rolled his in as well, giving us arguably the most exciting finish to any tournament in 2012.
Bradley's third PGA Tour victoryon Sunday gave us all the more reason to think this kid has that something special few professional athletes truly possess. First, he shot 64 to close, but it was the way he recovered from a nasty second shot on the 72nd hole and found a way to save par that shows exactly what he's made of. His ball was plugged in the short-sided bunker of a green that ran away from him. Most would just be thinking of a way to get the ball out of there, but Keegan played it to a spot he felt gave him a chance to make a putt.
Then he slammed that thing in the back of the cup and gave the type of reaction we've been hankering for. He knew that putt was going in, and after Furyk missed a bunny, it was Bradley's third win and all the more reason to think this young American could be a serious contender for years to come.
A strange week for Tiger
Will all the commotion happening on the 72nd hole at Firestone on Sunday, one familiar face at this moment on this course was missing. Never a contender at any point during the week, Tiger Woods closed his run at an eighth Firestone win with a final round 66, but even that solid score was strange.
Tiger made four birdies over his first nine holes, a run that looked like it could turn into a sequel to his Honda Classic magic earlier this season, but Woods didn't make a single birdie on his inward nine, bumping him into the top-10 at the Bridgestone, but nothing more.
For the week, Tiger averaged 30.5 putts per round, leaving him T-67th in that category out of 75 guys that finished the tournament.
Woods will need to figure out how to hit the ball closer to the hole with his wedges or how to convert a few more long ones if he wants to have any chance at a 15th major this week at Kiawah Island.
History being made on the Web.com Tour
Imagine you are a 22-year-old All-American golfer ready to give the professional ranks a go. You've been thinking of this moment all your life, and your first event is a Web.com event at the tough OSU Golf Club in Columbus, Ohio.
What are your goals? To make the cut? A top-25? Four rounds at par or better? None of those would be good enough for Ben Kohles, who has now played in exactly two professional events since turning pro and has won exactly two professional events since turning pro.
Yep, the University of Virginia product is absolutely on fire right now on the Web.com Tour, winning two straight events including Sunday's Cox Classic in Omaha. Kohles shot rounds of (get ready for this) 65-66-67-62 to win by three shots over Dawie van der Walt, who closed with an 11-under 60 of his own on Sunday, and now he's just one win away from earning the infamous battlefield promotion onto the PGA Tour (an automatic raise of sorts if you can win three times in one Web.com season).
Maybe the most insane thing of all this? Kohles is second (!) on the Web.com money list after just two events, trailing only Casey Wittenberg who has played 15 events, and ahead of guys with between 14 and 16 starts. The top-25 guys on the Web.com money list earn PGA Tour status for 2013, so one way or another, you'll be seeing the name Kohles at the likes of TPC Scottsdale and Pebble Beach in a year.
The only question is if he can snag another victory to get up there before this season ends.
For PGA Championship updates this week, follow us on Twitter at @shanebacon and @eyeongolf.