Poor play could keep some Americans from automatic Ryder Cup qualifying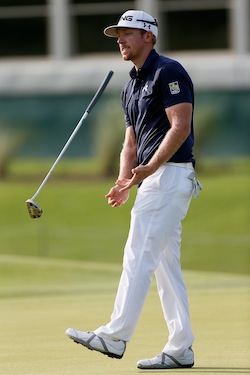 Mahan will miss out on an auto bid for the Ryder Cup after missing Kiawah's cut. (Getty Images)
One of the always interesting subplots of the PGA Championship during Ryder Cup years is who is going to help their cause to be on the team and who is going to hurt it.
So far this week, a lot of young Americans have done nothing but negatives to their chances. Rickie Fowler and Hunter Mahan, both outside the top-eight automatic spots to make the American Ryder Cup team, will miss the cut at the PGA Championship, and do it badly.
Mahan shot a second round 80 to finish his week at 8-over while Fowler equaled that same score on Friday but will finish at 10-over after his rounds of 74-80.
Mahan was ninth in points for the American squad and Fowler was 12th, but they aren't the only ones that are going to be looking back at Kiawah Island with regret. Brandt Snedeker, who is 13th on the Ryder Cup points list, posted rounds of 77-78 this week and will need a nod from the captain to make it to Medinah.
The biggest question mark for Davis Love III's American team after this week's play? Matt Kuchar, who is seventh in points, but also badly missed the cut after a second round score of 10-over 82. Kuchar is seventh in points, and will most likely get passed by Phil Mickelson (eighth) if Lefty continues to play as well as he has, but has guys like Steve Stricker and Jim Furyk all with a chance at upping their position in points if they can hang around over the weekend and continue to play solid golf.
So, the PGA Championship is a big event for everyone involved, but for a few of the American players right around the Ryder Cup cut line, it'll be a week to look back on with tons of regret.
More from the PGA Championship