Phil Mickelson posts 4-under 67 using claw grip for the first time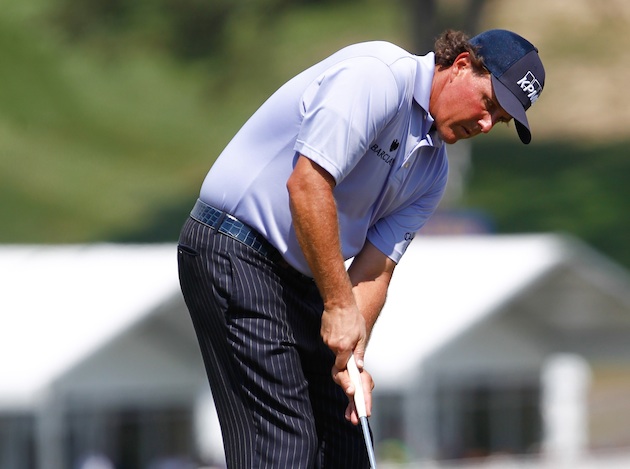 Phil Mickelson has never used the claw grip before in a competitive event. (US Presswire)
Pro golfers love to tinker. It's something they do because, honestly, practicing golf can get boring and trying anything different might gain them a shot here or an advantage there.
We've seen plenty of changes with Phil Mickelson. He's taken the driver out of his bag before and gone with two drivers. He has used blade putters, mallet putters and long putters. And on Saturday at the Barclays, Phil went with the claw grip for the first time in his career.
According to the Golf Channel, Mickelson's caddie, Jim Mackay, said for the first time ever, Phil went with the claw grip the entire round, and it worked, as Phil posted a 4-under 67 to get himself in contention at the first of the FedEx Cup playoffs.
Phil needed just 28 putts on Saturday, and as we've seen with Phil in the past, will probably use this until it stops working.
Still, pretty darn impressive that a guy like Phil can just throw this in his routine during a huge tournament like the Barclays and make it work for him.
No word if the claw will be around on Sunday.