Eye on Golf Equipment: Tin Cup ball marking stencil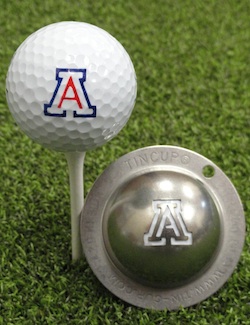 What better way to support your team than have it on your golf ball? (Tin Cup)
Golf is a sport with ever-changing tools. There are drivers, putters, balls, towels, bags, socks, grips and everything in between. Here at Eye on Golf, we're reviewing the latest in golf equipment each week in hopes our words will help you make a better decision on what's best for you. This week, we look at the Tin Cup ball marking stencils.
Ideal handicap: All golfers
It's college football season, and if there is one thing I know about hardcore alumnus, it's that they love sporting their team's colors. Bags, headcovers, golf towels; they love it all, but what about the golf ball?
A company called Tin Cup has really taken over the ball-stenciling market, and if you're a college football fan, you need to check them out.
I put the University of Arizona stencil on your right because that's where I went to school, but they have a ton of options with other colleges.
Here is the skinny on the product; basically you buy the stencil ($19.95) and can order the ultra-fine permanent Sharpie markers ($2 each) and bam, you have your team on all your golf balls. I've seen some of these in the past not work very well, but the Tin Cup stencils work great and it's really easy to use.
They have anything from American University to the Big East logo to Wake Forest, and it's incredible how much the drawings on the golf ball look like the team logo (trust me, I'm no artist, and even I can make it identical with these stencils).
Besides colleges, you can order "Birdies for the Brave" stencils, a mustache for your golf ball and even a beer mug (I'm suggesting this one to most of my regular foursome).
If nothing else, it's a cool gift idea for someone that you know loves their college and this crazy game.