Yani Tseng: 'Most of the time, on Monday mornings, the only people you see on the range are Asians'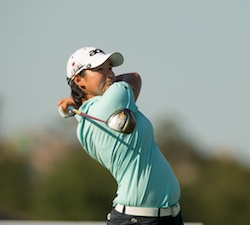 Yani Tseng has three LPGA wins this season. (Getty Images)
Last week, at Royal Liverpool, Jiyai Shin was putting the finishing touches on an incredible Women's British Open win, snagging the final LPGA major of the year by a record nine shots. The victory also meant Asian golfers on the LPGA this year went a perfect four-for-four in the majors Sun-Young Yoo won the Nabisco, Shanshan Feng snagged the LPGA Championship and Na Yeon Choi won the U.S. Women's Open.
It also extended the run by Asian golfers to seven straight majors dating to last year's LPGA Championship and eight of the last nine, with Stacy Lewis being the only one in that group that was able to breakthrough.
More important, it was the eighth straight victory on tour this year for an Asian-born player. The LPGA has truly become dominated by the Asian golfers, and it doesn't appear they're going to let up anytime soon.
But why? No. 1 in the world has an answer. Yani Tseng , who hasn't had as good a season in 2012 as she had previous, chatted before the LPGA's Navistar Classic kicked off this weekand revealed this bit of information that should have everyone else on the LPGA questioning their work ethic.
"Asian players train so hard," Tseng said on Wednesday in Prattville, Ala. "Most of the time, on Monday mornings, the only people you see on the range are Asians. I mean, only see Asians."
I'm in an interesting place because I not only get to write about this sport but I've spent some time out on the LPGA, caddying for a couple of friends on the tour. Did it seem like Asian-born players were devoting more time to the game and less time to everything else? I believe so, and it shows in the results (Ben Hogan was known to tell people who asked how to improve their golf game, "The secret is in the dirt.").
My only argument here is there are plenty of talented golfers from all over the world on the LPGA that spent a ton of time on their game but also spend a ton of time growing the LPGA and women's golf in general. Players like Paula Creamer, Brittany Lincicome, Christina Kim and Suzann Pettersen are integral parts of the LPGA because they bring so much to the tour in terms of presence and publicity.
Asian-born players might be doing a ton to grow the game in certain parts of the world, but others are doing just as important a part in making it marketable and interesting in other aspects.
That said, maybe everyone could get to the range a little earlier on Monday and see just how many answers they can find in that vast stretch of grass they call the practice tee.