Branden Grace goes filthy low at one of the best golf events of the year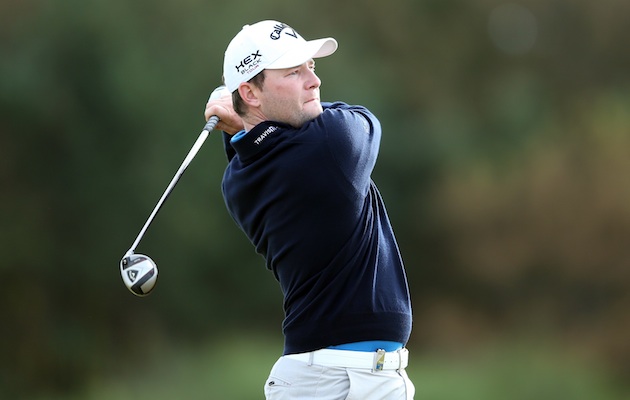 Branden Grace was a shot away from joining the rare 59-club. (Getty Images)
If you're a golf fan, there are few better places on this planet than St. Andrews, Scotland. I still remember the first time that my clunky rental car peaked over the hills by Leuchars on the A-91. The majestic city just sits there, with the golf course framing all that you will be doing for the next few days.
It's a golf city in every possible nook and cranny. Just being in St. Andrews means golf feels better, the beer tastes crisper and the fish and chips are out of this world. So it isn't that insane to say that playing in the Alfred Dunhill Links Championship is one of the top three golf events in the entire world that I'd want to take part of, with the 72-hole event hitting up the Old Course, Kingsbarns and Carnoustie.
On Thursday, Branden Grace started his journey at the laid back European Tour event and just about did something that nobody else on the European Tour has ever done -- break 60. He settled for 60, shooting 12-under at Kingsbarns, a golf course that is far from an easy track (they routinely have sectional British Open qualifying at the course dubbed "The Pebble Beach of Scotland").
The South African broke the course record at Kingsbarns by two shots and did it by closing his round out with an incredible five birdies after starting his round on the 10th tee. Grace birdied to start his round, followed it with two birdies on Nos. 12 and 13 and then made an impressive eagle on the par-5 16th. He turned at 5-under, but that's when things got interesting. Grace was 2-under through four holes on his back nine before closing with five straight birdies and tying the lowest score in European Tour history (There have been a number of rounds of 60 on the Euro Tour, but only six have been on a par-72 course).
The crazy part: Grace is only two shots clear of Victor Dubuisson of France, who posted a 10-under round of 62 at St. Andrews. Four other players shot 8-under or better on Thursday.
I think we all know what that means; not a ton of wind whipping in Fife during the first round.