Rory McIlroy gets thumped by Tiger Woods during head-to-head match in Turkey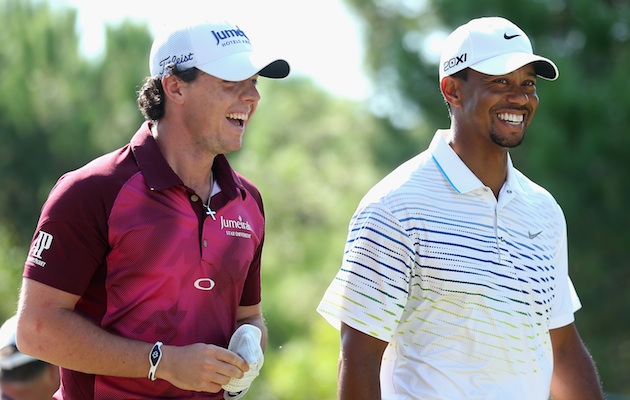 It appears the Woods-McIlroy bromance passport got cleared by customs. (Getty Images)
It seemed toward the end of this PGA Tour season, anytime you turned around it was Tiger Woods playing with Rory McIlroy. They did it all through the FedEx Cup, being paired because of their high rankings. Not only did a rivalry begin, but a friendship was created.
On Thursday at the Turkish Airlines World Golf Final, Woods thumped his younger little buddy.
Woods shot a 7-under 64 in the head-to-head stroke play event while McIlroy settled for a 1-under 70, the first serious beatdown that Woods has given McIlroy with both playing in the same group.
Woods' win advances him to the semifinals, where he will face Justin Rose, who is coming off a course-record 62 in his romp over Webb Simpson. The other semifinal will feature Charl Schwartzel against Lee Westwood.
But the story here is Woods vs. McIlroy, and maybe a little of what was talked about on Wednesday with McIlroy not giving 100 percent effort in this money-grab event. After the round, Woods talked about how well he hit it while McIlroy gave this quote to the Associated Press.
"I'm not that disappointed because I've got the afternoon off around the pool," said McIlroy, who was cheered on by his girlfriend, tennis player Caroline Wozniacki.
A couple of things from this matchup that we should focus on. First, Woods needed this. Sure, it's some silly Turkey golf tournament that everyone flew in for because they're getting a million bucks on top of whatever else they win. But to go out and beat the best golfer in the world, the one who continually gets compared to your former self, is a big confidence boost even if you're playing a money game at your home course with no cameras.
Woods has been beaten down of late, even if he's playing better and better, because he isn't winning. He's finishing high or having solid rounds in a match-play event in which his partner is nowhere to be found. But the guy associates positives with winning and not much else. To go out and beat up on McIlroy like this is a bonus.
Second, if Woods has a really solid 2013 (say, a major and five wins), I think the one person whom we can thank for that is McIlroy. For some reason, it seems the youthfulness and talent combination from this Northern Irish kid is bringing the fun back to Woods on the golf course. He's smiling, he's hitting solid shots and he loves the competition.
This might be the Turkey Golf Event and Spa, but one good thing might have come from it; Woods might have found his mojo again.