Bacon 'Bag: Gainey's breakthrough, 2013 predictions and the scariest golf question ever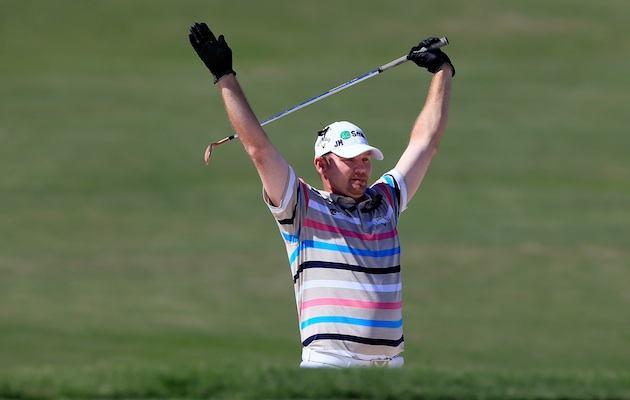 Is Tommy Gainey's win the biggest surprise of 2012? (Getty Images)
Golf is full of questions. How do I hit it farther? How do I break 90? What is wrong with Tiger Woods? Why are you such an idiot?

It's a game that will never be figured out in the millions of years that people will play it, but it's fun to try to figure it out. Every week it'll be you guys who help us answer the in-depth (and ridiculously fun) questions about the game. Have a question? Fire them our way on Twitter to either @shanebacon or @eyeongolf with the hashtag "#eyeqs". We will pick out the best of the week, answer them as best we can and continue this throughout the rest of the year.

So we begin right here with our weekly Q and A with the readers …
@eyeongolf @shanebacon Has there been a better underdog sports story than Tommy Gainey in 2012? #eyeqs

— Golfwerkz (@golfwerkz) October 22, 2012
A. Mr. Two Gloves winning his first PGA Tour title with a closing 60 was pretty sweet, but I'm not sure if I'd call it the biggest underdog story. Tommy Gainey finished 30th on the PGA Tour money list in 2011 and had a few chances to win. While his 2012 has been a whale of a struggle, this win solidifies the fact that this homemade golfer is definitely worthy of a win.
That said, just in golf alone, we might have seen some things that could battle Gainey's win this season. First, what about Ernie Els at the British? Sure, the guy is a Hall of Famer, but did anyone expect that to happen besides Els? I sure didn't.
And what about Kyle Stanley winning at the Waste Management a week after collapsing at Torrey Pines?
I'm not sure if you can call it the underdog sports story of the year, but seeing a guy like Gainey win the way he did was as good as you could have asked for in this Fall Series.
@shanebacon Over or under 5 wins on tour for @twoglovesgolf in the future? #eyeqs

— Ryan Burkley (@darealtiger) October 22, 2012
A. I think Gainey is a talented player, and I think he will definitely win another event before his career is over. I just don't see him snagging more than three or four PGA Tour titles.
I think the over/under on him career-wise is probably closer to two and a half or three, and I still like the under, because we've seen him get close in the past and not be able to close, and I could see that happening again.
Also, to get to five would mean he'd have to get the lead and hang onto it. While his Sunday round was incredible, it was from well back of the pack. That's a completely different pressure than being up by three and having to sleep on that lead (like at TPC Scottsdale in '11).
@shanebacon Obligatory too-early question about next season: breakout player for 2013? #eyeqs

— John (@kozemp) October 22, 2012
A. I'm not sure what exactly justifies someone being considered a "breakout player," but my guess is someone to win a couple of times on tour and become a legitimate star. Under that criteria, I'm going with Bud Cauley.
He's young, he's talented and he had a really impressive 2012 with 10 top-25s in his first full season. While he's had a few chances to win and couldn't close, I think that changes in '13. I could see him winning a couple of times on tour and contending in at least one major.
Speaking of majors ...
@shanebacon Most likely to win a major next year out of this group. Sergio, Mahan, Dustin Johnson, Westwood#eyeqs

— Aaron Feld (@afeld8912) October 22, 2012
A. Can I go all four, with Sergio Garcia winning the Masters, Lee Westwood snagging the U.S. Open, Hunter Mahan taking home the British and Dustin Johnson getting revenge on the PGA Championship? What are my Vegas odds for that type of bet?
In all honesty, I think my money would have go on Johnson to snag a major out of that group. He has had his chances before in majors and hasn't closed. When he's healthy, he's one of the eight-best golfers on the planet. If he's rolling the rock and hitting it like he normally hits it, he's a threat at Augusta, the British Open and the PGA.
I guess I'd rank those four in order of most likely to win a major in 2013 to least likely like this;
1.) Johnson
2.) Westwood
3.) Garcia
4.) Mahan
Also, thank you for not including Luke Donald on that list. I have absolutely no clue if, at anytime during major week, he will win or miss the cut by 20.
@shanebacon Shanks for a week or Yips for a month? GO! #eyeqs

— Dillon Mays (@dillonmays_) October 22, 2012
A. Ahhhhh! Why would you ask that?! This question should come with a free month's worth of Penicillin.
Unlike Webb Simpson, I've been lucky in my life to avoid the shanks at all costs. Mostly because I come in toe heavy, and that makes it tough to shank the golf ball. I've also avoided the yips, but that doesn't mean I occasionally make a stroke that my uncle likes to say I "flinched in the hole."
But I guess here you'd have to take the shorter of the two deaths, no? I'd go with the shanks for a week and just hope there wasn't a VW bug in my way on the driving range.
Also, I think I'm in need of a shower after this question.