Bacon 'Bag: Swing advice, Rory with Nike, and Tiger vs. Phil for majors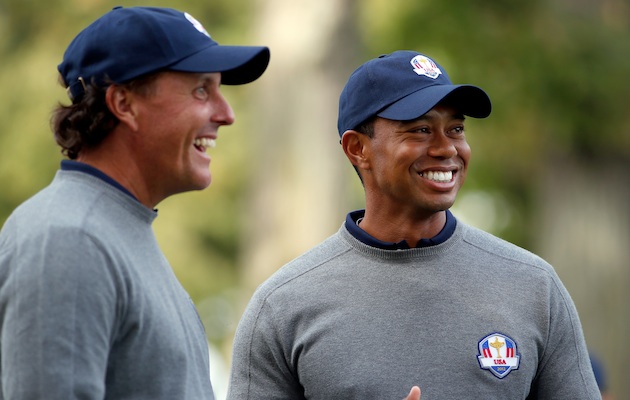 Will Tiger Woods or Phil Mickelson win more majors from here on out? (Getty Images)
Golf is full of questions. How do I hit it farther? How do I break 90? What is wrong with Tiger Woods? Why are you such an idiot?

It's a game that will never be figured out in the millions of years that people will play it, but it's fun to try to figure it out. Every week it'll be you guys who help us answer the in-depth (and ridiculously fun) questions about the game. Have a question? Fire them our way on Twitter to either @shanebacon or @eyeongolf with the hashtag "#eyeqs". We will pick out the best of the week, answer them as best we can and continue this throughout the rest of the year.

So we begin right here with our weekly Q and A with the readers …
@shanebacon Who wins more majors from here on on out, Mickelson or Tiger? #eyeqs

— Chester F. Rockwell (@duckhook7) November 5, 2012
A. Hey, Chester. I think you misspelled "Rory McIlroy." Oh, you meant Phil? I thought nobody cared about this rivalry anymore!
There are plenty of ways you could look at this thing. Tiger Woods has way more major wins (14) than Phil Mickelson (4), but Phil has more since '09 than Tiger (one to zero). Also, it seems Phil has figured out how to play Augusta National the last decade or so while Tiger's success there has fallen off. So the advantage every year goes to Phil mostly because Augusta is the only staple on the major schedule each season.
But the real number we have to look at is age. Tiger is 36 (will be 37 in December), and Mickelson is 42. Taking into account what I call the Jack Nicklaus Rule (great players have a chance to win a major based solely on their talent level up until around they turn 50), Phil has seven years left of competitive play while Woods has more than 10 years. And since we're talking about age, the major that gives the elder the most opportunity to win is the British Open. While Tiger has three Claret Jugs in his trophy case, Mickelson has only finished in the top 10 twice in his life, so another pop goes Tiger's way.
So, yes, my answer is Tiger, simply because he has more years to play with. And since we are here, my prediction for majors each will finish with when their respective careers end is Tiger with 16 and Mickelson with five (meaning two more for Tiger, one more for Phil).
@shanebacon I tend to hit bad shots when the teebox doesn't lineup with the fairway. Sometimes I have to pull the tee markers. Help? #eyeqs

— Dwayne Brown (@DwayneB13) November 5, 2012
A. Wait, so you pick up and move the tee markers if they don't line you up exactly how you like? You know this is illegal, right?
I do like the idea of just changing the golf course if it doesn't set up to your golf game. The next time I'm on a tee in a match and I don't like the yardage, I'm just going to move to a tee box that is more accommodating to my golf game. "195 yard par-3?! What are you, crazy?! I'm playing it from 118."
But, yeah, I'm not sure what to do with you here. Maybe get a more sober head pro that can line up tee boxes properly? Or make sure you're setting up on the correct side of the tee for what shot type you're trying to hit (right side of the tee if you're a righty that wants to hit a cut, left side for the draw).
@eyeongolf do you think Tiger had something to do with Nike signing Rory? #eyeqs

— nick stasiak (@1staz8) November 5, 2012
A. Whew, we almost went three questions without one about Rory and Tiger. I was starting to sweat a little.
Sure, I think that Tiger is big enough in the Nike world that they ask him about decisions concerning the golf side of things, but honestly, why wouldn't you want McIlroy sporting your gear for the next 10 years?
What he has done for the Oakley brand has been fantastic, and even though the word is he's already shot a commercial with Tiger and Nike, I think the brand continues to succeed because of what Rory did to it for those few years. At Nike, I'm sure he will do much of the same, and I bet they even come out with a European-style line of golf clothes with Rory's name attached to them (slimmer fitting, less Red on Sundays).
@eyeongolf @shanebacon What gives with the ridicu-low scores over the past 3 tournaments? #eyeqs

— Golfwerkz (@golfwerkz) November 5, 2012
A. Funny you ask, because I was just thinking this same thing after Brandt Snedeker nearly broke 60 for what seems like the 20th time in the last three weeks in the golf world.
I think the low scores can be attributed to a few things, with the biggest factor being the golf courses are just easier. They aren't as long, they are soft and the wind isn't playing much of a factor.
I will say, if we don't see a 59 by the end of all this, I'm going to be extremely disappointed. Tiger promised us we'd see one!