Rory McIlroy, Tiger Woods sit atop Player of Year ballot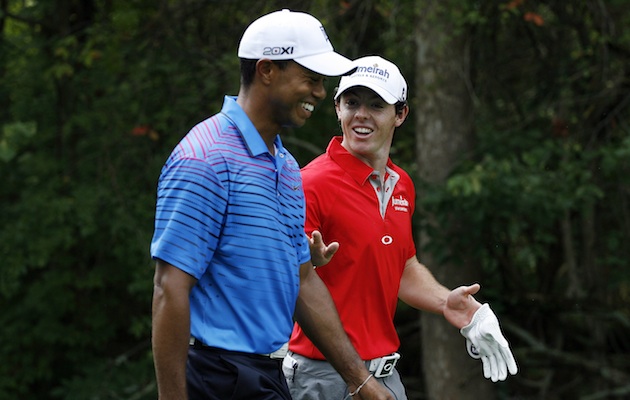 I bet one of these guys wins Player of the Year. (US Presswire)
The end of the PGA Tour season (like, the actual end … with no more tournaments left … at all) means that it's awards season, and 2012 is one of those years that doesn't leave a ton of excitement for golf's biggest nonmajor trophy.
The PGA Tour sent out a list of five player who are up for the PGA Tour Player of the Year award. We all know who's going to win it, but we decided to rank the five guys in order because, well, we're bored and it's cold and we like looking back at stuff.
Here is how we would rank the nominees, black tie optional.
5.) Bubba Watson -- It's strange that the PGA Tour insists on putting five names on this ballot, because you could swap out Bubba for, say, Webb Simpson and things look eerily similar. Both guys have seven top-10s, a major win and nothing else to really show for it. Watson did edge Webb in the top-25s and made cuts, but I'm not sure I'd say either had a particularly better season than the other.
I will say, Bubba did give us the shot of the year on the PGA Tour, and that means something, and his playoff win at the Masters also won our tournament of the year, so yeah, Bubba is fine on this list, but I'm not sure I'd say he was higher than the guys below. Watson's major win could go down as his career highlight (and Nick Faldo told us this week that he was surprised that Bubba actually won at Augusta National), so a good year for the long-hitting lefty. Oh, and he ranked No. 1 on tour in driving distance, so that's fun.
4.) Jason Dufner -- A year ago, Jason Dufner was that slow-walking guy who nearly beat out that rookie kid at the PGA Championship. Now, Dufner is in commercials (funny commercials!), making Ryder Cup teams and winning golf tournaments.
Dufner had a pretty solid stretch in the middle of his season where he took down Ernie Els in a playoff in New Orleans, had a pretty forgettable week at Sawgrass only to follow that up with a win at the Byron Nelson and a near win at the Colonial -- if not for a final round 74 that allowed Zach Johnson a one-shot victory and us the disappointment of not seeing Dufner having to wear that tartan jacket.
This year did show us that Dufner is the type of player who can routinely finish high at golf tournaments (call him Matt Kuchar 2.0), with eight top-10s and 14 top-25s (he missed only one cut).
3.) Brandt Snedeker -- I think one of my favorite things about the FedEx Cup is that a guy can get hot and make his career. No, not someone like Tiger Woods or Vijay Singh (they already have boatloads of trophies and money), but I like that someone like Bill Haas or Snedeker can run through the playoffs with a hot putter and put away $10 million and dozens of other money enhancing situations.
Snedeker played great at the Farmers Insurance earlier this season, but needed a collapse on the 72nd hole by Kyle Stanley just to land in a playoff. But his play in the playoffs, especially at the Tour Championship, has him a touch ahead of Dufner and Watson.
Snedeker's season ended with seven top-10s, a runner-up at the Barclays and a third place finish at the British Open, that seemed like it might be his first major breakthrough. Still, the guy will be leaving this 2012 season as "man that wins when he hits it good," because we know the putter will always be there.
2.) Tiger Woods -- It's incredible that a three-win, no major season would ever be considered a success for Tiger Woods, but that is where we're at in 2012.
Woods played incredibly consistent golf this year if you don't count the majors (just one top-10 in those four events), carding nine top-10s and 13 top-25s.
His three wins all were a bit different, but all came at big events (like Tiger plays in small events) and his game seemed to improve as the season went on (Ryder Cup aside).
Tiger is still miles behind the guy who is going to win the Player of the Year award in a sense of dominance, but he did have a heck of a year if you compare it to the last couple, and it seems he's ready to make a run in 2013 where he wins four or five times, and actually shows up on a weekend at a major championship.
The way he hit his driver at the end of the year has to have him excited for next season.
1.) Rory McIlroy -- Four wins, one major, the money title on both the PGA and European Tour, and the Vardon Trophy.
It was a pretty career making season for Rory, who followed up his incredible 2011 U.S. Open victory with an equally impressive PGA Championship win that showed when the kid gets hot, everyone else should just head home early.
We will see Rory in new threads and new clubs next season, but it shouldn't affect someone with a golf swing like his and the confidence that he seemed to bring to 2012.