John Daly fined by European Tour for throwing putter into woods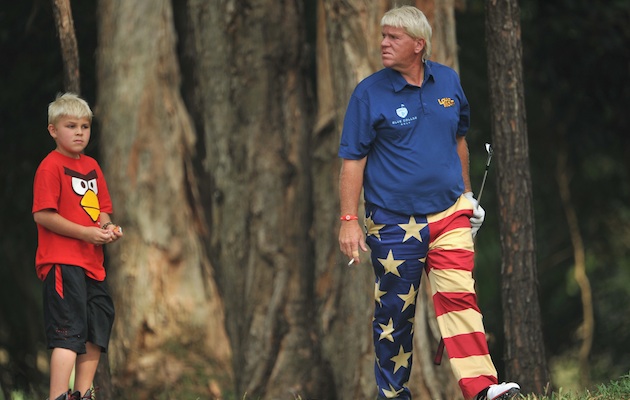 Angry Birds, beware! (Getty Images)
You know a good way to shut up spectators on their cell phones? Chuck a golf club in their direction.
That was essentially what got John Daly fined last week in Hong Kong, when cell phones and crowds got so out of control Daly lost it, throwing his putter into the woods during the second round of the UBS Hong Kong Open.
The European Tour didn't take kindly to Daly's actions, fining him an undisclosed amount for the blow-up after Daly missed the cut on Friday following rounds of 72-75.
It's been a tough Asian trip for Daly, who withdrew at the Singapore Open in early November.
Daly went to Twitter to complain about the crowds, saying: "There were times just was out of control -- total shame." But still, flinging the putter probably isn't the best way to silence those cell phones (unless your putter hits an unlucky golf fan's iPhone screen).
The now 46-year-old former two-time major champion has had a pretty solid 2012 up until the last couple of weeks, finishing 85th on the European Tour money list after playing just 12 events, but you can't help but think back to a year ago in Australia when Daly hit six balls in the water at the Australian Open and walked off the golf course.
That time, officials decided a fine wasn't enough, simply telling reporters, "I would say this is the last time we will see John Daly."