St. Andrews to make Road Hole even tougher because, wait, what?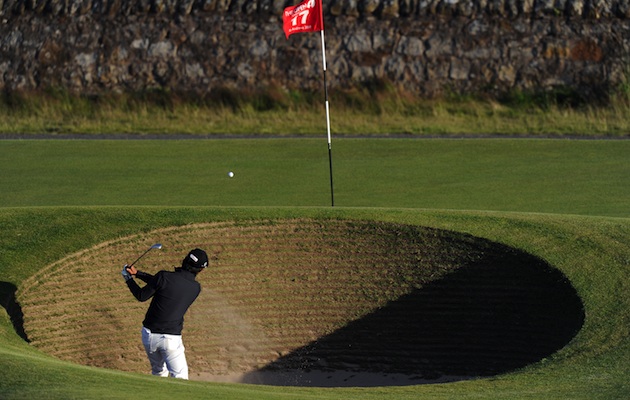 Expect to see even more people in this bunker come 2015. (Getty Images)
When I finished my time at the University of Arizona some years ago, a friend and I packed up our golf bags, our polos and our last bit of adolescence and headed across the pond to St. Andrews. Having no idea if we'd actually get jobs or not, our first meeting with the then-caddie master began with a stern talking-to about how tough this job would be. It ended with a caddie bib and an appointment on the first tee.
The Old Course is the most famous golf course in the world, and it should be. It's the home of golf (or Home of Golf for those in Scotland) and is one of the few places in the world that allows you a chance to play 18 holes while visiting a living, breathing museum. And it's wonderful. Absolutely wonderful. But the golf course is not that hard, especially for pros.
In 2010, Rory McIlroy was a tap-in birdie on the 17th hole away from breaking the scoring record in a major championship (he "settled" for a 63 that day). And it's funny, because of all the holes at St. Andrews, the 11th and the 17th are really the only two that can give a pro fits.
The last time the British Open went to the Old Course, things were changed (I amateurly filmed a video of said changes right here). Bt that wasn't enough and, now, the Road Hole is going to get even tougher.
"The work is planned to take place in two phases over this winter and next. The first phase involves work on the 2nd, 7th, 11th and 17th holes. The second phase will take place in winter 2013/14 with work on the 3rd, 4th, 6th, 9th and 15th holes.

The work will widen the Road Bunker on the 17th hole by half a metre at the right hand side and recontour a small portion of the front of the green to enable it to gather more approach shots landing in that area."
I'm all for changing some of the holes, but I'm not so sold on making the one tough spot on the entire course even tougher. Remember David Duval's experience there in 2000? The bunker has grit and, with added length in previous years, it isn't like guys are flipping wedges over the bunker.
Change it up all you want. St. Andrews is a beautiful golfing experience that everyone should have, but I'm scared the fear of sub-60 numbers in a British Open might make it even tougher for the average golfer who shells out $200 to get on.