Johnny Manziel is also good at golf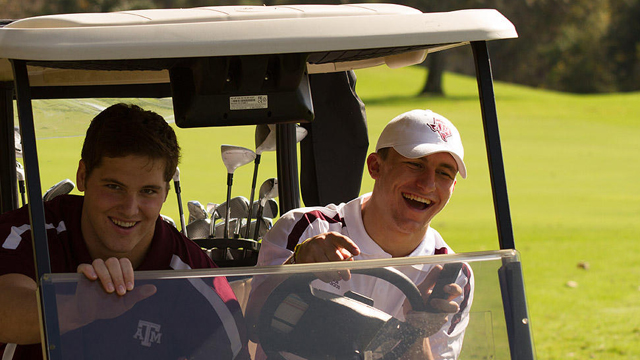 Johnny Manziel (right) and offensive lineman Luke Joeckel played golf last week in Orlando (@12thManTV)
In addition to being the best college football player this season, it turns out that Johnny Manziel is a pretty good golfer. He was shooting par on the golf course by the time he turned 11 but he never played golf for Tivy High School.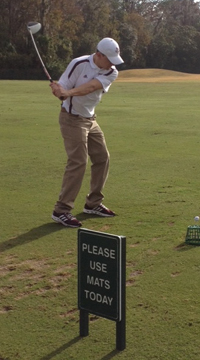 The Texas A&M quarterback played golf with teammate Luke Joeckel last week in Orlando
before the College Football Awards banquet on his 20th birthday.
According to an article in the Houston Chronicle, Manziel's parents, Paul and Michelle Manziel, are avid golfers and met Manziel's youth football coach through golf.
Eye on Football blogger Josh Katzowitz says that when Johnny and his mom pair up against his dad and sister, Meri, the father-sister pairing always wins, according to Manziel's mom.
Manziel was never called "Johnny Football" in high school because he was also good at several other sports before focusing on just football in college.
ESPN's Chris Fowler tweeted a picture of Manziel's swing on the practice range. Not too shabby.
Fowler didn't fill us in on what Johnny Football shot on the golf course but our educated guess is that he isn't a hack considering how good of an athlete he is and that both of his parents are golf nuts.
For more golf news, rumors and analysis, follow @EyeOnGolf and @DeWittCBS on Twitter and like us on Facebook.