Ryder Cup captain to be announced Thursday; whom should it be?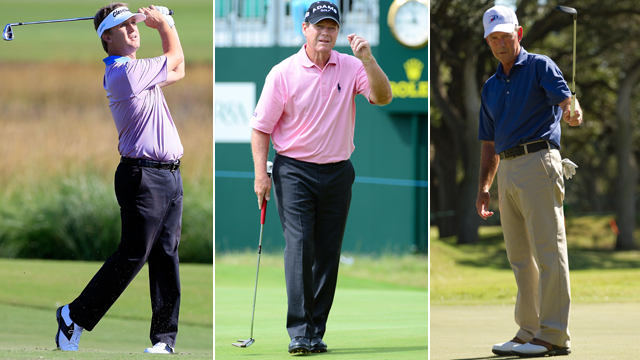 David Toms, Tom Watson and Larry Nelson are considered the favorites to lead the 2014 U.S.Ryder Cup team. (Getty)
The PGA of America will announce the 2014 Ryder Cup captain at 8:30 a.m. ET Thursday on NBC. The next team competition between the United States and Europe will take place at Gleneagles in Scotland.
It's likely the next captain will face a lot of pressure after the United States blew a large lead at Medinah Country Club in September.
Paul Azinger, the 2008 Ryder Cup captain, thinks either David Toms or Larry Nelson will lead the Americans in Scotland.
The American Ryder Cup captain will be picked soon. If its not @davidtomsgolf or @larry_nelson I'll be shocked.

— Paul Azinger (@PaulAzinger) December 11, 2012
But on Saturday, Golf Digest's Ron Sirak wrote about Tom Watson and his desire to guide another Ryder Cup squad. Watson led the 1993 squad to victory.
"It would be a great honor if I got tapped on the shoulder," Watson told Sirak. "'93 was the last time I've been to a Ryder Cup. I'd like to go back as captain. That would be cool."
I agree with Sirak in suggesting that maybe the United States should look toward Watson again. Since the 1993 victory, Europe has won seven of nine competitions. And this is coming off an embarrassing home-course loss in 2012.
Odds are against Watson. The United States hasn't used the same captain twice in Ryder Cup competition since Jack Nicklaus led the Americans in 1983 and 1987.
All three men who are favored to lead the team have significant Ryder Cup experience. Nelson played in 1979, 1981 and 1987. Toms played in 2002, 2004 and 2006. Watson played in 1977, 1981, 1983 and 1989 while also leading the team in 1993.
For more golf news, rumors and analysis, follow @EyeOnGolf and @DeWittCBS on Twitter and like us on Facebook.