Robotic dinosaur forces Australian PGA Championship to move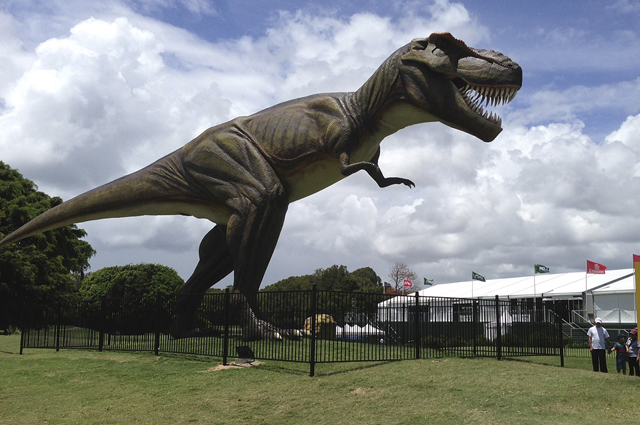 People stand near a 26-foot replica of a tyrannosaurus rex at the Sunshine Coast resort. (APImages)
Who doesn't want a 26-foot replica tyrannosaurus rex terrorizing golfers during a tournament? The Australian PGA doesn't.
That's why after 11 years at the Sunshine Coast resort, the tournament will be moved because no one will be able to miss the huge dinosaur sitting outside the main clubhouse during this week's Australian PGA Championship.
The Associated Press has more details on the crazy new course owner:
The course and the accompanying five-star hotel complex are now owned by billionaire Australian mining magnate Clive Palmer, whose long-term plan for the resort is to import more molded dinosaurs and turn the place, which includes prime ocean beach frontage, into a theme park. Or maybe a casino.

But the PGA's first tournament since Palmer took over earlier this year began in controversy, with Palmer putting up more than 60 signs all over the course -- some in key landing areas on fairways -- promoting his pursuits, including his planned rebuilding of a replica of the Titanic ocean liner and several other of his companies.

The signage has forced organizers into making some of the landing areas "ground under repair," where golfers will be able to move the ball if it lands, or if their stance is affected by the painted grass signs on the ground.

On Sunday, the issue came to a head with Australasian PGA Tour officials. For a while the tournament -- which will this year feature 2011 British Open champion Darren Clarke, Adam Scott, last week's Australian Open champion Peter Senior and Greg Norman -- appeared to be in jeopardy.

PGA Tour chief executive Brian Thorburn told a media conference Tuesday that the tour is looking at other courses in Brisbane and on the Gold Coast, but no decision has been made for 2013 other than the tournament will remain in Queensland. The PGA and Palmer resort officials had been negotiating for over six months, he said.

Thorburn said he wouldn't get into the "cut and thrust" of the negotiations Sunday but the suggestions were that the event was nearly called off.

"We have had a great run on the Sunshine Coast, it has been fantastic, but nothing stays forever," Thorburn said. "Emotionally it will be sad."
I mean, who really doesn't want to play golf with advertisements everywhere and huge dinosaurs creeping into your view?
Maybe Clive Palmer can invite Bob Barker and Happy Gilmore down for a round at his new circus course.
For more golf news, rumors and analysis, follow @EyeOnGolf and @DeWittCBS on Twitter and like us on Facebook.