10 most memorable moments of the 2013 majors
Adam Scott, Tiger Woods, Phil Mickelson, and Justin Rose headline the most memorable moments of the 2013 major season.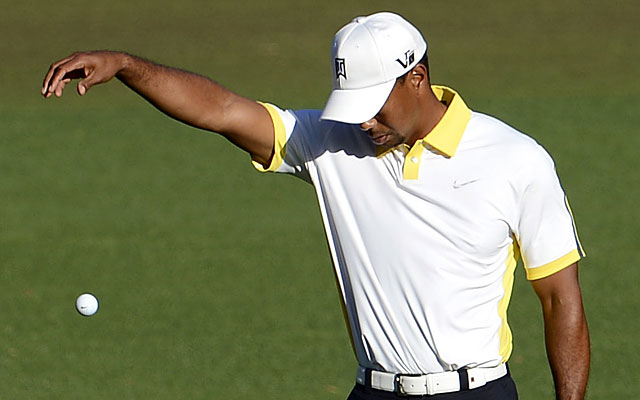 More Golf: Leaderboard | Rankings | Schedule | Expert Picks | Equipment | FedEx Cup
As we wrap up the 2013 regular season and head toward the playoffs, I thought it would be fun to look back at the 10 most memorable moments of the four 2013 majors (with a bonus).
I wrote last week about who the best major golfers were but wanted to look at who (and what) gave us the greatest moments. From Adam Scott at the Masters to Jason Dufner (and his wife) at the PGA Championship, let's jump in.
In reverse order:
Honorable mention: Keegan Bradley hugging Jason Dufner after PGA Championship; Rory McIlroy snapping a club at Merion; Charl Schwartzel hurling a club at British Open; McIlroy's chip-in on Saturday at PGA Championship; Schwartzel hitting a 450-yard drive at Open; Steve Stricker's shank at US Open; Shawn Stefani's hole-in-one at US Open; Jason Day chipping in at US Open; Angel Cabrera's "big brass ones" iron to set up birdie on the 72nd at Augusta.
10. Guan Tianlang's chip to make Masters cut: He didn't know it at the time but Guan Tianlang needed to par No. 18 in his second round at Augusta in April to make the cut. He nearly holed out with a birdie and in the process became the youngest golfer to ever make the cut at age 14.
9. Inbee Park winning three straight: It didn't get the fanfare it deserved but Park winning the first three majors of the LPGA season and having a chance at the Grand Slam at St. Andrews was insane. Here's her putt at the US Open to put a cap on the third one:
8. Tiger Woods' flagstick shot at the Masters: It was potentially the most dissected shot in the history of golf. Woods hit the flagstick at No. 15 on Friday (he co-led at the time) and went on to make an eight (with the penalty) when four looked to be a sure thing. Oh, and he missed the playoff by four strokes.
7. Phil Mickelson's 3-wood on the 71st at the British Open: He called it "[one of the] best two three-woods I've ever hit." It came at a good time too, namely in the middle of a birdie-birdie finish en route to major No. 5.
6. Jason Dufner's 63 at Oak Hill: The image of his shaky hands trying to will in a 3-foot putt like he had never played golf before was a little stunning coming from a guy like Dufner. It was a great moment -- it turns out, the defining moment -- for a guy who was trying to claim his first major.
5. Phil Mickelson holing out from fairway at Merion: We thought it was over at this point, didn't we? We thought fate would carry him to his first US Open title and the holed-out iron from the rough on No. 10 would be the catalyst. He led outright after this shot but only briefly as Justin Rose went on to tie it up a few holes later.
Alas, Lefty just missed on his coveted US Open title but this was still a moment.
4. Angel Cabrera's thumbs up preceding Adam Scott's win: The series of events from when Scott stepped on the 72nd tee to when he and Cabrera walked off the 74th hole with their arms around each other was peerless in terms of a series of events at a major in 2013.
I absolutely loved the second playoff hole when Cabrera hit his approach to about 25 feet and turned around to watch Scott stick his to 12 feet and a shot for the win. Cabrera looked over and gave Scott the thumbs up sign, smiled and hugged him as the Aussie knocked in his putt for the win in the rain.
It was an all-time moment.
3. Justin Rose's 4-iron for pops at Merion: Talk about chills. Rose hit as perfect a 4-iron as you could hit from the 18th fairway at Merion, parred the hole, then lifted the trophy to his dad, who passed away in 2002. After his win he said this:
"Yes, the look up to the heavens was absolutely for my dad. Father's Day was not lost on me today. You don't have opportunities to really dedicate a win to someone you love. And today was about him and being Father's Day."
 2. Phil Mickelson's putt on the 72nd at the British Open: The man who never thought he could win a British Open said after he made this putt he knew the 2013 Claret Jug was his. We knew too, we just couldn't believe the next 90 minutes of golf had been rendered pointless by Lefty's sick little 66. 
We thought he only needed par for the win. He did us one better.
1. Adam Scott's putt on the 72nd at Augusta: It was the only legitimate moment of the 2013 major season where I got chills during the actual live event. Sure, there were a few moments (namely, Mickelson and Rose) that left me reeling but the only one that really swept me away was Scott standing over his sizeable putt at the place where no Australian had ever won, nailing his line, and screaming:
"Come on Aussie!"
For more golf news, rumors and analysis, follow @EyeOnGolf and @KylePorterCBS on Twitter or Google+ and like us on Facebook.
Show Comments
Hide Comments
After a brief blip at The Players, the Spaniard rocked again at Colonial on Thursday

What can Big Cat take away from the former Denver Broncos QB?

After one week with a mallet, old faithful is back in Spieth's bag
This was not the Super Bowl MVP's finest hour here

The European Tour's flagship event honored the victims of the Manchester bombing on Thursd...

Find out when and how to watch the 2017 Dean & DeLuca Invitational live this week