Bacon 'Bag: Shorts, Fall Series exemptions and Phil Mickelson's broadcasting potential
This week's Eye on Golf mailbag looks at PGA Tour players getting to wear shorts, next year's Fall Series exemptions and Phil Mickelson's future plans.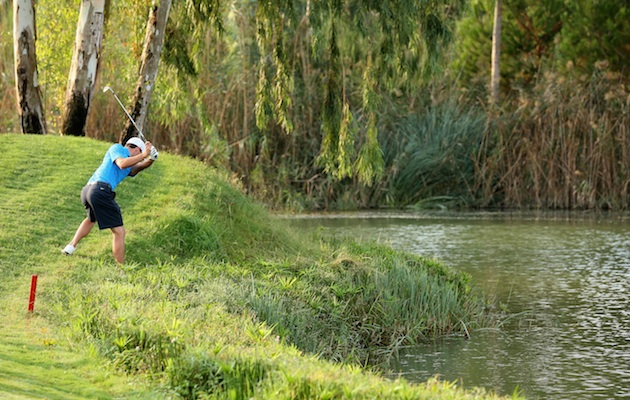 Charl Schwartzel rocked the shorts last week in Turkey. (Getty Images)
Golf is full of questions. How do I hit it farther? How do I break 90? What is wrong with Tiger Woods? Why are you such an idiot?

It's a game that will never be figured out in the millions of years that people will play it, but it's fun to try to figure it out. Every week it'll be you guys who help us answer the in-depth (and ridiculously fun) questions about the game. Have a question? Fire them our way on Twitter to either @shanebacon or @eyeongolf with the hashtag "#eyeqs". We will pick out the best of the week, answer them as best we can and continue this throughout the rest of the year.

So we begin right here with our weekly Q and A with the readers …
@shanebacon What are the chances of the #PGATour ever allowing players to wear shorts? #eyeqs

— Cam Gordon (@Cambo_Gordon) October 16, 2012
A. This is the type of "hot button" issue that arises in the slow season of golf, but last week's Turkey event had a few of the guys wearing shorts and it raised the question.
The PGA Tour doesn't allow players to wear shorts no matter the weather. It doesn't make a ton of sense outside the fact that it's a "gentlemen's game," but even that doesn't really hold true in a day in which guys like Rickie Fowler and Hunter Mahan wear hats that look stolen from the X-Games.
The game of golf is changing, and shorts will eventually be allowed on tour, as they should. A lot of these events are held in extremely hot areas, and wearing pants is downright batty (caddies don't wear them and can even remove their bibs if the weather gets too excruciating). 
I think Tiger Woods should just commit to some third-tier tour event with the only rule being that he wants to wear shorts all four days. That would change the rule right then and there. 
@shanebacon #eyeqs Do you think the 2013 winners of Vegas, Fry's, McGladrey and Disney will get invites to the Masters in 2014?

— Chris Charles (@BetterThanM0st) October 16, 2012
A. Absolutely. As you know, the 2013 PGA Tour schedule is going to look a lot different than what we're used to, with the Fall Series playing a much bigger part and carrying its own FedEx Cup points.
The problem, of course, is that Augusta National isn't so keen on the changing. Adding four more invitations means more participants in the 2014 Masters, which only means a change of schedule, or tee options, for the green jackets.
But the PGA Tour has decided to change this entire scheduling, and everyone will have to fall in line to make it work. That means invites to these winners, no matter if the Masters likes it or not. 
@eyeongolf @shanebacon Would Lefty make a better football or golf analyst? Phil was great on the pre-game. #eyeqs

— Golfwerkz (@golfwerkz) October 16, 2012
A. If you missed it, Mickelson joined the Monday Night Countdown crew before the start of the Broncos-Chargers game on Monday night to chat Ryder Cup, his game and football, his real passion behind the microphone.
Lefty famously bet the 2000 Ravens to win the Super Bowl before that season started and has been known to talk your ear off if football is brought up. 
That said, there is no way you could say he'd be more entertaining chatting NFL than he would be at golf. I think Mickelson would be an excellent golf broadcaster. He has the perfect mix of sheepishness and candidness. He wouldn't mind telling it like it is while smiling nonchalantly, a good mix if you are trying to say what you want without stepping on toes. 
I think Phil is on a very short list of guys that could kill it in broadcasting if they ever went that route (Graeme McDowell is another). But as much as Mickelson loves his family and as much money as the guy has accumulated over the years, being in the booth probably isn't that appealing. 
@shanebacon With south african golf on the way up how soon do you think itll be before the internationals win the presidents cup again?

— Alex Newman (@Alex___Newman) October 16, 2012
A. It is pretty crazy to think that the International team hasn't won this thing since 1998 considering how often the Americans get whipped at the Ryder Cup. But maybe more surprising is the margins of victory.
The Americans have scored 19 or more points in four of the last six Presidents Cup and just seem channeled in at this event more than they are at the Ryder.
That said, I don't see it being a lack of talent on the Internationals. It just seems like every time this comes around, one American steps up. More than the talent of South Africa (remember, they've been pretty solid over the years with Ernie Els and Retief Goosen regularly making this team) is the struggles of the Australians. If guys like Geoff Ogilvy, Aaron Baddeley and Adam Scott could really dominate one week at the Presidents Cup, I could see them taking it back from the Americans. 
Show Comments
Hide Comments
Jack Nicklaus nearly clips Doug Sanders with his putter after winning at St. Andrews

This gator fight is intense but ends with a whimper

The new rules are great, but they ultimately might not be enough
Pros have everything they need at the tips of their fingers for every tournament on tour

Is Bedminster about to be overrun with the president's security detail?

After what happened at the ANA Inspiration last month, legislation will surely follow