Bacon Bag: The Playoffs, Sergio Garcia's win and Augusta's monumental decision
Our weekly mailbag continues with questions about Sergio Garcia, the FedEx Cup playoffs and the monumental Augusta National decision.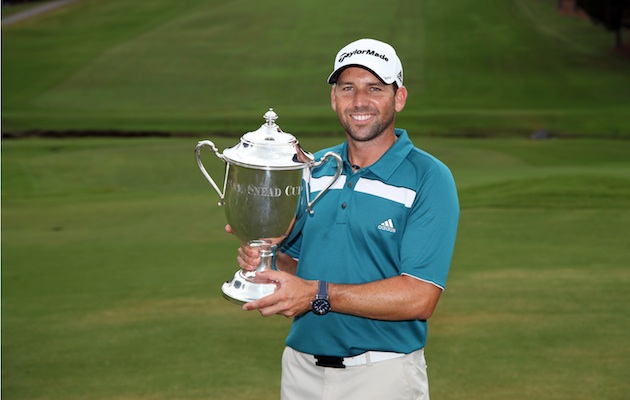 Will Sergio Garcia's win at the Wyndham propel him to great things? (Getty Images)
Golf is full of questions. How do I hit it further? How do I break 90? What is wrong with Tiger Woods? Why are you such an idiot?

It's a game that will never be figured out in the millions of years people will play it, but it's fun to try to figure it out. Every Tuesday, it'll be you guys that help us answer the in-depth (and ridiculously fun) questions about the game. Have a question? Fire it our way on Twitter to either @shanebacon or @eyeongolf with the hashtag "#eyeqs". We will pick out the best of the week, answer them as best we can, and continue this throughout the rest of the season.

So we begin right here with our weekly Q and A with the readers …
Will this win springboard Sergio Garcia into the game's elite again? #eyeqs

— J.J. Sanchez (@JJSanchez92) August 20, 2012
A. Well it depends on how you define "elite." Is elite one of the top-five players in the world, with guys like Luke, Rory, Tiger and Lee? I don't think so, just because I'm not sure that Sergio has ever exhibited the patience that he needs to always be a factor. Too many times his emotions take over and he forgets just who good he is and has a few weeks where he plays like trash.
But I do see this win making a positive immediate impact. I think he'll have some success during the FedEx Cup and I'm sure he'll play well at the Ryder Cup. Sergio is definitely a talent, it's just all about keeping his mind in the right place for weeks at a time. I'm not sure that you can say winning a tournament like the Wyndham can catapult you into stardom, since a lot of the big names took the week off, but I definitely think anytime you win, especially when you haven't done it in a while, it's going to keep the good taste in your mouth for the next few weeks.
@shanebacon @eyeongolf What do you think of Steven Fox? Sizzle or Fizzle.. #eyeqs

— Golfwerkz (@golfwerkz) August 20, 2012
A. Poor Steven Fox. After all this Augusta news happened and Sergio winning, his U.S. Amateur victory, coming from behind after being 2-down with two holes to play, was lost in the shuffle. 
But, if your question is was this one-and-down for Fox, I'd have to say no. We've talked about it with Keegan Bradley before, about a guy that seems to have that ability to find strength when he's most down in a match, and Fox did just that on Sunday against Michael Weaver. He was basically walking dead but made a clutch birdie putt on the 35th hole to extend the match and then made an even longer putt on the first playoff hole, of more than 18-feet, to win one of the toughest golf tournaments, amateur or professional, and go down with names like Jack, Phil and Tiger.
I think anyone that can pull off that sort of comeback isn't going to be a flash in the pan, and most amateur victors don't exactly disappear the moment they win. If nothing else, it gave us some of the most dramatic golf of the entire season, and was absolutely goosebump-y when those putts at the end dropped. 
@shanebacon Why was the female CEO of IBM not one of the first members of ANGC? #eyeqs

— Daryl Watkins (@DarylWatkins) August 21, 2012
A. If you remember back around Masters time this year, you know that IBM CEO Virginia "Ginni" Rometty was a big newsmaker because Augusta National regularly extended membership invitations to the CEO of their major corporate sponsors, but seeing as though they didn't have any female members at the time, people questioned their decision to overlook Rometty. 
But if the question is why they invite two other women and not Rometty, the answer is simply, because this plan had probably been in the works for years. Condeleezza Rice is an avid golfer and public figure that is easily relatable to the public and then a lesser-known southern figure in Darla Moore that fits more of the "local Augusta" mold.
I think it was smart of Augusta to invite two females instead of one so the one isn't such a "groundbreaking figure" over the years, and it seems like they picked a perfect group.
Also, a pretty important point here is this; Rice and Moore are golfers. They go out and play the game, and compete, and keep handicaps and while Augusta is a ton of things on the abstract, it is, in the simplest of forms, a golf club where people go play golf. Extending an invite to someone that isn't much of a golfer has never been the Augusta National way and isn't going to change just for a gender issue. 
@shanebacon #eyeqs Simple question: With the playoffs upon us, who's your 2012 FEC Champion?

— Chris Charles (@BetterThanM0st) August 21, 2012
A. Well, you want simple, I'll give you simple - I think Jason Dufner wins the whole thing. There ya go.
Show Comments
Hide Comments
The No. 3 player in the world narrowly made the cut after his monster drive

The Travelers Championship looks to be Spieth's to lose after another solid round

The two-time major winner was nearly flawless on Thursday
The latest major champ knows how to party

This is some serious lack of golf etiquette from the POTUS

Find out when and how to watch the 2017 Travelers Championship live this week