Bacon 'Bag: The truth behind the Shark comments and clutch putting
Our weekly mailbag takes a look at the recent Rory McIlroy rumors, clutch putting and a Payne Stewart day on tour.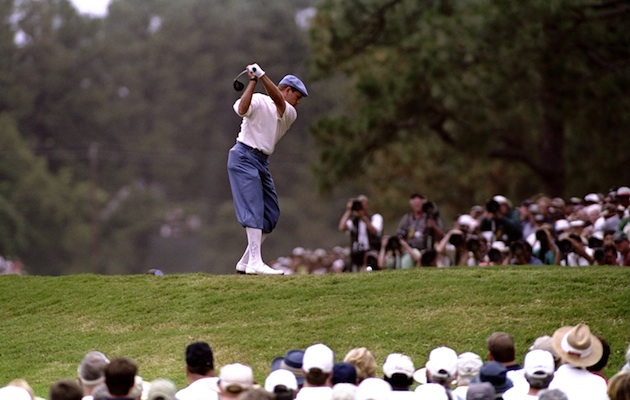 Having a day on tour dedicated to Payne Stewart would be an awesome move by the PGA Tour. (Getty Images)
Golf is full of questions. How do I hit it farther? How do I break 90? What is wrong with Tiger Woods? Why are you such an idiot?

It's a game that will never be figured out in the millions of years people will play it, but it's fun to try to figure it out. Every week, it'll be you guys who help us answer the in-depth (and ridiculously fun) questions about the game. Have a question? Fire it our way on Twitter to either @shanebacon or @eyeongolf with the hashtag "#eyeqs". We will pick out the best of the week, answer them as best we can, and continue this throughout the rest of the season.

So we begin right here with our weekly Q and A with the readers …
@shanebacon #eyeqs Shark says Tiger is intimidated by Rory. Westy says no rift between he and Rory. Are either or both true in your opinion?

— Chris Charles (@BetterThanM0st) September 18, 2012
A. As I mentioned earlier about the Greg Norman quotes that Tiger Woods is intimidated by Rory McIlroy, I don't think I agree that there is an intimidation any more than there is a mutual respect for one another because they both live very similar lives (born with a golf club in their hands, expectations miles-high since they were 5-years-old, big wins early, a change-the-game mentality behind them).
I think that Rory and Tiger get along because they are similar golfers with similar things happening. Tiger gets to chat with someone about life who actually gets his, and visa versa. I sure don't think Tiger is intimidated by Rory's career or anything.
As for Lee Westwood confirming there is no beef between Rory and himself, that I agree with. I think that, as is life, these two aren't best mates, but they get along fine and will be chummy around Ryder Cup time. 
Westwood is one of the best ball-strikers in the world, and it would be fun to see him and Rory go out together as a team at the Ryder Cup just to see some wonderful golf (even though there is no way that's happening with Graeme McDowell on the team).
@shanebacon 10-footer to save mankind from extinction. Who would you pick to take the putt? #pleaseberight

— Jonathan Wall (@jonathanrwall) September 18, 2012
A. Wow. A putt to save the world from going under, Terminator style. Now that would be one you'd have to look at from both sides.
Since it's my mailbag, I figured we can narrow it down to my rules, so I'm going to skip the historical context and just go with a player that I'd pick right this second.
I'm immediately ruling out Tiger because he hasn't made a clutch putt in years (I'm sorry, Chevron doesn't count), and I don't think I'd go Rory because all his wins are by a thousand shots and I'd hate to have mankind on the shoulders of a kid (granted, a talented kid) who isn't there a lot.
No Bubba, no Dustin, no Rickie and no Hunter, and I'm counting out Webb, Phil, Ernie and Louis. I laugh at Luke, Lee and Charl, and hate to say no to Zach, Brandt and Steve, but I must.
My answer might surprise you, but here is who I'm picking -- right this second, if you asked me to pick a guy to make a 10-footer to save us from extinction, I'm going with Keegan Bradley.
Yep, Keegan is my choice. He's a tough kid with a lot of fight in him and I think his really scary gaze when he's reading putts would help calm planet Earth as we watched to see if we'd be around for another day. And, he can anchor his putter in case even his nerves cause those hands to shake a little. 
Keegan, our world depends on you!
(And obviously in the historical sense I'd go Jack Nicklaus and move on to the next question.)
@shanebacon Shouldn't there be a tour stop where every golfer has to wear knickerbockers to honor Payne Stewart?

— Darius (@AgeofaDarius) September 18, 2012
A. This is a BRILLIANT idea. Absolutely top notch. 
Back when Payne tragically passed away, I remember golfers wearing knickers to honor the two-time U.S. Open winner, and I loved the gesture mostly because I was a huge Stewart fan and decades later continue to be in awe of his golf game.
The problem is, with sponsors and such, it would be tough to go an entire tournament doing this, so why not have a Payne Day, and get all the pros to rock his old style?
Payne's birthday was January 30, which is right around Torrey Pines time, so I say maybe the first round of the Farmers Insurance Open should be Payne Day, with golfers offering up their best tributes to the incredible golfer that left too soon. Also, you could donate the outfits after the opening rounds and give the money to charity. Done and done.
Show Comments
Hide Comments
Two former rivals have made peace in Northern Ireland

This week's 80-team event in New Orleans came together in some odd ways

Jason Day-Rickie Fowler and Henrik Stenson-Justin Rose make up the heavyweight teams
Kaufman is certainly enjoying his tour of New Orleans

Jack Nicklaus nearly clips Doug Sanders with his putter after winning at St. Andrews

This gator fight is intense but ends with a whimper