Bad weather could change the way Augusta National plays
Winds and rains have softened the golf course days before the Masters.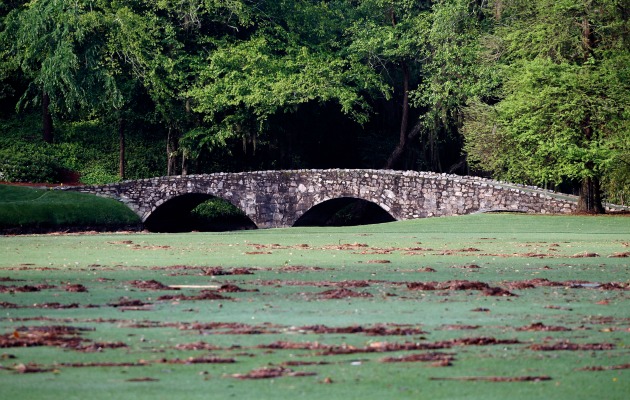 Debris covered Augusta National early Wednesday morning after 40 MPH winds. (Getty Images)
AUGUSTA, Ga. -- Augusta National has tried their hardest to make this place tough. They've lengthened it, added trees in different areas, moved tee boxes, implemented rough. But each year the one thing they have absolutely no control over is Mother Nature, and she seems mighty angry this year.
Patrons were held back from entering the course on Wednesday until 8:30 AM because storms that blew through Augusta on Tuesday night, and according to the Augusta Chronicle's Scott Michaux, a new bathroom near the 16th green at Augusta National was completely flattened by limbs that dropped during the 40 miles per hour winds.
How will all this weather affect the golf course? For starters, expect lower scores. No matter how long Augusta National plays, softer conditions means more aggressive second shots into most of the greens.
"As soft as the golf course is, you can fire at a lot of the pins.  The greens are soft.  I don't want to say they are slow, but it's just not the same Augusta.  It's wet around the greens, and there's no fear of the course.  You've got to attack it this week," Phil said on Tuesday before the latest run of storms. Unless something changes, and I know they have SubAir and hopefully they will be able to use it, but unless they change it, it's going to be a birdie‑fest."
Phil wasn't the only one to mention the softness of the course pre-storm. Tiger Woods was asked about the conditions on Tuesday as well, and said that the course is definitely holding water more than past years.
"The golf course is a little bit wet out there. Obviously we got some pretty good rains here.  (Monday) I played nine holes with Freddie (Couples) and Sean (O'Hair), and seven drives and had seven mud balls," Woods said.
Does a soft Augusta National benefit any players? It absolutely puts a premium on hitting the ball high and far, but it also takes the advantage away from the experienced player that has been at Augusta for a number of years. Mickelson said that while rookies might not have the best chance at winning on a fast Augusta National, a wet one might play right into their hands.
"I think there's a very good chance that a young player, inexperienced, fearless player that attacks this golf course can win if you don't need to show it the proper respect," Phil said.
The one thing that golf fans might not know is Augusta National proudly boasts a SubAir system under their greens that help dry them out extremely fast. So logistically, players could see soft, wet fairways but dry greens that play differently than the rest of the course.
The greens are cut into the grain off the tees, so you're not going to get any chase. And the potential of getting mud balls further back, and with the SubAir, as you said, these greens can dry out very quickly.  As I said, they are receptive, but they are quick.  It's an interesting combo, because we don't face that very often," Woods said on Tuesday.

And would the bad weather ever force Augusta to go with "lift, clean and place" through the fairways? Fred Ridley, who runs the Masters tournament side of things, said on Wednesday, "That would be a significant departure" to how things are normally run around here, and that he couldn't recall if they'd ever done that before. 
Whatever the conditions, Augusta National still comes down to putting and missing the ball in the right spots, but if the conditions stay similar to what they are on Wednesday, we might see a few records fly out the window before a green jacket is worn on Sunday.

For up to the date Masters news, follow Shane Bacon on Twitter.
Travelers offered a top-tier field and was gifted an ending that should best any major in...

Spieth knocked in a candidate for the golf shot of the year on Sunday afternoon

Find out when and how to watch the 2017 Travelers Championship live this week
The No. 3 player in the world narrowly made the cut after his monster drive

The Travelers Championship looks to be Spieth's to lose after another solid round

The two-time major winner was nearly flawless on Thursday