Eye on Golf Equipment: The Nike TW '13
Our Eye on Golf Equipment reviews roll on with the much-anticipated Nike TW '13 golf shoes.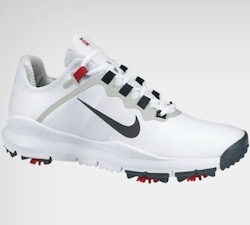 Nike's TW '13s are a combination of golf shoe and running shoe. (Nike)
The way golf works is simple: Whatever Tiger Woods does is really, really important, and the rest of the game falls behind him. 
If you don't believe that, remember back to when Tiger started wearing the golf shoes you see to the right. The Nike TW '13s (or Nike Frees as they were originally called) forced golf fans to take a side. You either loved the athletic look that Tiger asked Nike to bring him or you hated the way they looked with his always snazzy outfits. 
One thing is definitely for sure: When you put these golf shoes on your feet, there is no latter argument. The Nike TW '13s are downright comfortable. 
The idea behind the shoes dated to when Tiger asked the company to make a golf shoe that resembled the Nike Frees he enjoyed wearing when he ran or worked out (even the Nike Golf website has a quote when you go to the page that says, "I love training in it, running in it, lifting in it. So … why can't I play golf in it?"). Golf shoes have evolved immensely over the past few years, and the whole purpose behind golf companies these days is to find a shoe that makes your feet forget it's playing golf. 
The TW '13s are simply a golf shoe made with the Nike Free in mind. They're extremely wearable on and off the golf course (a friend said of the shoes, "it looks like you wouldn't even have to take them off after 18") and I'll be honest, they look a ton better with shorts. 
It's summer, the temperatures are rising, and the last thing you want is a pair of golf shoes that forces you to be even more uncomfortable. 
The thing that surprised me the most about these golf shoes was how much tread they had. When Tiger wore them, it seemed the bottom of the shoe was a lot like some of the newer versions of golf shoes that sacrifice traction for feel. These do not. The bottoms have more traction than previous Nike golf shoe models and you really feel yourself into the earth with them.
All in all I think the TW '13s are going to be a huge success because they carry the Tiger Woods name and they are flat-out good golf shoes. 
You might have been against them when you first saw Tiger sporting them, but if you put them on your feet, you will instantly change your mind.
www.nikegolf.com, $180
Show Comments
Hide Comments
After a brief blip at The Players, the Spaniard rocked again at Colonial on Thursday

What can Big Cat take away from the former Denver Broncos QB?

After one week with a mallet, old faithful is back in Spieth's bag
This was not the Super Bowl MVP's finest hour here

The European Tour's flagship event honored the victims of the Manchester bombing on Thursd...

Find out when and how to watch the 2017 Dean & DeLuca Invitational live this week