Gary Player says he knew Adam Scott would lose with 72nd hole tee shot decision
Gary Player admitted that when Adam Scott pulled three-wood out on the final hole at the British Open, he knew the tournament was going to go to Ernie Els.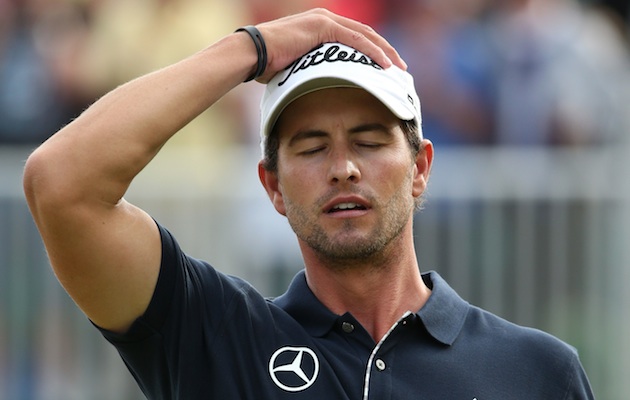 Adam Scott lost the British Open in epic fashion and Gary Player wasn't surprised. (Getty Images)
There are few people out there that know how to close out a British Open like Gary Player. Now 76, the South African was pretty salty at this game of golf in his day, winning nine major championship, three of those coming at the Open Championship. 
And you'd expect Player to be pretty excited that fellow countryman Ernie Els hoisted the Claret Jug this year at Royal Lytham & St. Annes but what you might not expect is that Player knew Ernie was going to win because of Adam Scott's club decision on the 72nd hole. 
Yes, as you may remember, Scott came into the final hole needed a birdie to win and a par to tie Els, but hit his tee ball in a pot-bunker, a questionable decision at the time considering most players were laying back of that bunker or booming driver over the bunkers. 
Player saw the three-wood come out and knew it was over.
"The minute he put his hand on that three-wood, I said, 'It's lost,'" Player said during a press conference at the Senior British Open. 

"He's gone with an iron all week, you either lay it up, or you go. The three-wood is in the bunker zone and that's a certain hazard. I said, under this pressure, he's going in that bunker."
It was a confusing decision by Scott, who knew the circumstances at the time. If he hits driver over the bunker on the last, he's got a flip-wedge in, and if he lays back, he's got a similar distance to what he had on his third shot that he still stuck to 10 feet. 
Player didn't hold back in blaming Steve Williams, Scott's caddie, for the strange decision, either.
"And I'm shocked that his caddie, because his caddie is a world renowned caddie, I would love to get his caddie's point of view to be fair, but he should have gone with driver," Player said. "If I was him, I would have gone with driver, he's got a beautiful swing and he's so long that he can carry that (bunker)."
One of the interesting things about this is that Williams has always been known as "the caddie that never chokes." People have said that endlessly about the guy, because so many loopers will get nervous when the tournament is closing out and lose their focus similar to how a golfer might let the bad thoughts creep in their head over golf shots.
You can blame Williams all you want, but it was Scott's final decision, and he was the one that pulled that three-wood into the bunker.
Still, nice to see someone like Player being so honest about such a big moment in the 2012 golf season. 
Show Comments
Hide Comments
It's not a record, but it's not far off either

After a few Twitter burns, the Ben Crane drama is now over

This was one of the most improbable birdies of the season from Chris Stroud
The Texas duo showed some skill in alternate shot in New Orleans

Mat Goggin recently got his clubs broken by United on a trip

Jenner does have a point about the president wanting to win