GIF: Fred Couples raises flag at Seattle Seahawks game
This GIF of Fred Couples in a No. 12 jersey raising a Seahawks flag is pretty hilarious.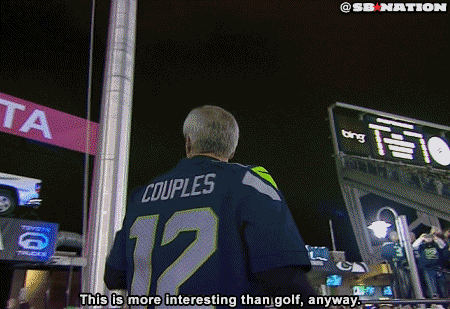 More Golf: Leaderboard | Rankings | Schedule | Equipment | FedEx Cup
Fred Couples was the honorary 12th man at the Seattle Seahawks game last night and as such got to raise Seattle's 12th man flag before the game. 
I'm pretty sure they could have gotten somebody a little, um, less chill to get 67,000 fans fired up but they couldn't have picked anybody cooler.
According to Golf Channel Couples is a season ticket holder and thinks football is is more fun than golf.
"I've gotta be honest," he said, "this is more fun than golf ever is. This is a blast for me to be a part of it."
Past flag raisers include:
Trent Dilfer
Detlef Schrempf 
Ken Griffey Jr.
Kenny Mayne
Jamie Moyer
Shawn Kemp 
h/t SB Nation
For more golf news, rumors and analysis, follow @EyeOnGolf and @KylePorterCBS on Twitter or Google+ and like us on Facebook.
Find out when and how to watch the 2017 Open Championship live this weekend

What channel is the British Open on? Find out when and how to watch live from Royal Birkda...

Live leaderboard scores and updates from Round 4 of The Open Championship at Royal Birkdal...
Purse and prize money breakdowns are out for the Open: Here's what each golfer will get

The tee times and pairings for Round 4 of the 2017 Open Championship at Royal Birkdale

Rory McIlroy surged, Brooks Koepka stayed steady, and Jordan Spieth took over on Saturday in...