Irish ayes result in historic week: First sellout in European Tour history
Despite a smallish population, fans in Northern Ireland turning out in record numbers for this week's Irish Open, staged on nation's shores for the first time since 1953.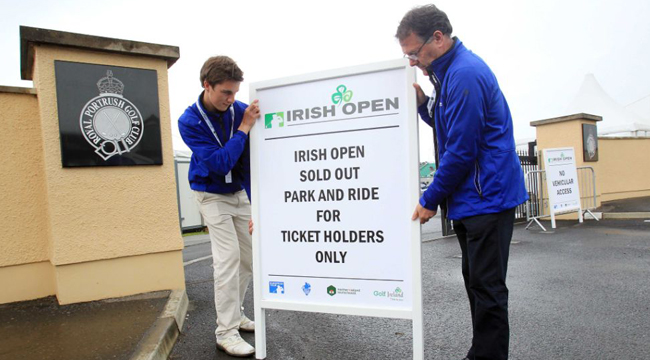 Workers at the Irish Open set up a sign saying the Open is sold out this week. (European Tour)
Let's attempt to frame this as incomprehensibly as possible, if you'll pardon the choice of words.

According to multiple, credible, inviolate sources, the total population of Northern Ireland is a shade under 1.8 million souls.

So, the fact that nearly 10 percent of that total could turn out for the practice rounds, pro-am and the four competitive days of the Irish Open is almost inconceivable.

That's truly stunning testament to how hot golf is in that country, despite some major economic problems, at the moment.

With entries from Irish sons and major winners Graeme McDowell, Darren Clarke, Rory McIlroy and Padraig Harrington – not to mention an American of Irish descent, reigning PGA Championship winner Keegan Bradley – the fans on the Emerald Isle have accomplished a stunning first.

The event, held inside Northern Ireland for the first time since 1953 and along the north coast at storied Royal Portrush Golf Club, on Wednesday became the first sold-out regular event in European Tour history.

Tournament director Antonia Beggs said Wednesday that when it was noted that the final three rounds had already reached their allotment of 27,000 daily tickets sold, the first round maxed out shortly thereafter.

In fact, an estimated 15,000 attended the practice round on Wednesday and officials are allowing kids under age 17 to attend free, so it could be quite a scene and nigh on impossible to get a final head count.

"We urge spectators not to arrive at the gate in hope of purchasing tickets, as there will be no further sales," Beggs said.

Some of the top players received appearance fees, but the organizers should turn a profit. The winner's share at the classic Harry Colt design is approximately $415,000.

And to think that some longtime golf observers in the United Kingdom expressed doubt as to whether the British Open, on the million-to-one chance it would ever be held in Northern Ireland, would draw much of a crowd?

But perhaps we're getting ahead of ourselves a bit. As Irish veteran Paul McGinley told reporters, "Let's get through the week first."

The European Tour noted that, in addition to normal scheduled services, extra trains will run from Belfast and Derry/Londonderry to Portrush. On-line train ticket sales have now closed but there is still a limited supply of tickets available from main stations.


Show Comments
Hide Comments
The Texas duo will chase from behind in Round 4, but they could be in for an epic day

After the drama of the Texas Open, it turns out the Englishman will in fact keep his card

George Coetzee got one of the great breaks in recent memory on Friday
Fowler misses cut but leaves us with a better idea of how to boot a gator off the course

Two of the PGA Tour's best were invited to hang out with Sean Payton and company

It's not a record, but it's not far off either