Luke Donald has gone 100 holes in Dubai without a bogey
Luke Donald is having an incredible week in Dubai.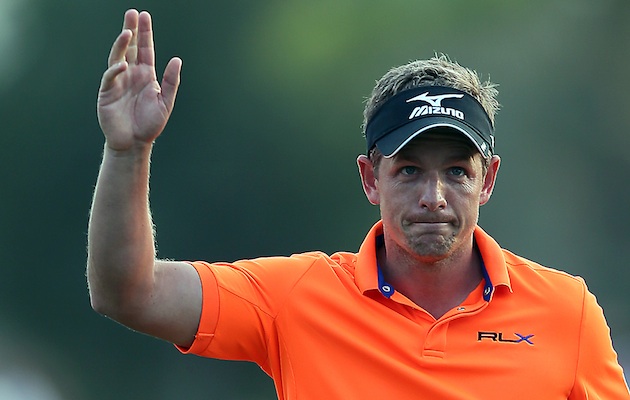 Luke Donald could become the first European Tour player to win without a bogey since 1995. (Getty Images)
When Luke Donald lands in Dubai, he apparently forgets how to make a bogey.
That's what is currently happening at DP World Tour Championship. Donald, currently tied for the lead with Rory McIlroy at 17-under through three rounds, has yet to make a bogey this week at Jumeirah Golf Estates. But that isn't the most impressive part.
The 34-year-old Englishman hasn't made a bogey in 100 holes played in Dubai, dating back to the eighth hole of his second round a year ago. This week, Donald has made 17 birdies, 37 pars and nothing else. He's vying to become the first European Tour player to win an event without a bogey since Jesper Parnevik did so in 1995.
Even more impressive? According to Will Gray over at Golf Channel, a bogey-free win hasn't happened on the PGA Tour since a guy named Lee Trevino did it in 1974. 
"It's a statistic of which I'm very proud," Donald said after his third round 68. "I think my previous longest run would probably be about 40 or 50 holes, so that puts it in perspective."
A win this week would be his second European Tour title of 2012 and his fourth globally after he snagged the Transitions Championship in March and won the Dunlop Phoenix last week in Japan.
Jordan Spieth won his third major and first Open Championship on Sunday at Royal Birkdale

At 23, Spieth joins only Jack Nicklaus as quickest to three legs of the Grand Slam

Daniel Berger and Justin Thomas were also stunned by Spieth's lead-clinching eagle on 15
Jordan Spieth bounced back from near disaster with a birdie-eagle punch on Sunday

The moment of the 146th Open Championship happened on Sunday at No. 13

Find out when and how to watch the 2017 Open Championship live this weekend