Manager says Dustin Johnson only injured and raring to go -- despite rumors
American star Dustin Johnson has been the subject of a whirlwind of rumors and innuendo over the past few weeks while nursing what his agent reiterates is a serious back injury.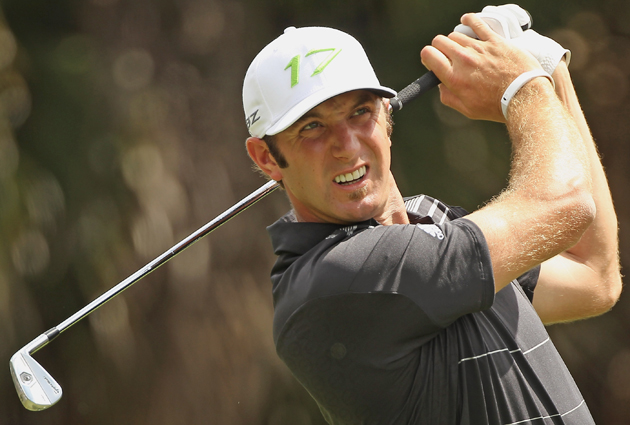 Dustin Johnson's agent says he isn't suspended. He's just injured. (Getty)
ORLANDO, Fla. -- Good thing that Dustin Johnson isn't the most tightly wrapped player, or he might be a bit annoyed at the innuendo and gossip being slung around in his lengthy absence.
The powerful American star hasn't played in a PGA Tour event since mid-March at Doral, after sustaining a back injury while lifting a jet ski in the river that runs through his South Florida backyard, his management firm says.
But that hasn't stopped the game's considerable grapevine from humming, including suggestions that Johnson had run off to get married, had again hooked up with Natalie Gulbis, or is serving a tour-mandated drug suspension.
"I have heard everything from A to Z," his manager, David Winkle, said Tuesday from Dallas.
Of late, the latter rumor has spread like a virus on a cross-country flight. Winkle unequivocally denied it.
"Dustin is not serving a drug suspension," Winkle said evenly. "I will make it clear -- he has been injured. He is playing golf again, he is very rusty but champing at the bit to get back out there."
Johnson originally signed up to play this week at the Byron Nelson outside Dallas, but took his name off the commitment sheet shortly before the deadline last Friday.
"He just didn't feel like he was quite ready to play," Winkle said.
As it stands, Johnson will make his return in two weeks at the star-laden Memorial Tournament in Dublin, Ohio, part of what shapes up as a very busy stretch. Johnson also has committed to playing in Memphis before the U.S. Open, which means at least three starts in succession after the layoff. He also is considering adding more events after the Open.
After missing much of the past three months, Johnson ranks 21st in U.S. Ryder Cup points.
"He's going to try to make up some lost ground," Winkle said.
Show Comments
Hide Comments
The No. 3 player in the world narrowly made the cut after his monster drive

The Travelers Championship looks to be Spieth's to lose after another solid round

The two-time major winner was nearly flawless on Thursday
The latest major champ knows how to party

This is some serious lack of golf etiquette from the POTUS

Find out when and how to watch the 2017 Travelers Championship live this week