Mickelson withdraws from Memorial Tournament after 'horrendous' 79
World No. 12 blows up with a 42 on the back nine at Muirfield Village, and says he needs time off after playing three straight events and taking trip to Europe with his wife last week.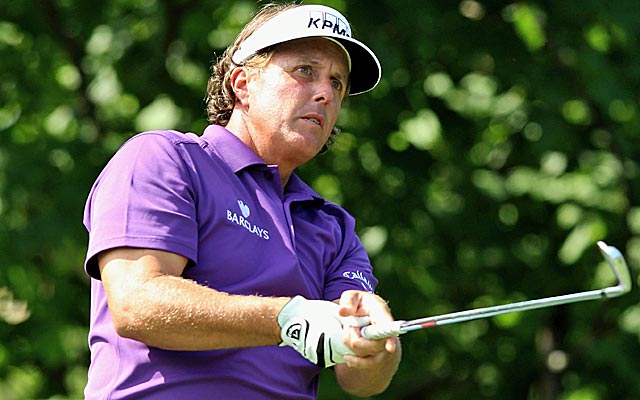 Phil Mickelson pulls out of the Memorial after firing a 79.
(Getty Images)
DUBLIN, Ohio – Phil Mickelson needs a vacation to recover from his vacation.
After shooting his highest score on the PGA Tour in years, the left-handed star withdrew from the Memorial Tournament on Thursday after playing "horrendously" and shooting 79, Mickelson said he was burned out from playing three events in succession and making an overseas trip to celebrate his wife's 40th birthday.
"I came back and had a Tuesday outing in Long Island, the pro-am, and I think mentally I'm a little bit fatigued," Mickelson said. "So the course here is in such great shape, it's a beautiful way to get ready for the U.S. Open. 
"But I'm hitting it so poorly that I think that for me to -- I have to look at what's best for me to play in the U.S. Open, and I'm going to take the next few days to kind of rest up."
Mickelson said he would not add week's event in Memphis to make up for the withdrawal. The U.S. Open begins a week later in San Francisco, and Lefty is a five-time runner-up.
Mickelson played the last seven holes in 7 over to record his highest score since shooting 80 at Tampa in 2003.
He last withdrew early from the tournament at Memorial in 2007, when he aggravated a wrist injury he sustained while practicing for the U.S. Open.
"But certainly I'm disappointed with how I played today, but I think I've got to be more big-picture oriented and think about the Open and what's best to get my best golf out there, and I need the next few days to rest up a bit," he said.
Mickelson heaped huge praise over the course condition, but said he has no gas left in the tank. After finishing play at the Byron Nelson, he and wife Amy flew to Italy and France.
"We had a great time, but I think I probably just went a little bit overboard last month, and it has nothing to do with playing poorly and so forth, but I do think I need to get rested to play my best for the Open," he said.
"It was a great setup. I think if you struck it well it's a course you get rewarded on. I struck it horrendously and I got penalized, and that's the way it should be."
The Memorial marked his fourth event in five weeks, with the European trip taking place in the idle week.
Mickelson could be paying for his week abroad in more ways than one. According to the PGA Tour player handbook: "Fatigue will not be considered a valid reason for withdrawing." Although if a player withdraws after finishing a round, no reason for leaving early needs to be given. 
The tour does not discuss or confirm player disciplinary matters.
Show Comments
Hide Comments
Flirting with another missed cut, Jordan Spieth recovers and is four off the lead at the Dean...

After a brief blip at The Players, the Spaniard rocked again at Colonial on Thursday

What can Big Cat take away from the former Denver Broncos QB?
After one week with a mallet, old faithful is back in Spieth's bag

This was not the Super Bowl MVP's finest hour here

The European Tour's flagship event honored the victims of the Manchester bombing on Thursd...