MMSC: Graeme McDowell owns Sherwood, and Martin Kaymer rides Ryder momentum
Our Monday column focuses on Graeme McDowell and Martin Kaymer.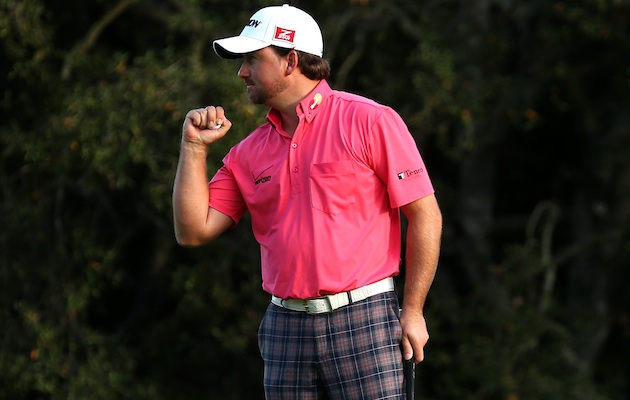 Graeme McDowell won for the first time in two years this weekend. (Getty Images)
Sometimes it takes a single golf course to get your game back on track. For us regular hacks, it might be our home country club or the local municipal we grew up playing. For professionals, it might be that one golf course that seems to fit their eye better than any other track in the world.
This week at the World Challenge, Graeme McDowell revisited one of his biggest golf moments ever, which is strange to say for a silly-season event. But in 2010, McDowell was riding a ridiculous high after winning the U.S. Open and clinching the Ryder Cup for the Europeans and headed to Sherwood Country Club a newfound star. Sure, Rory McIlroy was the Northern Ireland prodigy, but McDowell was the cool character who seemed to get all that comes with being both a professional golfer and a major winner (ask any reporter around and his name will be in the top two or three favorite guys to chat with or interview).
You know the story from two years ago. McDowell stared down the host, Tiger Woods, in what some considered Caddy Bib-Gate, rolling in a lengthy birdie putt on the final hole in regulation and then winning it with an equally impressive birdie in the playoff. It was supposed to be Tiger's coming out party, but McDowell once again slammed the door on an American trying to be a hero.
This year was a little different. McDowell came into the World Challenge just one of three international players in the 18-player field, and the recently engaged McDowell wasn't even one of the top five names you'd expect to win. But Sherwood seems to bring the best out in him, and his four rounds in the 60s was good enough to top Keegan Bradley by three shots.
All week he seemed in control of his golf swing that can get a little loose at the top when the timing isn't right, and he never really seemed challenged the entire week to snag his first professional win in two years. 
The World Challenge might not exactly be the green jacket, but with this talented field, a win can really do things for your upcoming season. Last year Tiger took down Zach Johnson and went on to win three times on the PGA Tour, and if McDowell can carry this momentum into 2013, we might see something similar. 
The yelling has to stop
I did appreciate what Graeme McDowell said in his winning press conference Sunday evening about spectators yelling out ridiculous things after golf shots. 
"I'm kind of fed up with all this "mashed potatoes" and all this rubbish that the crowd is kind of enjoying shouting right now," McDowell said. "Keegan had a guy out there who was, after every shot, he was yabba dabba doing and it was just stupid. It's something for the players, it's not a lot of fun and it's kind of becoming a little bit of a cool thing to do for the spectators. It kind of gives them their two or three seconds of fame. But it gets a little frustrating for everyone."
I think any logical person would agree with McDowell here. If you missed the story of fans heckling Bradley about "cheating" because he was using a belly putter, well, that is something that happened at Sherwood this week and it's absolutely ridiculous. Like the anchoring ban or don't like it, these guys have three years to mess around with these tools and you can't hate on their decision to do so. 
And can I ask one simple thing from a golf fan who watches a lot of live golf on TV? If you must yell something after a golf shot, come up with something original? Mashed potatoes is as played out as "get in the hole."
Kaymer rides the Ryder Cup momentum to a win
On Sunday at a limited field event in South Africa, Martin Kaymer reigned victorious.
Not a ton can be said when a guy beats just 12 other players, but it's important in the sense of momentum. You see, golf and momentum go hand and hand. Few things are as important in your golf bag as a guy who thinks he has the ability to play with the best, and beat them, and for two years, Kaymer didn't have that mentality.
His game had come into question so much that people were bringing up the idea of replacing him on the Ryder Cup team if he'd be OK to step away, but then came Medinah and that clutch putt and all the accolades that came with being the winner of an incredible European comeback.
Now Kaymer sits around with a win over Charl Schwartzel, Bill Haas, Louis Oosthuizen and a host of other big names that Gary Player's design. 
It's big for a guy like Kaymer. The guy was sliding toward obscurity on the game of golf and now he's playing well, winning and hitting the shots he needs to hit to get back to where he once was (remember, this guy beat Bubba Watson to win a major championship in a playoff). 
It's a fun thing to watch and I expect Kaymer will carry this momentum into next season and be relevant again. 
Show Comments
Hide Comments
She is probably most-accomplished teenage golfer of all time

Just a couple of legends out for a quick nine over the weekend

It seems like Tiger Woods is much closer to retiring than a lot of people might think
Chappell held off Brooks Koepka, Kevin Tway and Tony Finau in San Antonio on Sunday

You might be seeing less of everybody's favorite Englishman in the near future

The new Masters champ took a tour of the soccer world in his new threads