MMSC: Miguel Angel Jimenez, Luke Donald and Adam Scott all won over the weekend
It was a pretty big week in the offseason for some of the biggest names in the game.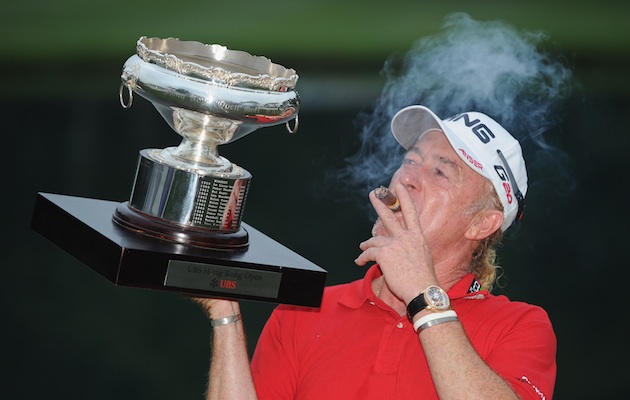 This is the only appropriate way to hold a trophy. (Getty Images)
Sometimes it's nice to be reminded to live your life. We here are all golfers that probably put way too much time and effort into our own games, pro or otherwise, with minimal changes to our bottom line.
That's why it's so great to hear stuff like what Miguel Angel Jimenez said after becoming the oldest winner in the history of the European Tour.
You all know Miguel. The cigar-carrying, wine-drinking, fancy-car buying Spaniard that probably had more fun last night than all of us will have in the entire 2013. The best part about Jimenez, however, isn't his approach to life; it's that he KNOWS how good he's got it. After snagging the Hong Kong Open on Sunday, one shot better than Fredrik Andersson Hed, Jimenez gave this incredible quote about his week, and life, and everything under the sun.
"There is maybe olive oil in my joints, and drinking the nice Rioja wine and those things keeps me fit and flexible," he said. "Well, the most important thing (is), I do what I like to do in my life, and golf has given me all of this pleasure."
Ahh, honesty. It was Jimenez's 19th European Tour title in his career, putting him 11th on the all-time European Tour wins list (ahead of names like Sandy Lyle, Greg Norman and Padraig Harrington), but it was really just a look into the life of a guy that most call The Most Interesting Man in the World. 
What makes Jimenez so likable? The fact that the guy is honest. He gets it, and as a guy that can get the ball in the hole better than most on Earth, it's cool that he has the perspective that others could definitely use. 
Speaking of relaxed golfers …
It was quite a week for big names at random golf tournaments, as Luke Donald snagged the Dunlop Phoenix, an event on the Japan Golf Tour, with a final round 65 to beat the field by five shots.
The win was good enough to push Donald ahead of Tiger Woods in the world rankings, landing in second behind Rory McIlroy and just a few percentage points ahead of Tiger.
Donald tweeted this after his win on Sunday at the Phoenix Country Club, reminding us all that while golf might still be going on, November adds a bit of a relaxed atmosphere for players understanding the year is finally winding down. 
Loved my week here in Japan - the Dunlop Phoenix is a great event, on a great course, great food, great beer....it's just great! #great

— Luke Donald (@LukeDonald) November 18, 2012
And one more big name with a victory 
The Australian Masters didn't feature a ton of big names in the field, but the two biggest sure battled all week with each other.
Adam Scott ended up beating Ian Poulter, who struggled with his game on Sunday allowing the Australian to snag his first win of the season. 
Scott seemed pleased with the win, but I though the most interesting part of the weekend came from this Alan Bastable interview with Scott. 
Asked if he ever considered firing caddie Steve Williams after everything that went down with the former looper of Tiger Woods, Scott said no, it never crossed his mind.
"No, I never thought about that. The incident was extremely unfortunate and I'm not going to do myself any favors by talking about it a lot, but I think most people believe it was a closed room that night. Other things were said in the room that some would find offensive, but the only thing that was taken out of the room was Steve's comments -- not smart comments, I might point out."
The whole interview is worth reading over your morning cup of coffee, but I found it just about right that Scott wouldn't have let Williams go just by a couple of dumb comments he said in what was supposed to be a private function.
Show Comments
Hide Comments
Another Alabama alum is playing some great golf in San Antonio

Steven Fox had a bit of a struggle coming out of this bunker during a practice session

The defending champ is still in the hunt after a club mishap
Ken Duke is a national treasure, and he reminded us why at the Texas Open this week

Patrick Reed got his clubs fixed, and his game followed suit in San Antonio

Golf lover Aaron Rodgers has a lot of time on his hands this offseason