Riding with dad: Scott Verplank remembers early golf memories
PGA Tour golfer Scott Verplank remembers riding in a golf cart with his dad at an early age.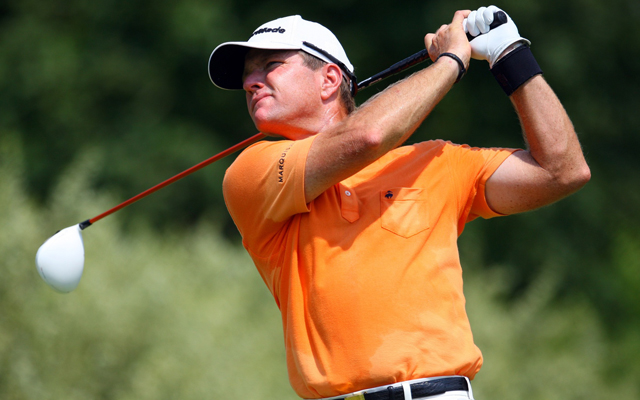 Each day during U.S. Open week, Kyle Porter explores a golfers' father-son relationship and how it shaped who he is as a person and a golfer. Up today: Scott Verplank in part three of a five-part series. 
What was your golf relationship like with your dad when you were growing up?
"My earliest memories of golf with him were I would just ride around in the golf cart and watch him play. He might let me hit a couple shots every now and then.
"My mom and dad both took me out to play when I was little, as my grandparents did, too. It was kind of a whole family affair. Playing in the father-son and all that good stuff when I was a little kid. I had a brother and he'd have to play with both of us and whoever he hit a bad shot for, that one would get pissed.
"They encouraged me but never pushed me and provided opportunities to do stuff I wanted to do."
What was the one thing your dad gave you that you still apply today?
"Patience; golf's pretty hard. You can probably not ever have too much patience to get good and to be good. He's not a great golfer and he never was but he liked playing and hanging out with his friends.
"If you played good, you played good and if you didn't, you didn't but you still enjoyed the day."
What's your favorite memory you've been able to share with your dad throughout your PGA Tour career?
"Winning the Byron Nelson (in 2007) was [my favorite memory I've gotten to share with my dad]. Being a hometown event and lots of family and friends around -- I know it was a big deal to my mom and dad because this was the first tournament I came to as a little kid and carried the signs and did all that stuff. My mom worked at it. I'm sure that was as big a deal as anything. It was a pretty exciting deal to win the tournament and I know it was for them."
Do you think your dad would say the same thing?
"Probably, I don't know. It was a pretty exciting deal to win the tournament, and I know it was for them."
How involved were they with you when you were at college at Oklahoma State?
"They were perfect parents -- they didn't tell me what to do, they knew I was at a good place under good guidance and leadership. They let me be very independent, but they've always supported me and have been there to watch. The older I get, I realize just being there, how important that was.
"They've been great."
For more golf news, rumors and analysis, follow @EyeOnGolf and @KylePorterCBS on Twitter or Google+ and like us on Facebook.
Show Comments
Hide Comments
Two of the PGA Tour's best were invited to hang out with Sean Payton and company

It's not a record, but it's not far off either

After a few Twitter burns, the Ben Crane drama is now over
This was one of the most improbable birdies of the season from Chris Stroud

The Texas duo showed some skill in alternate shot in New Orleans

Mat Goggin recently got his clubs broken by United on a trip