Rory McIlroy admitted being more nervous meeting Tiger Woods than President Obama
During his Players Championship press conference, Rory McIlroy admitted he was more nervous the first time he met Tiger Woods than President Barack Obama.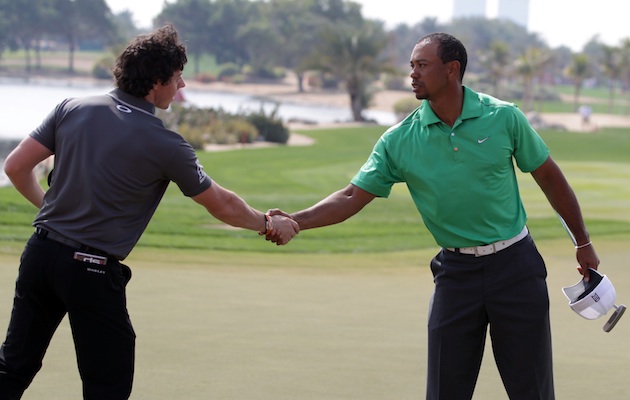 Rory McIlroy admitted that he was more nervous meeting Tiger Woods for the first time than President Obama. (Getty Images)
No matter your political view, there is something special about being an athlete and getting to meet the President of the United States. It means you accomplished something incredible. It means you're a champion. It means you are in some rarified air with a select few other athletes who are getting the Oval Office invite on that president's term. 
But is meeting President Barack Obama a better experience that meeting your childhood hero? Rory McIlroy doesn't think so. During his press conference on Tuesday at the Players Championship, Rory admitted that he was more nervous meeting Tiger Woods for the first time than President Obama.
"I think the first time I met Tiger I was a little star struck," said McIlroy, who admitted the meeting happened in Scotty Cameron's studio when Rory was 15 years old. "I watched him on TV winning majors by 15 and 12 and doing things that no one else could."

"It's funny, I was talking about this last night," he said. "I was more nervous meeting Tiger than I was meeting Barack Obama."
A few points to be taken from this fun little revelation from our current U.S. Open. First, of course, you're more nervous as a 15-year-old meeting your idol than as one of the most famous golfers in the world meeting the president of another country. Meeting the leader of the free world is cool no matter what flag you fly under, but it probably doesn't hold the same excitement as it would if you were actually born in this country.

Secondly, you are a kid in the Scotty Cameron studio and the guy you eventually want to be, or strive to be, is standing right there. He's the guy that's killing it at the game, and making everyone else look foolish. Before all the personal stuff came out, Tiger was the athlete to meet and chat with. 
I think it's pretty cool that McIlroy would answer so candidly about his first encounter with Tiger, and go as far as comparing it to a first meeting with the president. It might sound silly to people that don't love the game of golf, but prior to 2009, Tiger was the coolest cat the game had ever seen, and meeting him was just about the best thing that could happen in golf.

Don't believe me? Watch this video and see the reactions from fans that had no idea Tiger was showing up.  
Show Comments
Hide Comments
This eagle chip from the team of Kevin Kisner and Scott Brown was unbelievable

The Texas duo will chase from behind in Round 4, but they could be in for an epic day

After the drama of the Texas Open, it turns out the Englishman will in fact keep his card
George Coetzee got one of the great breaks in recent memory on Friday

Fowler misses cut but leaves us with a better idea of how to boot a gator off the course

Two of the PGA Tour's best were invited to hang out with Sean Payton and company