Rory McIlroy says Graeme McDowell is like a big brother
Golf is a individual sport, but that doesn't mean the pros don't have good buddies.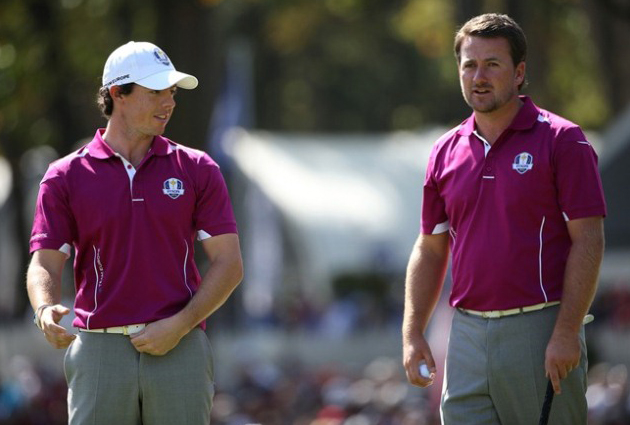 Rory McIlroy says Graeme McDowell is "like a big brother." (Getty)
In a revealing (and fascinating) piece by Golf Digest, some of the world's most famous golfers recently talked about whom they hang out with on the road.
Rory McIlroy
I sort of view [

Graeme McDowell

] as a big brother in a way, more than a buddy. He was always really good to me, taking me under his wing. It was great for him to do that, and from there, we developed a really close friendship.
This has been in the media for a while now, but it seems like they have about as cordial a relationship as you can have with somebody whose brains you're trying to beat out every weekend.
Graeme McDowell
Darren [Clarke] is about 10 years older than me, and I'm 10 years older than Rory. Darren showed me the ropes back in the day, pulled my chain a few times as a rookie, which helps you settle in and play with some of the best guys in the world.
I'd like to see what pulling McDowell's chain entails.
McDowell also took a friendly dig at his pal, McIlroy:
I haven't had a chance to see him much the last 12 months because he's chasing the tennis tour around these days
(Not that McDowell is doing too badly himself.)
Tiger Woods
Golf Digest noted:
Now that Woods lives on Jupiter Island, most of his buddies games are with Ahmad Rashad and Michael Jordan, although he will occasionally join Fowler or Dustin Johnson at Medalist for a quick nine holes. His closest buddy among tour players is college teammate

Notah Begay III

.
I think it says a lot about Woods that, after all these years, his closest friend is still Notah Begay III.
Speaking of IIIs ...
Davis Love III
Golf Digest documented some of Love III's exploits:
Love has also buddied up with

David Duval

through their love of snowboarding in Sun Valley, Idaho, and Love's a Sea Island, Ga., paddleboard pal with

Chris Kirk

and

Lucas Glover

.
Sounds like a difficult life.
Hunter Mahan
The Oklahoma State grad vacations with John Rollins and Ben Crane . Of one of their trips, Crane said:
We were on the boat fishing, snorkeling, building sand castles on the beach, throwing the ball around. We do lazy lunches, long dinners, have a nice bottle of wine. When we don't have the tournaments pressing in on us, you just want to let the air out of the balloon.
Where do I sign up for this?
Zach Johnson
Frankly, a lot of my best buddies are the ones whose wives hang out a lot. I wouldn't know where to start and where to end on that. We're doing stuff at home together, not just on the road.
Johnson also said he can't remember how many ski trips his family has taken with Stewart Cink 's family.
Bo Van Pelt
Van Pelt is just glad he doesn't have young kids to deal with anymore.
When Charles [Howell III] and Heather invite us to dinner, it's them dealing with the craziness of having a young family. I haven't carried a diaper bag in a long time, so it's great to see them deal with it.
The thought of Van Pelt toting a diaper bag on the driving range is too much for me. He said they also shared a house at Kiawah for the PGA Championship last year.
Keegan Bradley
I loved this:
I'm starting to get close to Rickie and Dustin, but one of my favorite people on tour is Camilo [Villegas]. I've been branching out this past year.
Can't wait to see him doing the Gator chomp in the Swamp next fall with Villegas.
Aaron Baddeley
Me and Bubba [Watson] are sort of opposites, like the yin and the yang. Rickie, he's awesome. He's such a thoughtful young guy, but he's a bit of a jokester at heart, too. That's why we all get on so well.
Only a bit of a jokester?
For all the pressure we put on these guys to perform at a world-class level, it's pretty fun to see the lighter side of them. To see -- besides the 310-yard drives and clutch double-breaking putts -- that they're just like you and me!
For more golf news, rumors and analysis, follow @EyeOnGolf and @KylePorterCBS on Twitter and like us on Facebook.
Golf fans reveled in Branden Grace besting Johnny Miller's 63 in the 2017 Open Championshi...

The young Canadian moves on up the leaderboard with this hole-out

After nearly 160 years, we finally have a 62 in a major
What channel is the British Open on? Find out when and how to watch live from Royal Birkda...

Find out when and how to watch the 2017 Open Championship live this weekend

Live leaderboard scores and updates from Round 3 of the 146th Open Championship at Royal B...