Tiger Woods posts his first over-par round in three tournaments on Friday at East Lake
Tiger Woods did everything right on Thursday, but just a day later it seemed he couldn't get anything going en route to a second-round 73.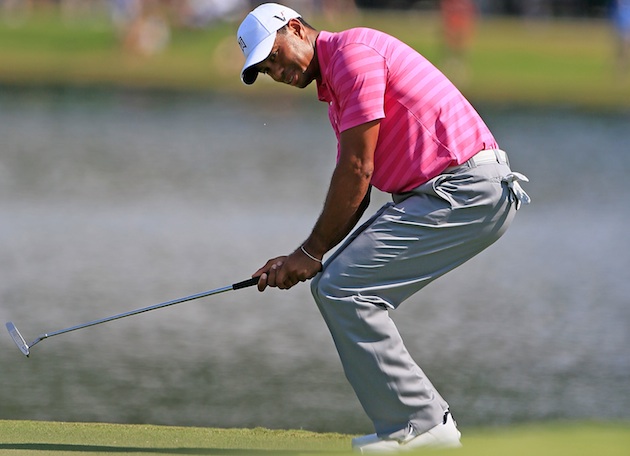 Tiger Woods had a completely opposite round on Friday compared to Thursday. (Getty Images)
Tiger Woods has definitely shot higher rounds during his 2012 season than he did on Friday at East Lake. His final round at the AT&T Pro-Am comes to mind, as does his third round at the U.S. Open. All of his rounds at the Masters lacked pizazz and his 76 to close out the Barclays after opening with rounds of 68-69 left a lot of golf fans scratching their heads.
But at no point during any of those rounds had Tiger been on the sort of stretch that he's been on the last three weeks on the PGA Tour. Woods entered his second round at the Tour Championship with nine consecutive rounds under par, including his opening-round 66 on Thursday at East Lake, when he seemed to do just about everything right. 
TOUR Championship
More Golf coverage
Woods was tied for the lead and paired with Justin Rose for round two, the last group on the golf course at the last big tournament of the season. But if determination was the best way to describe his Thursday at the Tour Championship, confusion might have been the way to summarize what we saw on Friday.
Tiger shot a 3-over 73, dropping 11 spots on the leaderboard to a tie for 12th in the 30-man field. His five bogeys and a double-bogey marked his biggest number of over-par holes in one round ever at East Lake, a course that has always seemed to bring out the best in Tiger's golf game. If nothing else, it showed that although Tiger is definitely in a better place with his golf game over the last month, even he is still able to go out and swing loosely for 18 consecutive holes.
Woods is obviously not perfect, and his golf swing, especially when he's double-crossing tee balls and iron shots, seems to put Tiger on Internal Battle Mode for the entire 18 holes. But he was one of the first to admit that his Friday was nothing short of an ugly round of golf. 
"It was a struggle all day," Tiger said with his hat pulled down well over his eyes and a look on his face that showed a level of frustration we haven't seen from Tiger since Kiawah. 
But the next question Tiger fielded reminded us all to relax a little on counting Tiger out after just one bad round. 
"Is there any way to explain how you can go from playing really well one day to not so well the next day?" Tiger was asked. 
Yep," Tiger said with a slight smirk on his face. "Golf."
Woods now sits six shots behind surprise leader Jim Furyk, who shot an impressive 6-under 64 on Friday that could have been much lower. But as we all know, a course like this can produce some high numbers if guys aren't careful, and if Woods actually did find something in his stroke like he suggested after his round, a third-round 66 or 65 would put him right back in the equation.
As Tiger put it, this is still golf, and Saturday could bring a completely different result than Friday. 
Show Comments
Hide Comments
An 'unexpected reaction' prompted the DUI charges, Woods explains in a statement

The last decade has not gone all that well for Big Cat

Bernhard Langer won the Senior PGA Championship on Sunday, but might not hold the record
Woods was arrested at 3 a.m. for driving under the influence

That's two straight for the German machine

Spieth and Rahm couldn't overcome a final round 66 from Kisner