Tiger Woods, Rickie Fowler highlight five most intriguing US Open groups
Phil Mickelson and Bubba Watson, Rory McIlroy and Martin Kaymer and Jordan Spieth and Jason Day -- here are the best groups for Round 1 at Chambers Bay.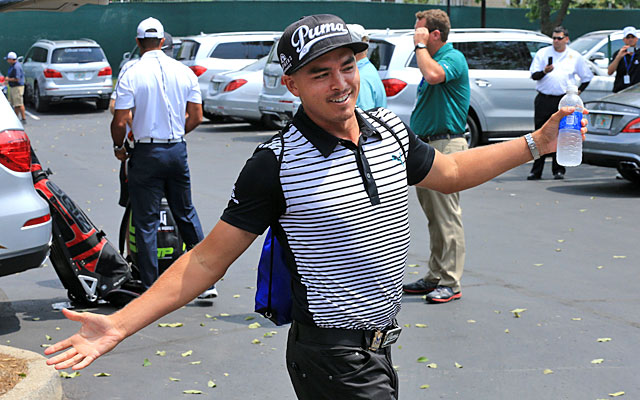 The US Open first- and second-round groups and tee times are out. There are some pretty great ones, too. Unfortunately, we didn't get the Keegan Bradley-Miguel Angel Jimenez dream group, but we still got some others that are worth following.
Here are the top five, ranked.
1. Jordan Spieth, Jason Day and Justin Rose
Would anyone be surprised if the winner emerged from this group? Rose obviously has his US Open, and I think this year's version once again runs through the kid from Dallas, Texas.
Oh yeah, and Day is pretty good, too.
2. Rory McIlroy, Martin Kaymer and Gunn Yang
Kaymer and McIlroy have two trophies which they won by a combined 16 strokes. That's terrifying. Either of them has the ability to win this thing by three or four. Gunn might have the second-best name in the field (behind Cole Hammer, of course).
3. Tiger Woods, Rickie Fowler and Louis Oosthuizen
The USGA was kind enough to group all the 21st century British Open at St. Andrews winners together -- Woods (2000, 2005), Oosthuizen (2010) and Fowler (2015).
How lovely.
4. Phil Mickelson, Bubba Watson and Angel Cabrera
Mickelson won't cease to intrigue at this tournament until he's 55 years old (for obvious reasons). Not a great draw for him. He likes playing with upbeat youngsters. He got matched with two older, surly former Masters winners.
Watson hit the putt of the week so far, by the way.  Hope it doesn't go badly next week.
*Bubba attempts same putt next week* *Putt misses* *Ted Scott ends up in the Puget Sound*

— Adam Sarson (@Adam_Sarson) June 12, 2015
5. Dustin Johnson, Adam Scott and Sergio Garcia
All can win. None will. Really, Garcia and DJ should be heavily involved given their current form, but both will have the eject button within arm's length on Saturday and Sunday if things start heating up.
For more golf news, rumors and analysis, follow @KylePorterCBS on Twitter and link up with CBS Sports Golf on Facebook and& Google+.
Show Comments
Hide Comments
The No. 3 player in the world narrowly made the cut after his monster drive

The Travelers Championship looks to be Spieth's to lose after another solid round

The two-time major winner was nearly flawless on Thursday
The latest major champ knows how to party

This is some serious lack of golf etiquette from the POTUS

Find out when and how to watch the 2017 Travelers Championship live this week