Tiger Woods thinks someone can shoot 59 this week at the CIMB Classic
With the low scores in the opening round of the CIMB Classic, Tiger Woods mentioned that magical number could be had.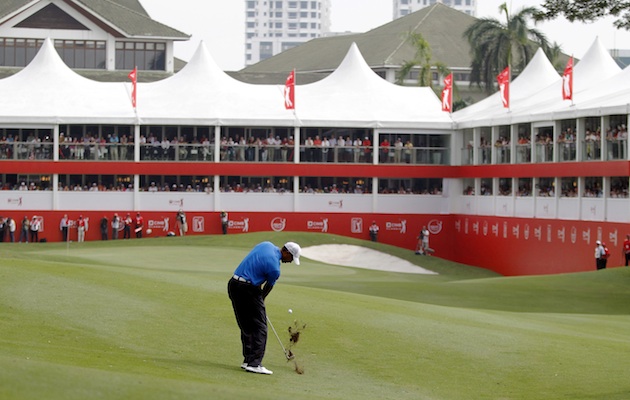 Tiger Woods opened with a 5-under 66 at the CIMB Classic. (Getty Images)
Trying to predict a score in golf is ridiculous, because your front nine could be completely different than your back, your birdie on the opening hole could quickly be deleted with a bogey on the second, and it's never over until the final putt drops. But if you're one of the best golfers on the planet, it isn't so crazy to guess what might happen after seeing how a golf course plays through one round of a competitive tournament.
That's Tiger Woods, playing in the CIMB Classic in Malaysia. Woods shot an opening round 66 at the Mines Resort and Golf Club and said after his round that a sub-60 round could definitely be in the works if the weather holds up. 
"If the wind doesn't blow and we get decent pins, where they don't put them on spots where they're tough to get at, guys could do it. You could conceivably see it," Woods said on Thursday.

"But it's all dependent on the pin locations and the fact that it's going to rain here just about every day, and we're getting mud balls out there... But if everything works out in your favor, who knows?"
Judging by the scores after the first round, you'd have to say that some of these guys have a chance at least scaring the number. Troy Matteson is leading after his bogey-free 63, and four guys trail him by just a shot. Of the 48 players in the field, only seven failed to break par and there are definitely some names down the leaderboard that have a history of going low.
Since I mentioned earlier how dumb it is to predict the scores, why don't we predict who is most likely to do what Tiger said is possible? 
My guesses are:
1.) Ricky Barnes
2.) J.B. Holmes
3.) Tiger
4.) Carl Pettersson
You can watch this tournament on Thursday night at 10 PM ET on Golf Channel, which is awesome and makes me wish more golf tournaments came on at night. 
We need to take a step back and look at the macro of what Jordan Spieth is doing

SportsLine simulated the Canadian Open 10,000 times after calling Matt Kuchar's British Open...

The year's final major could be an all-timer
Caddie Michael Greller (that's a lot of Michaels) told Spieth he's among the best ever

Purse and prize money breakdowns are out for the Open: Here's what each golfer will get

Spieth took Royal Birkdale, and now you can let the hyperbole begin on his young career