Tiger Woods undone by driver early, shoots 77 at British Open
Tiger Woods tried to be more aggressive on Friday at Hoylake and it did not go well.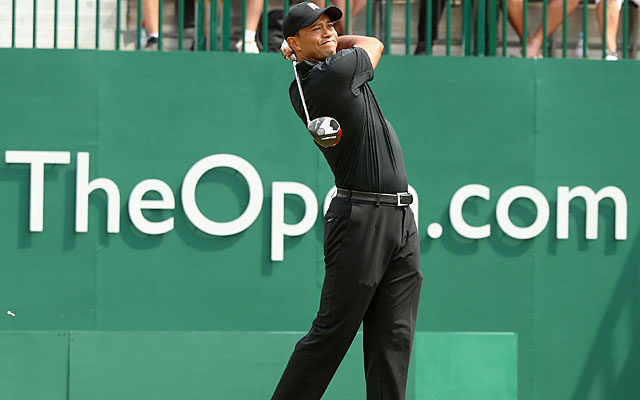 British Open: Leaderboard | Photos |  Odds & picks |  Videos & GIFs |  Stories | Tiger
Tiger Woods is so clutch. 
Or something like that.
He was on No. 18 on Friday at the British Open, anyway. Woods needed to make birdie, which he hadn't done all day, to guarantee himself a weekend tee time and he got up and down from behind a bunker to do just that.
Strangely it's the most drama we've seen from Tiger at a major in quite a while.
Woods shot 77 on Friday to back up his 69 from Thursday, which left him 2 over and well back of leader Rory McIlroy. 
"I got off to a terrible start again," Woods said after the round. "I had some opportunities to make some birdies and I just never did. I had myself in good position to make birdies and I just didn't do it."
The problem in what was some crazy favorable weather was that Woods couldn't find the short stuff off the tee. It started early with missed fairways at Nos. 1-2 and a double bogey-bogey start.
"I didn't hit the driver very good today," Woods said. "I was trying to be a little bit more aggressive."
Here's a look at how his day went:
He somehow hit driver on four holes and missed five fairways. That's because he smoked one on No. 17 out of bounds, reloaded, and yanked the next one left of the fairway, too.
Then when he needed it on No. 18, however, he got a monster birdie and avoided back-to-back missed cuts for the first time in his career.
Here's a look at his bizarre card:
Making the cut is a good thing, I suppose, given that he'd only played 54 holes since March coming into the second round but it certainly wasn't what Tiger fans were expecting.
After his opening-round 69 I think everybody thought we would get more of the same on Friday.
Instead, we got this:
The 77 that Tiger Woods shot in Rd 2 #TheOpen on Friday is the highest second-round score in a major in his pro career

— Mike McAllister (@PGATOUR_mikemc) July 18, 2014
So now what? Woods certainly can't catch McIlroy and get close to the lead but for his part he still thinks he's in it.
"It give me a chance, I'm pretty far back," said Woods. "Luckily I have two rounds to go. Hopefully I can play well on the weekend and at least give myself a chance going to the back nine on Sunday."
It'll be good for Tiger to get 36 major holes in but don't expect fireworks. The weather is supposed to roll in all day Saturday which will favor those at the top and not those teeing off first.
For more golf news, rumors and analysis, follow @EyeOnGolf and @KylePorterCBS on Twitter or Google+ and like us on Facebook.
Show Comments
Hide Comments
An 'unexpected reaction' prompted the DUI charges, Woods explains in a statement

The last decade has not gone all that well for Big Cat

Bernhard Langer won the Senior PGA Championship on Sunday, but might not hold the record
Woods was arrested at 3 a.m. for driving under the influence

That's two straight for the German machine

Spieth and Rahm couldn't overcome a final round 66 from Kisner