What can $20 buy you at the Masters concession stand?
Our producer wanted to see how much food he could buy with only a $20 bill in his pocket. Turns out it's a lot.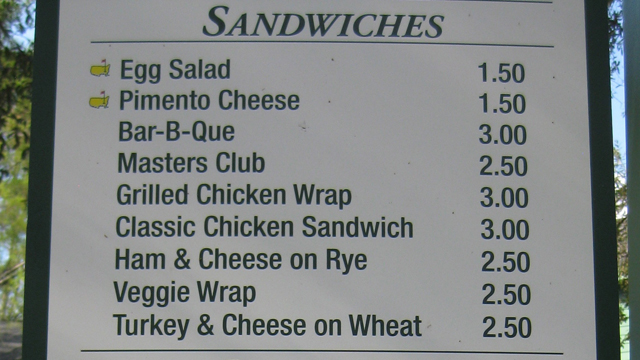 More Masters: Leaderboard | Field | TV Schedule | Course Guide | Champions
Green Jacket, Amen Corner, Jim Nantz...all are words or phrases that are synonymous with the Masters. But what many may not know is what a deal the concession stands provide at Augusta National Golf Club. Just take a look at this menu. What other professional sports venue in the world would you see sandwiches and sodas under $2? Candy for a buck? You might not even find that deal in your local grocery store.
And just for fun, I wanted to see what $20 would get me for an afternoon snack at the Masters. As pictured below….two egg salad sandwiches ($1.50 each), two Pimento cheese sandwiches ($1.50 each), one bbq sandwich ($3.00), two bags of chips ($1.00 each), one candy bar ($1.00), one cookie ($1.00), one package of moon pies ($1.00) and two light beers ($3.00 each)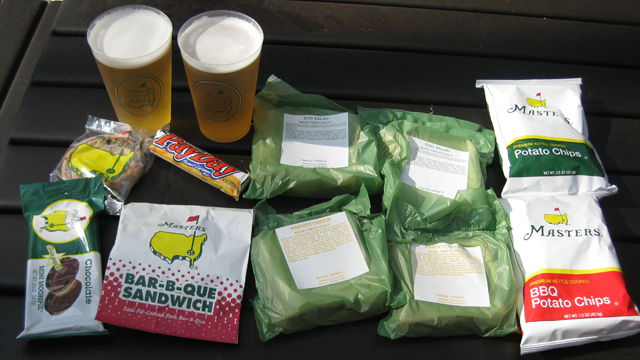 And here's the receipt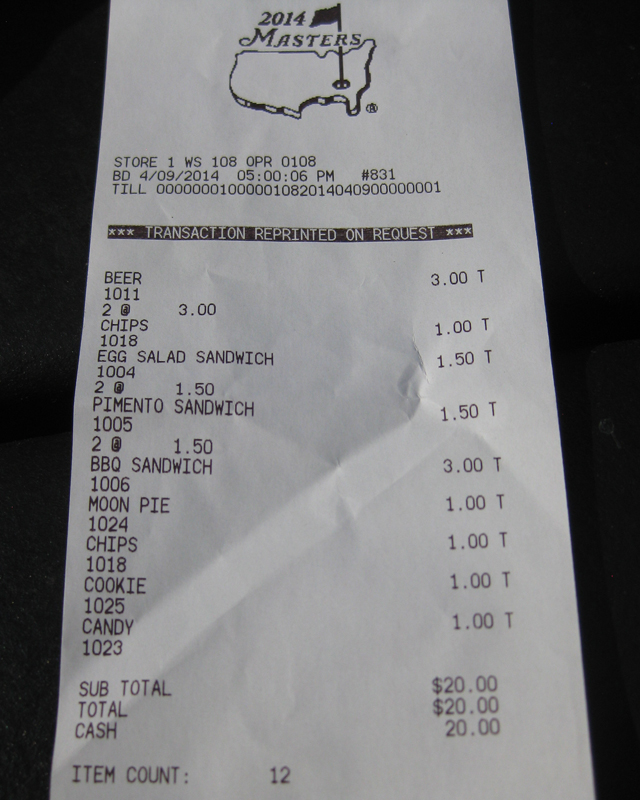 Show Comments
Hide Comments
Our Latest Stories
Big Cat tells his favorite stories about Arnie and discusses what their friendship meant to...

A look at the 2016 Ryder Cup and what some of the terms you'll hear this week actually mea...

Both teams have been completed, and the Americans remain a the team to beat, per the oddsm...
Recent U.S. history has not been favorable at these matches but that should change this time...

Watson did not get a captain's pick, but he will still be at Hazeltine this week

Everything you need to know about what is going to happen during the week of the 2016 Ryder...