What do the leaders need to do on Sunday to snag the Claret Jug?
We look at all of the leaders at the 2012 British Open, and investigate what needs to happen for each one to leave Lytham with a new piece of hardware.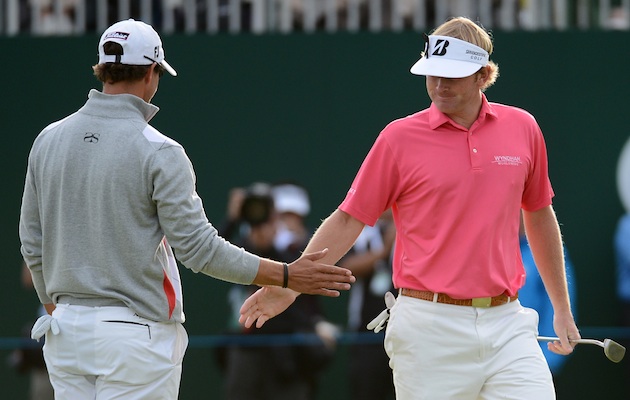 Brandt Snedeker and Adam Scott are two of the guys with a good chance at the claret jug on Sunday. (Getty Images)
The final round of the 2012 British Open kicks off Sunday morning, and there is a host of big names near the top of the leader board. So what do the guys up top need to do to snag the claret jug? Read on …
Adam Scott, 11-under -- If you look at his stats, Scott isn't doing anything crazy at Royal Lytham & St. Annes, he's just been more steady than anyone else. He's hitting fairways, hitting greens, and making a ton of birdies (leads the field in that category with Zach Johnson), and with a four-shot lead, that's all he needs to do on Sunday to snag his first major championship. For some guys, having a big lead heading into the final round of a major is a really tough thing to deal with mentally, so I'd suggest that Scott listen to any advice his caddie and swing coach have for him, and then go out and try to execute the same game plan he's used the first three days at Lytham. If he posts 70 or 71, this thing will be over. 
Graeme McDowell, 7-under -- For the second time in as many majors, McDowell will be in the final group, but he's going to need a better start than the one he got on Sunday at Olympic Club, and also a better start than on Saturday here at Lytham. McDowell's third-round 67 was really solid coming in, but he'll need to get it going early if he wants to put some pressure on the stoic Scott. McDowell is definitely the type of player that could take down Adam if he makes some early birdies and the Aussie gets shaky, but it'll need to happen on the front nine, not the back, if he wants to snag a second major. 
Brandt Snedeker, 7-under -- Forget about Saturday. Brainwash yourself. Go find a hypnotist. Do whatever it takes to push that third round out of your mind, because for two days, you played Lytham better than anyone else. The thing Brandt can build on is his finish on Saturday, which saw him card two birdies over his final three holes, and the fact that he hung so tough despite the middle of his round that got away from him. He can win this major championship, he just needs to remember the first two days and not pay any attention to what happened on Saturday. Unlike his collapse at the 2008 Masters, Snedeker has one more round to make up for his struggles when he saw his name inch to the top of a major leader board, but he's going to need to hit a few more fairways than he did on Saturday to make it easier on himself.
Tiger Woods, 6-under -- I've preached it for two straight days, but Tiger needs to be more aggressive, simple as that. He's five shots back and no matter if the wind howls or not, he's going to need to make some birdies. Sure, the iron play has him right there, but if he doesn't post two or three under in the wind on Sunday, it'll be another disappointing major for Mr. Woods.
Zach Johnson, 5-under -- Like I mentioned earlier, Johnson is tied for the field lead in birdies, but he's made way too many bogeys to get him within earshot of the lead. He made seven birdies on Thursday and six on Saturday, but the bogeys keep forcing him from a ridiculously low score. If he can somehow minimize the mistakes in the final round, he could definitely charge up the leaderboard.
Ernie Els, 5-under -- Do you know of everyone in the field, Ernie is leading in greens in regulation? Also, do you know that of all the guys in the field, even the ones that missed the cut, Els is T-119 in putts per round with 30.67? That's not good. His new putting stroke, that I compared to someone practicing their putting while locked in the trunk of a car, might be better for Ernie, but he still isn't getting the ball in the hole. He'll need to do that, and in bunches, to have a shot on Sunday at Lytham.
Thorbjorn Olesen, 4-under -- Umm, my advice to the young Dane who played so great alongside Tiger on Saturday? Close your eyes through the 14th hole. He's 4-over on that hole this week alone, and if it wasn't for that one, he'd be in the final group on Sunday. The kid has some swagger, and a really solid golf swing, but he's going to need some serious magic over the next 18 holes to steal this major away from all the huge names ahead of him. 
Show Comments
Hide Comments
There are a couple superstar pairings set to go all out this week in New Orleans

Find out when and how to watch the 2017 Zurich Classic live this week

Two former rivals have made peace in Northern Ireland
This week's 80-team event in New Orleans came together in some odd ways

Jason Day-Rickie Fowler and Henrik Stenson-Justin Rose make up the heavyweight teams

Kaufman is certainly enjoying his tour of New Orleans