What would a win at Olympic Club mean for the big five?
Tiger Woods, Phil Mickelson, Rory McIlroy, Lee Westwood and Luke Donald are all contenders this week, but what would a win mean for each mean to their careers?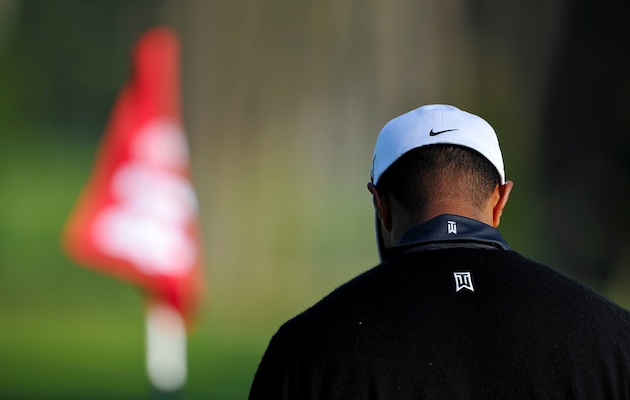 Tiger Woods is the favorite this week at Olympic Club. A win would put him closer to Jack Nicklaus' record. (Getty Images)
SAN FRANCISCO -- It's the toughest test in golf. It's a major championship. It is played on a golf course that always gives the players fits. This year, the U.S. Open seems to be as hyped as ever, with some of the biggest names in golf heading into Olympic Club with a ton of momentum and expectations. So what would a win mean to some of the biggest names in the game? We investigate. 
Tiger Woods -- To say that Tiger Woods has ever doubted his golf game would bring a raised eyebrow from the 14-time major winner, but you'd be silly to think he hasn't had moments of doubt over the last three seasons. Tiger hasn't hoisted a major championship trophy since this event in 2008, and while he has had some good finishes since that win, taking home the 2012 U.S. Open trophy would simply mean relief. He wouldn't have to answer those major questions anymore. He'd be set to overtake Jack Nicklaus' record of 18 major wins, and it would mean that he is, once again, the best in the game. 
Phil Mickelson -- It's strange to say that Phil is flying under the radar this week, but the man with the most runner-up finishes in this event's history isn't on a lot of expect pick lists. That said, isn't that when Phil is the scariest? He's won a couple of Masters with hardly any expectations, and this tournament has always brought (nearly) the best out in him. If Phil won this week it would simply be a career defining moment. Sure, he played well a year ago at the British, but unless the wind stops in Scotland during Open week, he isn't going to have a Claret Jug in his trophy case, but this tournament is the one he's been chasing his entire career. If he won this, it would almost be a walk-off performance by Phil, highlighting an already storied career with the one win that has eluded him his entire life. 
Rory McIlroy -- You know how people compare Rory and Tiger all the time? Maybe the most apparent comparison is how ridiculed McIlroy gets when he plays bad. Towards the end of the 2011 season and the start of '12, Rory couldn't finish outside the top-10 if he tried, but the moment his game disappeared (when the weekend rolled around at the Masters), people were quick to ask what the heck was wrong with him. Rory's win here would simply be an epic career confidence booster, laminating Rory as The Next Big Thing and shutting up anyone that thinks he can't win a lot of majors in a row. McIlroy had a chance a week ago to win at the St. Jude, but I think just playing well will be big for him, and if he wins consecutive U.S. Opens, it would be epic for the future of golf.
Luke Donald -- The list turns to a lot of names that have never won majors, so taking home the U.S. Open for a guy like Donald would be, in short, justified. He has remade his golf game over the last two seasons, and continues to prove people wrong that didn't think he had the chops to win earlier in his career (four worldwide wins prior to the 2010 season, seven worldwide since). Donald needs to prove he's ready for a major event, and the U.S. Open seems suited for him. 
<strong>Lee Westwood</strong> -- What would a win mean for Westwood? It would mean he could simply walk into the press room on Sunday night and hand muzzles out to the entire press core. Most experts don't think he is capable of winning a major, but if there is a tournament he could sneak away with, it's this Open. Westwood has been there before plenty of times, but to actually pull a major out would allow Westwood to shut up critics once and for all. 
The list of active golfers with 10 wins is not long

It doesn't sound like Jim Mackay will be out of work for long

Why wouldn't you keep a souvenir from one of the great hole-outs of the last decade?
There are some familiar names atop the early odds for The Open Championship at Royal Birkd...

SportsLine simulated the Quicken Loans National 10,000 times and came up with some surpris...

In a game predicated on scoring, no one is better at doing so than the Golden Child