Winners and losers from the BMW Championship
There were so many big names near the lead we roll out a special winners/losers from this week's BMW Championship.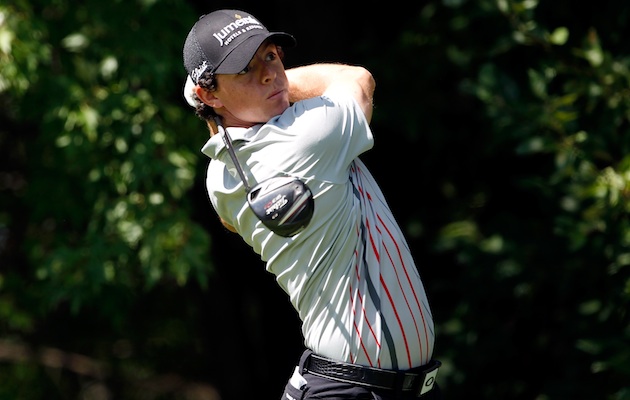 Rory McIlroy's second straight win has him atop our winners list from the BMW Championship. (Getty Images)
The BMW Championship wrapped up Sunday afternoon, with a leaderboard that would make any golf fan fired up. So who walked away a winner on Sunday at Crooked Stick, and who will think of this week as one to forget? We investigate. 
Winners
Rory McIlroy -- To say the kid is coming into his own isn't even fair at this point. His win this week was his second in a row and third in his last four starts, and he has now played the last two weeks 40-under par (all eight rounds in the 60s). He's currently in one of those zones where even his bad days are three or four under par, and he keeps pulling off the golf shots he needs to and make the putts when they matter. Rory not only now has four PGA Tour wins this season, but he's wrapped up Player of the Year and is the obvious favorite to snag the FedEx Cup in two weeks at the Tour Championship. 
Lee Westwood -- No, he didn't win, but a T-2 this week is just another step in the right direction for the Englishman. Just a month ago, Westwood was missing the cut at the PGA Championship after finishing 70th at the Bridgestone, so cleaning house has seemed to work wonders for his golf game, as Westwood makes it his third top-13 finish in the FedEx Cup playoffs.
BMW Championship
More Golf coverage
Phil Mickelson -- His play on Sunday wasn't great, but he got himself in a position to win an event for the first time in forever, and it appears the claw putting stroke might be here to stay. Also, American Ryder Cup fans were happy to see Phil play like this over the weekend. 
Tiger Woods -- He didn't win, and played pretty trashy on Saturday while in the hunt, but Tiger continues to rack up good finishes towards the end of the season and is just a shot here or there from winning week in and week out. Tiger finishing T-4 isn't what he's looking for, but you can't say he's struggling with his golf game, and his Thursday and Friday play alongside Rory was incredibly inspired and solid.
Davis Love III -- Dustin Johnson finished T-6, Jim Furyk was ninth alone, Steve Stricker finished T-26 and Brandt Snedeker struggled a bit, but still finished T-37, all four of his captain's picks ahead of the other two names (Rickie Fowler and Mahan) that were being thrown around as possible picks for the Ryder Cup team. I'm sure Love was happy with the guys he went with, and the play at Crooked Stick made him look even smarter. 
Losers
Vijay Singh -- He needed a strong finish on Sunday to get himself in the Tour Championship, but a final round 73 left him 33rd on the FedEx Cup list, meaning he will not be making the trip to Atlanta. Vijay hasn't won in four years, and his weekend play showed he's still not ready to change that.
Ryan Moore -- The amateur sensation has never seemed to find his golf game as a pro, but a win at something like the BMW Championship would definitely get his confidence going. After consecutive rounds of 66 to start the week, Moore couldn't break 70 on the weekend and dropped to a T-10 on Sunday, backpedaling when it seemed everyone else was going forward. 
Hunter Mahan -- Talk about a struggle after not being named to the Ryder Cup team earlier this week. Mahan finished dead last at Crooked Stick, shooting 80-77 on the weekend, the second time he's shot 80 in a PGA Tour event in his last four starts. Mahan's golf game is miles from what it was to start the season, and while he will be heading to the Tour Championship, I'm sure nobody is happier that they have next week off more than Hunter.
Show Comments
Hide Comments
The Texas duo showed some skill in alternate shot in New Orleans

Mat Goggin recently got his clubs broken by United on a trip

Jenner does have a point about the president wanting to win
After disaster at the ANA Inspiration, Thompson spoke publicly for the first time on Tuesd...

The Spaniard is clearly enjoying his time as the first major champion of 2017

There are a couple superstar pairings set to go all out this week in New Orleans