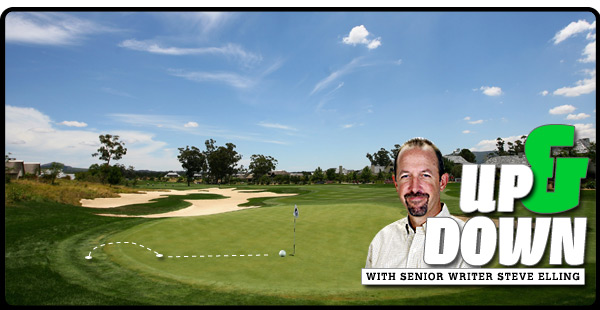 Tiger Woods' one-vehicle accident four months ago has resulted in the longest-running stretch of car-crash rubbernecking in the history of golf. Even Ben Hogan's crash seems miniscule by comparison, and it almost killed him. Every time it seems as though the end of the sordid Woods sex scenario is near, more toxic sludge oozes through the floorboards. Amid all this, the world of golf continues to be overshadowed, which is why CBSSports.com senior writer Steve Elling is vainly trying to keep us abreast of developments beyond the pale of the world No. 1. Good luck, brother.
Up

Timing is everything
Unlike most of America, working golf scribes had a two-hour head's up that Tiger Woods had completed a pair of taped, five-minute interviews Sunday, to be aired later that night. The drive-by journalism came with non-negotiable stipulations on the interview length and was embargoed for broadcast until 7:30 p.m. Thus, I never saw Jim Furyk survive the cold-shank iron shot he hit out of the rough on the last hole of the Transitions Championship, while narrowly and nervously winning for the first time in 2½ years. He finished the 72nd hole just as Woods' comments were being aired. Furyk, one of the classiest players in the game, took the high road when asked whether Woods had stolen his moment. He even made a joke about it. For the second time in a month, Woods had selfishly deprived a tournament of its just desserts because of asinine planning. He had four months to talk. The winner and the sponsor in Tampa didn't deserve to be blind-sided. Woods ought to play in the Tampa tournament in 2011 to "make amends," to use his rehab terminology. But don't hold your breath.
Spirit of full disclosure
Boy, is the Internet a wondrous thing, or what? Thanks to the dilution of journalism standards and the ceaseless desire for information relating to Woods, we have begun to learn just how deep the guy's depravities ran. Last week, one of the porn stars linked to Woods posted a series of astounding text messages purportedly sent to her from Woods over the course of their steamy relationship. Newspapers that posted the texts cleaned them up, but there was little left to the imagination. For instance, we know that Woods enjoys seeing his playing partners choke outside the ropes, too. We also know that the TV series Worst Jobs has a future segment at the ready on the hotel maids employed at the Hyatt Lodge in Oak Brook, Ill., site of one of his wild liaisons. Because if they cleaned his room with anything other than a flamethrower or sulfuric acid, the maids had better have been wearing a Hazmat suit. I laughed out loud last week when, on the day the text messages to the porn princess were posted, John (better known as J.B.) Holmes was among the Tampa leaders. That's where Woods has dragged the game, folks.
Large and in charge
Carl Pettersson was described during the NBC Sports broadcast over the weekend as "jolly." Which, as we all know, is a code word for "chubby." No worries, the Swedish Bubba has no issues with that characterization whatsoever, especially after losing 30 pounds last year turned out to be an unmitigated disaster. The affable veteran dropped the weight, mostly by eating sensibly, somehow lost his game and skidded to No. 136 on the money list. The three-time tour winner realized he had probably lost his equilibrium by dumping the weight so quickly that his swing felt odd. So, in what must have been a thoroughly enjoyable period, he gained all the weight back and reclaimed his game in the process. He finished eighth on Sunday in Tampa, his second top 10 finish of the year. "Well, I was exercising and eating right," said Pettersson, who was born in Sweden but lives in Raleigh, N.C. "I tried to get better and I got worse, and I guess -- I guess what I did, I lost it too quickly and I wasn't playing a lot of golf at the time. Who knows if that was it, but that's what I think it was."
Can't spell Geoff without letters O-F-F
Aussie star Geoff Ogilvy certainly underscored why he's one of the most respected players on the U.S. tour over the weekend in Tampa, when he flew to the ends of the earth to make his Saturday tee time. True that, technically, Phoenix isn't the end of the earth, but you can see it from there. Ogilvy believed he had missed the Friday cut and boarded a late plane bound for his desert home, then learned he'd made the weekend just before the plane went wheels up. Trouble was, he could not get his checked bags and clubs off the plane. So he flew home, reclaimed his sticks, then took the redeye back to Tampa and shot 65 in the third round -- ensuring he wasn't caught up in the secondary cut as the field was trimmed from 86 to 71 players. On Sunday, he proved that jet lag takes a day to seriously raise its ugly head -- he shot 74 and finished T28. "It was worth coming back," he said Saturday, bleary-eyed and grinning. Indeed, in addition to kudos for the lengths he traveled in order to do the responsible thing, he was deprived of some sleep but not from a decent payday. He made $30,946.
Second-time lucky
In a largely overlooked bit of news that somewhat offset the predictably bad sponsorship development (see below) in Miami, one of the top regular tour events has cemented a sponsor for Torrey Pines in Farmers Insurance, which bailed out the event at the 11th hour earlier this year. Funny story: After riding in on a white horse to bail out the sponsor-less event with only days remaining before the tournament began, the company tried to line up a blimp (MetLife, obviously, was not an option) for aerial shots. They found a blimp-rental outfit up the coast in San Jose -- who knew such a place existed, right? -- then had to festoon the Farmers logo on the side of the blank blimp canvas. The dirigible was so big, the letters were 17 feet tall. They had finished one side of the blimp when the call came from San Diego, demanding that the blimp head south immediately. So for much of the week, thanks to the traditional onshore breeze, the blimp flew above Torrey Pines, its blank side facing toward the fans below. But rest assured, if Woods and Phil Mickelson continue to make Torrey their annual seasonal launch point, Farmers will get their money's worth over the longer haul.
Down

Swoosh, there it is
Considering that he conducted interviews for all of 11 minutes, combined, on two sports networks on Sunday, it's amazing how much conversation Woods generated. It was like the Monday-morning breakdown of the best Super Bowl ads around the office water cooler. Did he help himself, did he hurt himself? Stray thoughts were being fired around cyberspace about Woods' latest attempts to pull the strings on an unmanageable story. Mostly, it was greeted as yet another micro-managed P.R. move. For instance, it was a transparent stunt for him to show up in a Nike sweater and TW cap, because this was not a post-round interview. He's clearly attempting to prove he's still solvent as a commercial pitchman, although after last week's text messages, he might be more unsalable than ever. Many took his born-again Buddhism (insert reincarnation joke here) as a transparent attempt to endear himself to the forgive-and-forget, Bible-belt types. He told the Golf Channel that the string bracelet he had placed on his wrist, which he hasn't worn publicly in a decade, was for "protection." Uh, based on what his harem of women have said, that might be the only protection this guy has used through the whole sordid scenario.
Your-Name-Here Championship (price negotiable)
As a rule, when a title sponsor says that an announcement will be made after a contract expires regarding whether an extension is forthcoming, it's not a good sign. Such was the case with CA, the company that has forked over roughly $10 million annually to sponsor the World Golf Championships event at Doral outside Miami. The contract expired after the tournament and the scribbling on the wall clearly read "sayonara." Two days after the final round, CA pulled the plug. Did the tour know already and fudge on a few P.R. facts to put on a happy face in Miami? You decide. Golfweek reported that the tour secretly tried to lure sponsors tied to two existing PGA Tour stops to take over the WGC event at Doral, which hasn't exactly been a show-stopper lately. Cannibalism is never a good sign. Poor weather played a role, but the early crowds at Doral were disappointing, to say the least. As a guess, the combined crowds on Thursday and Friday could not have topped 10,000. To some, Doral seemed more interesting when it was a full-field event, plain and simple.
Tiger Tour 2010
As the PGA Tour begins to trumpet Woods' participation in the forthcoming Players Championship in commercial spots that aired on NBC over the weekend, Woods is making no guarantees about his future plans. "I don't know what I'm going to do [about playing in events after the Masters]," he said. "That, to me, is a little bit bothersome." Really? So is the fact that he claimed he was taking time off from golf to fix his family and do justice to his rehab, then started working on his golf game a week later. Again, his decision to deflect questions about his schedule can be viewed quite cynically. If Woods says he is going to play his traditional post-Masters schedule in locales like Charlotte, the Players and Memorial, he's going to draw heavy fire for paying little more than lip service to addressing his family needs. Why the mystery? He doesn't know whether he will play four times or 15 times over the rest of the year? That's seems very, very hard to swallow, and smacks of yet another Tiger manipulation to suit his short-term purposes -- regaining favor with the fawning general public.
Parade for Woods in O-Town -- when he leaves
Almost decade ago, a writer at the Orlando Sentinel called the mayor and talked about throwing a parade for Woods, who had completed the wraparound Grand Slam a few days earlier in winning the 2001 Masters. The mayor was all for it. Yet Woods couldn't be bothered. Well, after years of living in the Central Florida town, it doesn't appear that anybody is shedding tears over the possibility of his departure later this year, when he is expected to relocate to his new manse at Jupiter Island. Mike Bianchi of the Sentinel torched Woods over the weekend for being little more than a tax-dodging carpet-bagger who has done virtually nothing for the city during his 13 years as a resident except attract recent unwanted attention. "As a fellow Orlandoan, I would like to take this opportunity to thank Tiger Woods," Bianchi seethed. "Thanks, Tiger. For nothing."
Now, time out for a personal rant
For four months, stories on sports websites around the world relating to Woods' travails have been met with barbs, accusations and name-calling. Fine. There's plenty of room for considered opinion on how the story has been handled, both by Woods and the media. But the increasingly crude tidal wave of sentiment that claims he owes us no explanation -- that all we should expect is for him to show up and win tournaments -- is symptomatic of a bigger problem. The lack of accountability in this country has reached epic proportions. People intentionally defaulting on student loans or mortgage payments, companies greedily awaiting government bailouts, CEOs getting millions for bankrupting firms ... where's the personal accountability? Woods turned out to be the biggest false idol in golf history -- people named kids and pets after this guy -- and he doesn't owe anybody an explanation beyond five minutes? Sports isn't a video game, wherein you repeatedly hit the reset button, then turn it off and then eat a bag of Doritos afterward. There are repercussions. Especially when you have made $1 billion by selling a contrived bill of goods to the world. In that regard, he owes us a lot more than convenient apologies in five-minute snippets. He sullied the image of golf. He could have killed someone with his reckless driving. So until he stops hiding and obfuscating, he's getting nothing but fastballs.