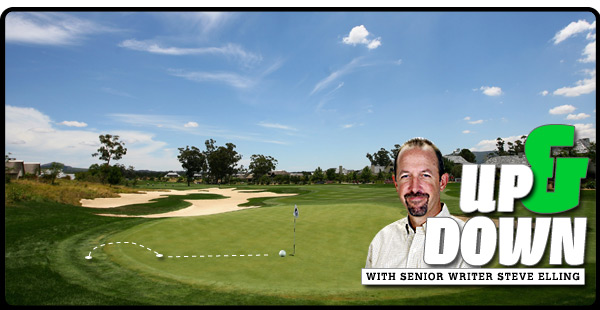 The players were flailing in Dallas and wailing in England. As usual, the Americans were trailing on the LPGA. CBSSports.com senior writer Steve Elling is railing about it all in his weekly take on the tours.
Up

'Athlete D' breathes easy
The dominoes continue to fall in the case against the so-called "spin doctor," Anthony Galea, the controversial Canadian physician linked to the smuggling of performance-enhancing drugs into the United States. Charges were filed last week and documents seem to support Tiger Woods' adamant assertion that, while he used Galea several times for a rare blood-spinning technique believed to promote faster healing, there were no suggestions that Woods used PEDs to get a leg up on rivals. In the documents, a sports figure listed as Athlete from Orlando is believed to be Woods, who was treated several times in 2009. No question, Woods brought an incredible amount of scrutiny on himself for picking Galea for treatment -- he isn't licensed to practice in Florida -- but still, it remains inconceivable to me that Woods cheated on this particular front. There quite possibly wouldn't be drug testing on the PGA Tour if Woods hadn't backed the notion. We invite you to make all the well-deserved cracks you want about his general credibility and his views on marriage, but he has long held the sanctity of the game as inviolate.
Little dude in Big D
It's as hard to believe as it is to stomach, but the Byron Nelson Championship needed a huge boost from a 16-year-old to be relevant last week on the global golf scene. High-schooler Jordan Spieth cavorted with the folks at the top of the leaderboard and finished T16 before he reported back to Dallas Jesuit this week for school. The field last week, given Nelson's place in the game, was abysmal and continued to suffer a dropoff since the beloved tournament namesake died in late 2006. Woods hasn't played there since 2005 to end his record cut streak and most of the game's top stars have bailed as well, a redesign of the host TPC course notwithstanding. Nelson and his longtime Lone Star State running mate, Ben Hogan, would not be amused by the current state of the Texas Swing, which, because of scheduling, host courses or outright indifference have fallen off the must-play lists of the top guns. Spieth, who has already signed to play college golf at Texas, has been given an exemption into Memphis in two weeks as well. By the way, does anybody else think the skinny Spieth bears a passing resemblance to Charles Howell?
Laird in his lair, finally
He was born in nearby Glasgow and his parents live about 15 miles from St. Andrews, so it was fitting on both the familial and geographic fronts that Scotsman Martin Laird secured one of eight spots at the British Open qualifier held in Texas on Monday. "I'd be lying if I said I hadn't been thinking about this qualifier for a while," said Laird, who has played in exactly one British Open. Laird, who plays on the PGA Tour and attended Colorado State, has become something of a celebrated figure in his native haunts, although not completely for good reason. At No. 116, he is the top-rated Scot in the world rankings, a mind-boggling proposition considering the upswing in the fortunes of neighboring England of late. So, while St. Andrews might be the home of golf, at the moment, the property has been repossessed. Before winning last fall in Las Vegas, Laird was perhaps best known for making a clutch 6-footer for par to retain his U.S. tour card on his final shot of the 2008 season, which allowed him to finish No. 125 in earnings.
In the pink
David Feherty looked like the Easter bunny, and he was not alone. In a magnanimous gesture that deeply touched Phil Mickelson's family, half of Forth Worth turned up last year for the third round of the Colonial Invitational decked in pink attire to honor the absent Mickelson clan's battle against breast cancer. Sometimes the PGA Tour overreaches and lays it on pretty thick with schmaltz, ham and contrived cheese, but this gesture meant so much to the Mickelson, he was at a loss for words to express it. He will get another chance this week, since he's back to defend his Colonial title, sort of. Mickelson hit one of the most memorable shots of his career with a wedge from the trees on the 72nd hole at Colonial to win in 2008, but didn't play last year because of wife Amy's illness. Never before have those little pink ribbons loomed so large.
Down

It's not Wentworthy
In golf circles, it produced a bigger comparative mess than the BP oil spill. Forget the tournament. The excruciatingly brutal panning of the Wentworth course makeover dominated overseas coverage of the biggest event to date on the European Tour, the BMW PGA Championship. Ernie Els, who lives at Wentworth and has been tweaking the course over the past several years, was roasted like a Springbok over an open pit by his peers, especially for his owner-ordered redesign at the 18th, which nobody liked and Els himself didn't favor. He was overruled by the guy with the checkbook, who spent roughly $10 million to precipitate the largest outcry of synchronized whining anywhere in years. The Wentworth ownership has already signaled full retreat and plans to redo the changes (is that called a three-do?) before next year, which must make the members deliriously happy. Don't put away those Ground Under Repair signs just yet, lads.
Well, duh
Nobody has poked more fun at Corey Pavin than I have, mostly because he's not particularly glib and, compared to the last U.S. Ryder Cup captain, is the anti-Azinger. But the fact that Pavin has been mildly criticized for suggesting that Tiger Woods needs to play well in order to land a spot on the team this fall is ludicrous. Pavin deserves the 12 best players on his team, which won two years ago while Woods watched from his couch and sent text-messages to teammates. Woods brings more baggage to the Ryder than the whole U.S. contingent of Louis Vuitton-toting player wives. The bigger question is whether Woods would ask to be considered for one of the four captain's picks if he doesn't crack the top eight in points to cement an automatic berth. In my mind, that's hardly assured. It's hard to imagine what fans might have in store for him in Wales, since the Ryder is the lone event all year where spectators root against certain players. He would be John Dillinger. Do Pavin or Woods really need that type of distraction? His presence might swallow the event whole.
Confederacy of dunces
In a vacuum, it's a brilliant idea. England's Paul Casey, in a particularly chatty and insightful moment, suggested last week that some sort of historical registry ought to be established in golf to review design changes proposed at old courses, like Wentworth, which has been torn asunder so often, it ought to use a backhoe as its new logo. In theory, which is where the best ideas go to incubate before they suffocate in open committee, a panel of golf experts would review proposals on course changes at venerable tracks and provide input before the revisions are made, protecting the design for later generations. Casey even floated the idea past R&A chief Peter Dawson, who is going to take a pasting next month for the new tee he installed at the Road Hole at St. Andrews. The problem is, the most obvious choices for such a panel are the USGA and R&A types who put us in this mess to begin with by allowing the oversized clubheads, lengthier shafts and HGH-fueled golf balls that have made every par-5 under 600 yards reachable for many, if not most, top tour players. And no offense, but I don't want a bunch of dudes who grew up in the Andy Warhol, Leroy Neiman and Peter Max eras redesigning anything that has historical value.
Yoo gotta be kidding me
Hope you like your sarcasm with huge dollops of smarm. I tell you, I was stunned, shocked and stupefied to learn that the LPGA match-play final last weekend between Texas native Angela Stanford and waifish Sun Young Yoo was won by the latter, who recorded her first U.S. win. There is a faction of fans that believes the globalization of golf is a good thing, and it's true, at least if you are selling equipment. But if you are trying to find domestic sponsors for the LPGA, that's a whole different kettle of marketing fish. Going back more than a year to Miami native Cristie Kerr's win May 10, 2009, at the now-defunct Kingsmill event, foreign-born players have claimed 24 of the past 25 LPGA events. Michelle Wie, who claimed her first tour win last fall, is the lone Yank to make the winner's circle in that span, and in 2010, all seven LPGA events have been won by Asian players. Bluntly put, minus top stars Lorena Ochoa and Annika Sorenstam, the disconnect between fans and the tour feels larger than ever. Maybe the notion of the women's tour being taken over by the PGA Tour isn't a bad one, because in my experience, Tim Finchem could convince some sponsors to buy tire chains in Key West.
Oh, the humanity
Blake Adams was given the biggest reprieve of his life when Jason Day smother-hooked his approach into the water at the 18th at the Nelson on Sunday, giving the 34-year-old rookie and mini-tour veteran a huge chance at erasing Day's one-stroke lead. Under the trees and needing to execute a fairly straightforward punch shot to get the ball near the green, there was one spot where Blake could not afford to hit the ball -- dead left into the same watery grave that grabbed Day's ball a moment earlier. In fact, at the moment Blake hit the shot, it appeared that a bogey might be good enough to force a playoff. Astoundingly, completing the worst closing stretch by two guys in contention for a title in years, Adams jacked it dead left into the lake, made a double-bogey and utterly handed Day the first win of his career. It was must-flee TV: Day played the final six holes in 2 over and was hitting sloppy hooks everywhere. Sometimes, when you are watching golf, it's easy to see why certain guys have never before cracked the winner's circle. The last few holes of the Nelson were Gila-monster ugly.