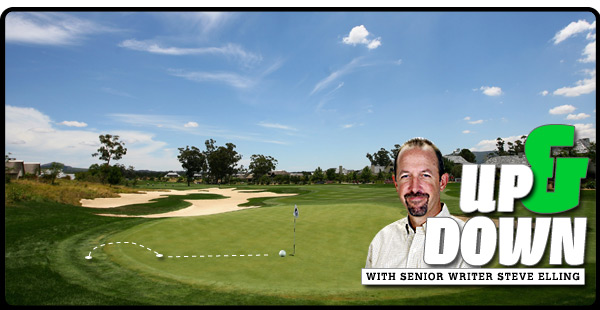 Heading from Ohio to the shores of Lake Michigan and rural Wisconsin, CBSSports.com senior writer Steve Elling separates the fabulous from the flameouts at Firestone as the golf world tries to absorb a series of surprising news developments heading into the season's final major this week.
Up

Hunter and gatherer
There isn't much question after a two-win season that Hunter Mahan is on the short list of 20-something players who are poised to make a major move as the older guard gets progressively grayer. He won for the third time in his career, this time at Firestone on Sunday, and never wavered despite the pack of players who were within range in one of the deepest fields in the game. Mahan noted that the Bridgestone winner receives perhaps the coolest trophy in golf, and he ought to know about such things. After all, in June, he got engaged to a former Dallas Cowboys cheerleader and Dallas Mavericks dance team member named Kandi Harris. Oh, and he locked up a spot on the Ryder Cup team. Dude's having a pretty good year. As for Firestone, that means Orange County, Calif., natives have combined to win there eight times, between Mahan and the seven wins by another prominent guy who grew up behind the so-called Orange Curtain. Hint: Mahan beat him by 30 shots.
Fragile as Quail eggs
I figured something was up when the Wells Fargo ad popped up during the broadcast of the Greenbrier Classic two weekends ago. Sure enough, last week, the parent company of Wachovia announced that it had decided to actually use the millions it has paid to the PGA Tour over the past few years to better work by putting its name back on the generically titled Quail Hollow Championship. Ridiculously, Wells Fargo (like Chrysler and others) had removed Wachovia's name from the tournament title rather than face potential critical fire after banks received public funds to stay afloat. So, instead, Wells Fargo accepted public funds and elected not to use its multi-million PGA Tour marketing opportunity to generate business. Hard to believe that people get paid a fortune to make asinine corporate decisions like this, since you can't sell widgets if you don't even try, but at least Wells Fargo figured out two years too late that they ought to get some bang for their $8 million tour expenditure.
Little big man wins on mainland
When Tadd Fujikawa, who stole headlines for outplaying the PGA Tour pros in Hawaii three years ago, eventually turned pro as a 16-year-old, eyes rolled. He's taken some lumps while trying to find a foothold, to be sure. But the diminutive kid from the Hawaiian Islands made up for a final-round collapse earlier this season on the eGolf Tour and won by a decisive nine shots over the weekend in Virginia for his first title outside Hawaii. He tied the course record with a 64 in the second round and didn't let up, holding off 2009 PGA Tour member Derek Fathauer to win the $25,000 first prize. Normally, mini-tour results don't generate much attention, but Fujikawa is such a relentlessly upbeat kid –- sort of like the Gary Player of his generation -– that it's sure to generate smiles well beyond the shores of the 50th state.
The strange state of Sergio An odd thing has happened over the past few months -- Sergio Garcia turned 30 and has become a fun guy to know. He is self-deprecating, doesn't get nearly as wound up about things as he used to and seems to have matured into a genuinely enjoyable guy to be around. Which is why it's disheartening to hear that he plans to take two months off after falling into a slump that has left him parked in the tour's middle tier. Astoundingly, at the beginning of 2009, Garcia was ranked No. 2 in the world and had a huge shot to reach the top spot by dethroning Woods –- who was out for another few weeks after knee surgery –- with a solid run. It never happened and he's been ho-hum ever since. It was two years ago this week that Garcia nearly won the PGA Championship in a memorable duel against Padraig Harrington. Pretty clearly, to Garcia, the time gap seems even larger. By taking two months off, any slim chance he had of making the Ryder Cup team seems lost, not that he is playing well enough to deserve much consideration after dropping to 50th in the world. He hasn't had a top-10 finish in a stroke-play event on any tour all year. A Ryder Cup without Garcia just won't be the same. The only guy left to prod and tease is Monty.

Down
Exit, stage right
It's been a rough few days for a handful of star players on the PGA Tour, for a variety of reasons. At the beginning of last week, the PGA Championship was set to have 99 of the top 100 players in the world ranking, with only one player, Japan's Toru Taniguchi, set to miss it –- his wife is expecting to deliver a baby. But then Robert Allenby tore up a knee while on his yacht and Lee Westwood withdrew because of a lingering calf issue that will keep him sidelined until the Ryder Cup matches. Sergio Garcia is playing at the PGA, then taking a two-month break to decompress after a forgettable season. Tiger Woods is playing so badly, he's eligible at the moment only for the first FedEx Cup event. It going to be a lean late-summer run without these guys around.
Can it possibly get any worse?
If you thought Tiger Woods' career was at low ebb, then you were wrong. Last week, the tide not only receded, he got stuck in the primordial muck and produced the most head-turning display on the golf course in his career, finishing 30 strokes behind Hunter Mahan at a course where he had never before finished worse than fourth and had won a tour-record seven titles. Woods is lost. His game is in tatters. His personal life is even worse. There is no refuge for the guy at the moment. He hit shots that would have made a 15-handicapper grumble. He beat exactly one player –- Sweden ailing Henrik Stenson, who has been sick with a virus for nearly a month and has lost several pounds. It's gotten so bad for Woods that fans and analysts are beginning to openly speculate about if, and not when, he'll get his mojo back. With the PGA Tour set to begin renegotiating its TV rights deals with NBC and CBS over the next few months, the timing of his shocking descent could not possibly be worse for the tour, if not the entire game. For the first time since 1997, Woods won't be the favorite at a major championship this week. It's worth noting that while Woods declined to speak with reporters after two of his rounds, he wasn't flinging clubs nor was overheard using blue language last week. Of course, when you are 30 shots off the lead and just trying to get out of town, getting angry won't accomplish much.
True world No. 1 on the shelf
I don't care what the world rankings say. Everybody knows that Tiger Woods' grip on the No. 1 spot is destined to disappear any moment, as soon as Phil Mickelson figures out a way to stop butchering the golden opportunities that Woods has given him to take over the slot. But the real No. 1 player in the game at the moment is England's Lee Westwood, who was forced to withdraw after two rounds last week because of a painful calf issue. Doctors told Westwood before he withdrew that the only way the medical issue will improve is if he sits out for six weeks, which, after a sloppy 36 holes played alongside Tiger Woods, is advice he finally decided to follow. That's a pity for fans of the game, because Westwood has been the most consistent player in the game for 1 1/2 years, won the European Tour Order of Merit last season and had compiled the best cumulative score at the first three majors of 2010. It's hard to guess how his game will look when he returns, hopefully for the Ryder Cup, later this fall.
Speaking of walking wounded
With Woods' relative worth as a Ryder Cup player very much being debated around the globe –- if he even deserves a spot on the team –- it's becoming increasingly clear that the U.S. hopes of retaining the trophy are getting slimmer by the moment. Which is why the performance of Anthony Kim last week was noteworthy. Kim has shined in his last two international cup competitions and is an emotional leader in the team room, a squirrel in stars and stripes. He broke par only once in four rounds last week, but experienced no medical setbacks after missing three full months after surgery on his left wrist. I will say it again –- with Woods' game in complete disarray, the U.S. has no chance if Kim isn't playing at his best. Even then, beating the Euros in Wales seems downright daunting.
Not much of a 1-2 punch
Let's take a poll –- you can log your vote in the Community comments section below. Which player has had a more disappointing summer, Tiger or Phil, who both put the "hi" on O-hi-o last week? Woods hasn't sniffed a title since he played one good round at the U.S. Open and Mickelson has bungled eight straight starts with a chance to unseat Woods as the world No. 1. Hard facts are that Mickelson is poised to be soon anointed world No. 1 despite the fact that he has contended on the weekend only three times all year, at the Masters, Quail Hollow and U.S. Open. How ironic is that? With Woods in a tailspin and No. 3 Westwood out for six weeks, Mickelson is almost sure to reach No. 1, even though he isn't remotely playing the best golf of his career. At this point, nobody deserves to be ranked first.
In odd manner, 'Kooch' and Overton underscore U.S. concerns When attention turns away from Tiger and Lefty and is pointed toward American players actually playing well at the moment, two guys top the list of fast mentions. Matt Kuchar and Jeff Overton have become top-10 spewing machines and each has effectively locked up an automatic spot on the Ryder Cup team entering the PGA. But neither player has won this year, so being the hottest American of the moment is damning with faint praise. Sure, Overton has been a par-breaking machine all summer, but he is poised to make history by establishing an unsettling distinction. No player in the history of the American Ryder team has ever earned a spot on the team without having first posted a PGA Tour victory. That probably underscores the thin state of U.S. affairs these days more effectively than any other stat you might recite, like how many tournaments the Internationals have won lately.
In fishing, it's called chumming the hole
The organizers of last week's Champions Tour event elected to try a novel approach to generating a buzz among fans –- they let 'em in, free of charge. Why it took so long for this light to illuminate beats the heck out of me. Every time I attend a minor-league baseball game and see kids in Little League uniforms, many admitted for free, I wonder why golf tournaments don't try a similar marketing tack. True, many events on tour, including the Masters, allow kids to attend with a ticket-holding adult, which helps plant the seeds of interest in the next generation. But if nobody is watching, then why not green-light adults, too? Rest assured, just like at Class A baseball games, plenty of people will buy a cold drink, a hot dog and a souvenir. To many, the Champions sits at No. 3 in the American pecking order of importance behind the PGA Tour and LPGA. So letting fans sample its wares for free not only is smart, it ought to be a matter of policy at more than only one event. Who knows, the fans admitted for free just might buy a ticket the next time around.