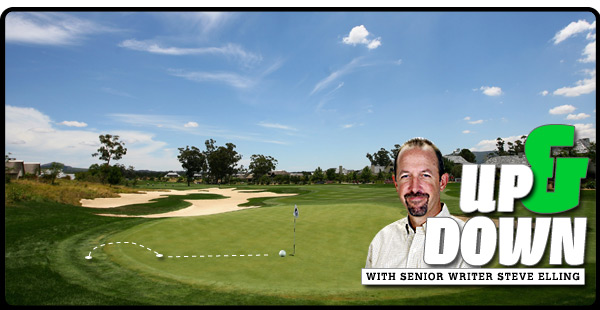 For a week that featured six hours in fog delays, it was a perfectly cloudy ending -- players, officials and reporters all scrambling around, trying to figure out whether Dustin Johnson was the victim of a bad break, a self-inflicted gunshot wound or a terrible ruling. The 2010 season didn't provide the greatest Grand Slam sequence in professional history from a spine-tingling aspect, but victories by Phil Mickelson (ailing wife), Graeme McDowell (first Euro to win U.S. Open in 40 years) and Louis Oosthuizen (destroyed St. Andrews) had their compelling story angles. The 92nd PGA Championship, however, was downright bizarre. CBSSports.com senior writer Steve Elling takes it in and sorts through the mist and the misses.
Up

Like German engineering
There's not much doubt that the play of German star Martin Kaymer was swallowed whole by the Dustin-in-the dust controversy late Sunday night at the PGA Championship, providing the perfect ending to a wild, disjointed week that began with an argument between the Ryder Cup captain and a reporter, revelations that Europe's Ryder captain is involved in another embarrassing personal situation, and two days of fog delays that threw the whole schedule into a spinning blender. Kaymer, who has had solid credentials on the European Tour for years, was practically unerring throughout, making three birdies in his last three rounds. With all due regard for Bubba Watson and Dustin Johnson, Kaymer was the steadiest player on the leaderboard Sunday. The 15-foot par putt he made on the 72nd hole is what makes careers
Sympathy misdirected
The 92nd PGA Championship never will be forgotten, partly for all the wrong reasons. The public hue and cry over the absolutely proper application of the two-shot penalty against Dustin Johnson had been, frankly, astounding. People who know nada about golf have been talking at the water cooler for two days, grousing about how he was robbed, arguing the merits of one of golf's oldest rules, barking about perceived advantages and player intent, discussing what should rightly have transpired. Actually, what happened was absolutely proper. The issue here is with the rough-hewn course, which is strewn with more than a thousand bunkers. Fans had to be allowed to walk somewhere close to the action, and sometimes, that mean trooping through largely decorative sand traps on the periphery of holes. Make no mistake, Johnson missed the fairway by a mile. Nobody noted how, at any other course, a shot that far offline would have been stone dead, O.B. or in somebody's backyard. Landing in a flat lie in a compacted bunker was, in fact, the best break he could have received, given the high hay in certain areas. Yet Johnson screwed it up because he didn't read the rules sheet. You want to feel sorry for somebody who got hosed by capricious fate? Lament the outcome of 47-year-old Steve Elkington, who hit what he thought was a perfect tee shot on the par-3 17th, only to watch it roll off the back of the green and turn into a certain bogey.
Then there was the undercard
Right from the start, it was a bizarre week at the Straits, beginning with the none-to-nose discussion between U.S. Ryder Cup captain Corey Pavin and Golf Channel broadcaster Jim Gray, who had reported a day earlier that Pavin had conceded a captain's pick to struggling Tiger Woods. Pavin denied he said any such thing, and Gray accosted him in the media center later that day, resulting in an unprofessional display of finger-pointing, and according to Pavin, name-calling. Gray almost got his credential yanked by the host PGA of America. It happened right under the PGA's nose, and the two had an animated discussion, to say the least, within a few yards of several PGA officials. Nobody ever will know but the two principals what had been said and if Gray got it right or wrong. But we might get a hint if Pavin picks Woods despite his unbelievable run of mediocre and poor results of late, won't we?
Getting by on peaches and herbs
Who else but Phil Mickelson could come careening into Wisconsin, the so-called Dairy State, and within moments after arriving before the assembled media, announce that he had secretly become a vegetarian two months earlier? The guy has panache, I'll say that much. Mickelson also revealed that he has been fighting an arthritic condition for the past few weeks, though he said after Sunday's final round that he again felt 100 percent after only two weeks of treatment. After he shot 67 on the final day for the week's low round, I congratulated him in the locker room on having fashioned the lowest cumulative score at the Grand Slam events in 2010, plus catching and passing Woods on the 16th and final round at the majors. Mickelson laughed, shrugged it off and made it clear that he could not have cared less. So I guess it's a good thing I didn't congratulate him on being the week's low, left-handed, arthritic vegetarian. Pity he didn't win, because the awards-ceremony introduction of club owner Herb Kohler to Herbivore Mickelson might have been funny.
Careful what you wish for
There is news that Canadian swing coach Sean Foley, based outside Orlando, was working last week on the range with Tiger Woods and might eventually become the struggling star's new teacher. Foley is a bright, glib guy who never has sought the limelight. He doesn't have his own website. He doesn't even have a business card. He likes to drink beer after the round with his pupils. So, assuming an offer is proffered, becoming the next in the line of former Woods swing coaches wouldn't seem an ideal fit, though Foley certainly would love the challenge. Foley has a wife and young son. He moved to Orlando to run a golf academy for Canadian kids. This would be a game-changer for him, and the impact it might have on young stars like Hunter Mahan, Sean O'Hair, Justin Rose and the other players in his stable would be interesting to track. Foley undoubtedly would make millions, though he doesn't seem to be a guy who worries about money. On the plus side, Woods is so lost right now that anything Foley offers would seem like genius because there's nowhere to go but up. Here's hoping that the guy knows what he's getting himself into.
It's Hail Mary time
It's always interesting to track the list of entries into the Wyndham Championship in Greensboro -- and not because of anybody's particular chances that week on whatever venue they happen to be playing. Nope, Greensboro is last call for the regular-season portion of the FedEx Cup series, and it's populated with guys who either haven't climbed into the top 125 in seasonal points -- required to play next week at series-opening Barclays -- or are hoping to pile up more points against a weak field. Two surprises in the field are 2008 Ryder Cuppers Henrik Stenson and Anthony Kim -- former residents of the world top four -- who are coming off illness and injury and hoping to make an 11:59 rally to move up the points ladder. According to the PGA Tour, that man at No. 108 on the list, defending FedEx champ Tiger Woods, isn't guaranteed a spot in next week's field because of last-ditch moves that could be made at Greensboro by players below him in points. For the first time all year, tracking the FedEx is actually fun. Kim is trying to prove he's healthy enough to warrant a Ryder captain's pick, too.
Down

Monty and the media
It would be one thing if Colin Montgomerie never had run afoul of the European Tour rules crew, never cast pious aspersions regarding the extramarital life of Tiger Woods, or been forever faithful to his wife of two years. But of course, Monty is as winless in those categories as he is in the game's major championships. Because he spent past week on foreign U.S. soil, where British law has no teeth, his latest embarrassing personal episode was unveiled for all, at least to some degree. Monty has secured an injunction in the U.K., barring reportedly embarrassing personal photographs of a decidedly private nature from being published or even discussed in print. But once he set foot on U.S. soil, he was fair game for questioning. What Monty does in his personal life is one thing, but among the European press contingent, it's feared that he won't create a presence in the team room -- unless it's as the brunt of even more jokes. The feisty and intensely competitive British press corps doesn't like being handcuffed or having a gag ball stuffed in its mouth. With 46 more days until the Ryder Cup, this probably isn't the end.
Putting the vice in vice-captain
It's quite a list of deputies that old Monty assembled as his assistants, too, as it turns out. The big story in the Dutch papers last week was that European Ryder assistant captain Thomas Bjorn, a native son and a longtime tour veteran, had fathered a child out of wedlock with a woman he'd been entangled with for several years. So, setting aside the perceived balance-of-power issues on the two 12-man rosters, who's to say the U.S. doesn't have a chance after these leadership soap operas? The Jim Gray episode aside, maybe we should be thankful that Pavin is about as exciting as a bowl of room-temp oatmeal. Pavin has a steady, if somewhat less headline-grabbing, hand. As the Monty/Bjorn sex stories roll out, think of low-key captain Corey and remember that vanilla is sometimes a satisfying flavor, too.
Penalties for Every thing
According to a Golfweek report, rookie Matt Every has been benched for three months as a result of his arrest at the John Deere Classic on misdemeanor marijuana possession charges, when two longtime tour caddies also were hauled off to jail. Every claimed it wasn't his weed, but the tour gave him a righteous hammering anyway, though there's virtually nothing the tour can do to the caddies. According to tour regs, the commissioner has broad punitive powers when doling out sanctions for using recreational drugs, and in keeping with a theme this year, Tim Finchem's penalty doesn't seem to fit the crime, does it? Then again, maybe it does. How many others have been sanctioned for a comparable offense since drug testing began two years ago? Hard to say, and even hard to compare the sanction, because of the tour's antiquated mindset of keeping penalties in-house. Thus, since Every is benched until the season finale at Disney World, the discipline sounds akin to a bag of 1970s ragweed -- very, very harsh and shrouded in smoke.