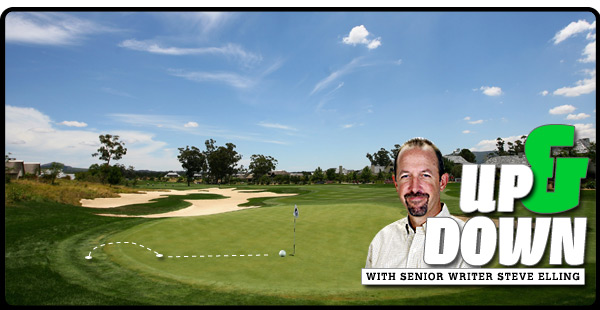 Records are made to be broken. Lately, so are rules. The Dustin Johnson affair was just the beginning, as CBSSports.com senior writer Steve Elling sets the table for the first FedEx Cup series event, more Ryder Cup chaos and yet another milestone victory in the States by a foreign-born player.
Up

Enter, internationals
No knock on the seven or eight guys who danced atop the leaderboard in Greensboro on Sunday, including victory-starved Justin Leonard and David Toms, but the most interesting storyline certainly emerged victorious. Multi-tour veteran Arjun Atwal became the first player born in India to win on the PGA Tour, thanks to a bold decision in which he intentionally blew his approach on the 72nd over the green and up against the grandstand footings, got a free drop and saved par from seven clutch feet to win. Atwal has been on and off the U.S. tour for years, went to college in the States and is one of the game's more personable players. After losing his status, he was forced to play in what used to be called a Monday four-spotter to gain a spot in the Greensboro field and became the first Monday admittance since 1986 to win a tour title. With it comes a trip to Augusta National next year, though he has played in the Masters before. That would be the Indian Masters, where he cracked last year about Americans' depth of understanding about his homeland: "People know India through Indiana Jones [movies] think we eat monkey brains, stuff like that." Victories over the years by Daniel Chopra (half Indian and born in Sweden) and Vijay Singh (Indian heritage but born in Fiji) made decent ripples on the India sports scene at times, so maybe Atwal's victory can chase a few more cricketeers toward another sport with sticks, balls and funny attire. Atwal isn't eligible for the FedEx Cup, which means four of the 37 winners in PGA Tour-sanctioned events from this season are not in The Barclays field this week.
So what's the problem here, exactly?
Apparently, everybody expects Rory McIlroy to walk around in spiked feet, yet on eggshells. He made a few honest remarks about Tiger Woods and the Ryder Cup that drew some catcalls from critics who think he has provided bulletin-board material for the U.S. team. We thought that was our job. Said McIlroy: "I would love to face him in the Ryder Cup. ... Unless his game rapidly improves in the next month or so, I think anyone in the European team would fancy his chances against him." What's so incendiary about that? Woods is about the fourth-best tour player with a membership at Isleworth right now -- fifth, now that Atwal has won. I think Paula Creamer could take him at the moment (now there's some performance-provoking material). McIlroy also complimented Woods, sort of. "There are a lot of Americans playing better than him at the minute, but it's always an advantage to have Tiger in your team," he said. Pencil it in for Ryder singles -- Rory vs. Tee-Dub. If the matches are as lopsided overall as some expect, it might be the only drama we see on Sunday in Wales.
Hu's on first, Ai dunno's on third?
Has there ever been a bigger vacuum atop the world rankings, be it male or female, at the moment? And by vacuum, I don't mean that players are sucking, necessarily. Woods is hanging on as world No. 1 only because Phil Mickelson wasted nine straight chances to unseat him with some decidedly uninspired golf. The women's game has turned into a veritable revolving door of players since Lorena Ochoa bailed out this spring. Japanese star Ai Miyazato, who was unseated from the top spot earlier this season, reclaimed the No. 1 position Sunday. Woods, barring an insane turnaround in form, seems destined to lose his spot by sheer attrition -- Mickelson likely will play in all four FedEx Cup events and Tiger probably won't. "I think it's going to be back and forth again," Miyazato said, unintentionally speaking for both genders. "I don't really feel like I'm that far above everyone else, so that's why I think that the rankings will still keep on changing." While it has been interesting to track, fans seem to prefer a familiar face and force at No. 1, so they have somebody to root for -- or against. You know, like the Yankees, Lakers, Cowboys, Tiger or McEnroe.
If the regular season is over, is this the irregular season?
If the sense of anticipation hasn't gripped you, don't be alarmed. Now entering its fourth iteration, the FedEx Cup playoffs begin this week at The Barclays in suburban New Jersey, where there are a few holes in the postseason roster, to say the least. Missing are three of the major winners from 2010 in Graeme McDowell, Louis Oosthuizen and Martin Kaymer, because none were PGA Tour members at the time they won and are ineligible for the FedEx race. Woods, who finished the "regular season" at No. 112 in points after winning the FedEx titles in 2007 and 2009, at minimum must make the cut in order to advance to the second series stop outside Boston. Barring more withdrawals, and there have already been three, Woods is playing the first two rounds alongside journeymen Cameron Beckman and Troy Matteson, both tour winners, but not guys he's used to seeing at this point in the season. The FedEx series does not replace players who withdraw, so the field is short at 117. OK, now feel free to discuss the Ryder Cup.
Losing the plot
The guys at PGA Tour HQ are not going to like this, but with the deadline for making the European Ryder team set for Sunday, the subplot this week is at least as delicious as the primary script. At the moment, as the nine automatic spots keep evolving, four incredible captain's pick possibilities are set to play The Barclays: Paul Casey, Luke Donald, Padraig Harrington and Justin Rose. All four are ranked in the world top 22 and have been on past Ryder teams, but other players entered overseas are also in the wild-card mix, including Ryder vet Miguel Angel Jimenez and rising Italian star Edoardo Molinari. Euro captain Colin Montgomerie will announce his picks Sunday after the European Tour event at Gleneagles is finished. Which guy would you kick to the curb? It might be Harrington, who hasn't won in more than two years and was a disaster in the 2008 Ryder matches, finishing 0-3-1. Squirm, Monty, squirm.
Down

Pssst, buddy, wanna buy some black-market golf balls?
While the golf world was still fixated on the Dustin Johnson rules debate, the governing body of the game in the States was off staging a black-ops outing featuring pro players on the Canadian Tour. What transpired was a veritable UFO-style, Area 51 endeavor that ought to make everybody involved ashamed for taking part. The USGA four years ago asked manufacturers to produce balls that flew 20 percent less off the tee than current spheres. On Monday, the Canuckleheads went out with the restricted-flight balls and gave the decompressed models a go. The USGA instituted a gag order to players, who were paid, and initially declined to admit that ball testing was taking place. Among those players who had the guts to break silence, some liked the new ball and some didn't. But that's beside the point. The USGA not only should be guardian of the rules, but also should exhibit some shred of transparency and integrity. Already, the organization has fallen asleep at the wheel on technology issues and has been playing catch-up ever since, including trotting out a grooves rule this year that has proven to have almost zero effect on professional play. The USGA is supported by member funds, including mine, and there's no reason for the cloak-and-dagger veil of secrecy. It's time the interests of the game were put before those of the manufacturers. Who are we protecting here, and why? People will always buy golf balls, whether they fly 300 yards or 275 off the tee.
Dissing the disqualifiers
The game took a pretty good beating after last Sunday's bunker incident at the PGA Championship, especially among those who don't have a grasp of the nuances of the rules and regulations. After last weekend, let the ragging continue. Two more head-shaking bombs were dropped on leaders when Canadian Tour player Jose Rodriguez shot 61 in the third round to take the lead and was disqualified for forgetting to sign his card (Michelle Wie did the same thing once) and Hall of Famer Juli Inkster was DQ'd for using a warmup device between shots during a lengthy delay in her round in the LPGA event last week, costing her second place with a round remaining. We have lamented for years the necessity for paper scoring at pro events, because in an electronic age it has become essentially moot to resort to quills and papyrus. Our position there has not changed. But for a 50-year-old to get sent packing for trying to stay loose during a 30-minute delay, that's cruel and unusual punishment. Small wonder most amateur recreational players ignore the rulebook. All of this minutiae nonsense in the span of seven days, yet the USGA still lets people anchor long putters to parts of their body?
Of T.W. and TV
In a revealing look at the slide in the PGA Tour's television ratings, the New York Times reports that the numbers have been in a vexing decline this year, in part because Tiger Woods hasn't been relevant at the past two majors. The British Open was a disaster for ESPN with runaway and largely unknown South African winner Louis Oosthuizen, while the PGA Championship numbers dropped 35 percent from last year, when Woods dueled Y.E. Yang and blew the first 54-hole lead of his majors career. Yang, Oostie and PGA winner Martin Kaymer of Germany are part of a secondary issue that has contributed to the ratings skid at least as much as Woods' sloppy play -- they are part of a wave of foreign domination that shows no end of abating. With the win Sunday by India's Atwal in Greensboro, international players have now won 13 of the past 19 events sanctioned by the PGA Tour, including three successive major championships. Overall, it represented the 19th win by an international player in 37 events this year. Sure, the globalization might be good for the growth of the game overall, but it probably isn't going to fatten up the American rights-fee numbers when the negotiations begin anew with NBC and CBS next year. Overall, ratings are down 16 percent from last year, continuing a trend. Maybe this is why the tour is already laying off employees.
Ringing in the FedEx
So, despite a legion of guys seeking to throw Hail Mary passes at the final gun, exactly one player from outside the top 125 moved into the FedEx Cup playoff picture on Sunday at the last qualifying opportunity in Greensboro. American Scott Piercy hit a clutch approach shot on the 18th to secure his spot at No. 125, moving up 15 spots. About the only thing in Greensboro that created less of a buzz was the tournament's widely discussed cell-phone experiment, in which fans were allowed to bring their mobile phones -- which typically are banned and confiscated -- to the course and use them in prescribed areas. If there were any nerve-jangling incidents with a fan phone and player, it didn't happen while I was napping. Um, watching.