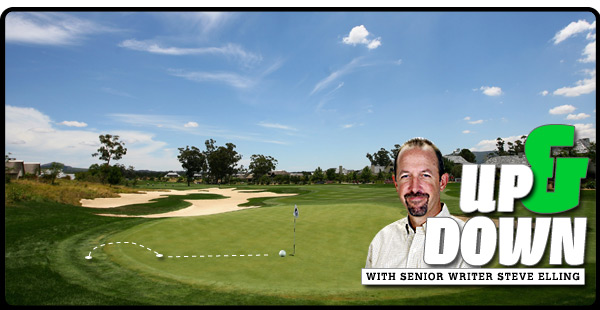 If you had a remote control in hand, Sunday's golf menu offered one of the most memorable, must-see days in years. First, Italy's Edoardo Molinari birdied the last three holes on the European Tour in studly fashion to win by a stroke and cement a wildcard spot on the European Ryder Cup team, followed 90 minutes later by captain Colin Montgomerie's three official at-large picks, which sparked a frenzy of second-guessing and emotion on both sides of the Atlantic. Later, an American actually won the U.S. Amateur title for once, then the steadiest player on the PGA Tour hit a career-defining shot to win The Barclays title in a playoff and moved to No. 1 in FedEx Cup points. Finally, star-crossed Michelle Wie won her second LPGA title and hardly anybody seemed to notice. CBSSports.com senior writer Steve Elling sifts through the ticker tape left behind after a whirlwind week.
Viva Italia

Before their day at The Barclays began, the foursome of European ex-pats hoping to earn captain's picks Sunday from Ryder Cup captain Colin Montgomerie knew that one of the three available spots was gone. Italy's contagiously courageous Edoardo Molinari birdied the last three holes to win the Euro Tour event in Scotland by a stroke, effectively cementing a spot on the team. It was brilliant stuff from the 2005 U.S. Amateur champion, who a year ago was playing on the developmental Challenge Tour. Molinari is creative, charismatic and personable, sort of like Sergio Garcia without the annoying traits. The presumed Ryder tandem of the Brothers Molinari, who paired to win the team World Cup event for Italy last fall, will be one of the event highlights of the Ryder matches Oct. 1-3 in Wales. Can two rookies from Italy team up to force the Americanos to bid arrivederci to the Cup? It could be the highlight of the competition.
Lefty gets it right Write this down in bold, because these words are not often typed: Phil Mickelson is absolutely right. The world No. 2 came to a boisterous defense of Jim Furyk last week when the latter was kicked to the curb at The Barclays for barely missing his tee time at the Wednesday pro-am, which Mickelson derisively called "ridiculous." Unlike his soapbox stand on the grooves rule earlier in the year, when he made a confusing issue even more vexing, Mickelson's point was coherent: Only half the field is asked to play in the pro-am each week and the other players get a free pass. Furyk's cell-phone battery died, the alarm didn't sound, and he missed his ceremonial pro-am time by a few minutes -- the second pro-am whiff in 17 years as a pro, Furyk said. Fine the player, make him host a dinner with his pro-am partners or serve some other sort of penance, but Lefty was righteous on this point. No player should be booted from the tournament proper for a mistake made in an inconsequential outing with sponsors. It undermines the true competition.
Uihlein is the Titleist Sorry for the bad pun in the headline, but if Peter Uihlein's surname (pronounced U-line) sounds somewhat familiar, it's because his dad, Wally, runs the company that sells more golf balls than any other (think: ProV1) manufacturer. No question, the Oklahoma State product has had a few developmental advantages over the average Joe, including a summer pad at Lake Nona in Orlando, where seemingly half of the European Ryder Cup team resides, but he has made the most of it and has a bright future awaiting in the pro game. Think he'll get a club deal? Wisecracks aside, by winning the U.S. Amateur on Sunday, Peter helped bring to an end, at least temporarily, an American skid that had become a point of embarrassment to some. Think the guys on the PGA Tour are getting whipped by their overseas compatriots? The U.S. Am title had been won five times in the previous seven years by foreign-born players, including the past two in a row. During the entirety of the 20th Century, foreign players won the Am title a total of four times. On a shoreline course in Washington, Uihlein stopped the sea change. For now, anyway.
Woody's emancipation proclamation It's been months since Tiger Woods did anything that would land him in the Up category contained in this weekly scorecard, but last week's developments clearly call for a backslap. He played his best round of the year Thursday at The Barclays, and after a couple of mediocre putting rounds in the middle, closed with panache Sunday with a 67 to finish T12. It hardly conjured up memories of his eviscerating summers of the recent past, but for Woods it was a massive improvement of the crash-and-burn act he experienced three weeks earlier at Firestone. While he only used his driver perhaps a half-dozen times, he led the field in driving accuracy by bashing his 3-wood at every opportunity, and while his putting remains streaky and worrisome, there's not much doubt that he was more energized and upbeat than at any point in 2010. How much of that vibe related to his new-found bachelorhood or the uptick in his game under his brief work with swing coach Sean Foley, even Woods could not say. Regardless of the source of his semi-resurgence, and whether you root for him or against him, Woods' presence on the leaderboard is good for the economic vibrancy of the game. And on that front, for a guy who is reportedly looking at cutting a $100 million check to his ex-wife, he seemed darned perky last week.
Applying the vice grip

Monty's hands were tied. With at least five players for three wildcard spots, somebody was going home unhappy Sunday. Monty said he picked Padraig Harrington, Luke Donald and Molinari partly because of pairings issues and based on the past experience of the first two, Ryder veterans, whom he characterized as stabilizing forces. But the best part was when the Euro captain said he had asked Sergio Garcia to help as another vice-captain, claiming he'd be great in the team room and an asset to overall morale. Guess he didn't check with Paddy on that front, since the two hold each other in low regard. Recall the avoidance of any real contact in their memorable duels at the British Open at Carnoustie and PGA Championship two years ago? So, what, now Sergio gets to boss Harrington around in the team room or shadow him on the course in an electric cart? That ought to be good for some backbiting and gossip, huh?
When the belly gets smelly Ask anybody who uses a long putter, be it the broom model or the belly -- they help calm the nerves on the short puts but can be tricky on the longer ones because it's like putting with a sledgehammer with regard to touch. Ask Martin Laird, who was seeking his second PGA Tour title in 10 months at The Barclays on Sunday. He boldly slapped an eagle effort 7½ feet past the cup on the 17th hole on Sunday, but made the clutch comebacker to take a one-shot lead into the 72nd. Then, needing a two-putt from 23 feet to win, he slammed his birdie effort 7 feet past the hole and badly missed the next attempt, whereupon Kuchar eventually dispatched him in a playoff. Kuchar was as surprised as anybody by the 72nd-hole turn of events. "I was ready to go over and shake his hand," Kooch said. In a typically saucy fashion, the New York Post opined, "Some will call it the biggest choke job in golf this year, and it would be hard to argue with that." That's a tough blow for Laird to stomach, just like the lag puts on the last two holes of regulation.
Now, as for the fate of Furyk ... You want extreme irony? After he failed to show on time, another player was drafted into spot duty -- the tour makes a handful of players stand around in the event that somebody oversleeps -- and Furyk's replacement, Marc Leishman, led the team to a pro-am win. As for Furyk, he certainly didn't help improve his shot at the $10 million FedEx bonus. He started the week at No. 3 in points, and by virtue of amassing zero points last week, slipped to No. 8. With the Player of the Year award very much up for grabs -- Furyk is tied for the tour lead with two wins this season -- there's plenty on the table outside of cash, too. Oversleeping was an honest mistake, but it could cost him a not-so-small fortune when the FedEx dust finally settles. Maybe even enough to fill a pillowcase.
Like shooting fish in a barrel The caddie for a very prominent player stood outside the scoring center at The Barclays on Sunday, belaboring the point that the FedEx points system is both a mystery and a joke. He mentioned complaining to tour staffers last year and said he was told the 2009 "playoff" iteration proved idyllic: Tiger Woods won the $10 million bonus and Mickelson won the Tour Championship title. It made for quite the tandem photo. "To them, they said that was the perfect ending," the caddie groused. To fans, if not a few scribes, the points system remains a murky mess. For instance, Steve Stricker, the only guy who has played in every FedEx round since the series was established four years ago, began last week at No. 2 in seasonal points, then finished T3 at Barclays. Get this -- he didn't move up a single slot. Kuchar, who started the week at No. 9, leaped into first place. Martin Laird started at No. 95, lost in a playoff Sunday and jumped into third place. Something there doesn't pass the smell test, no?
Chambers of horror Didn't get to see much of the U.S. Amateur last week from Washington's Chambers Bay, but I could hear the screams of players in New Jersey, anyway. The place sure made an impression. Actually, those might be welts or permanent scars. During stroke play, the 7,700-yard public track, which is set to host the U.S. Open in five years, played to a stroke average of slightly over 79 while hosting the best collegians and amateur players on the planet. It looked so baked-out on TV, it cried out for Ted Turner colorizing. As it turned out, the USGA determined that the man-made course -- bad images of Whistling Straits are being conjured up in my noggin -- had such a deep sand base, they could not keep the grass from turning a nice shade of dead. Eventually, the officials apparently dumped the water equivalent of Puget Sound on the course, and it greened up and stopped playing with the firmness of a Formica tabletop. Good luck dialing in that setup issue over the next five years, fellas. It might take that long to find a solution. Hey, is Sahalee available?
What if Wiesy hoisted a trophy and nobody noticed? Given the LPGA broadcast times and crazy array of golf broadcasts around the world last weekend, odds are pretty decent that you might have missed a pretty fair storyline -- one that, any other week, might have been the top headline of the weekend. Michelle Wie won her second LPGA title Sunday at the Canadian Open, where she received a champagne shower from Christina Kim on the final green afterward. That's the second time that Wie, who got a beer bath after her first win last fall in Mexico, has been doused by spirits after a victory -- and she's still not old enough to drink. After a rough start to her career, Wie, now 20 and headed back to Stanford in a couple of weeks, has settled in nicely, become more self-sufficient and made some friends in the professional game. If she putts like she did last week, it's a safe bet that her newfound position as seventh in the women's world rankings is by no means her professional ceiling. Purely from a toolbox standpoint, she's got capabilities that few other female players have. Pity that with all the Ryder and FedEx craziness, there weren't enough hours in the day for many observers to eyeball it.