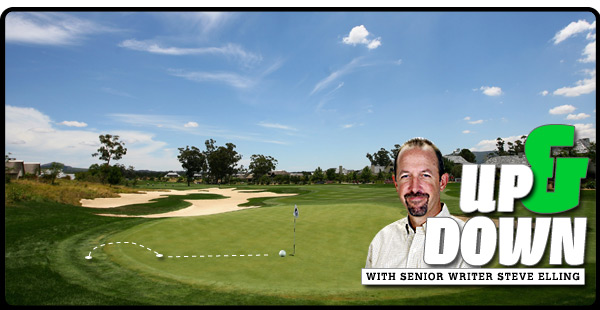 After a week of watching the world's best slog it out in a match-play bog in Wales, the professional ranks were back and doing battle in more recognizable format last weekend -- old-fashioned, count-'em-all stroke play. The end of the season is getting near, and the winners of several prestigious awards and accolades on the three major world tours are getting clearer. CBSSports.com senior writer Steve Elling has at last dried out from his week at the Ryder Cup and takes stock anew as some semblance of tournament normalcy returns.

Up
Kaymer the climber
The number is a bit creative, since it involved cross-sanctioned events on various continents, but understated German whiz kid Martin Kaymer on Sunday became the first player in four years to win three successive European Tour-sanctioned events with a stirring victory in brutal cold at the Dunhill Links at St. Andrews. "Actually, it is four in a row," he said, politely as ever, "with the Ryder Cup." So it is, sohn. While much attention has been focused on young players such as Dustin Johnson, Anthony Kim and Camilo Villegas over the past two years, there now is no question as to the identity of the best player under 30 -- it's the polite assassin from Germany. Kaymer now has a lead of a million Euros on the European Tour money list. With his win at the PGA Championship in August, which gives him four titles in 2010, he looks like a lock for Player of the Year. In fact, if there was a world player of the year, he gets my vote. On the social front, he doesn't have an arrogant bone in his body, either, which will bode well for his reception here if he takes up his PGA Tour card in 2011, which is a strong consideration. He already has a home in Phoenix and is dating an American, so he's halfway here already.
Kooch gets a grip on big awards
We should admire the man's moxie, if not his stamina. Matt Kuchar has had exactly two weeks off since the British Open and spent one of those weeks packing and moving out of his home in Atlanta. Not-so-fresh off the Ryder Cup, Kuchar honored his commitment to play last week at the new McGladrey event at St. Simons Island, where he recently bought a new home, and managed to close with a 68 that essentially clinched a couple of memorable awards. First, after entering the week with a .02 lead in the race for the venerable Vardon Trophy -- a bronze casting of two hands in the interlocking grip of the famed player -- he finished with an adjusted scoring average of 69.57 to edge Steve Stricker by .04. Of course, that's predicated on the notion neither changes his mind and elects to play again this year. Kuchar, a one-time winner in 2010, also tightened his grip on the money title by padding his total to $4.9 million, which represents the lowest total by a player to lead the tour in earnings since 1998. As a bonus, winning the money title carries a five-year exemption, which is a pretty good insurance policy for a player who was once bounced back to the Nationwide for losing his big-league card. By the way, Paul Casey sits third in the Vardon race at 69.66 strokes. But he's still not good or popular enough to make the European Ryder team, of course.
Green money and green jackets
So much for the theory that there's nothing much to play for in the Fall Series. In addition to some fairly decent coin, if not the right to remain in the big leagues for those on the top-125 bubble, the season-ending series has already provided two players a huge springboard into the biggest major of the year. By virtue of their wins at the Viking Classic and McGladrey, Bill Haas and Heath Slocum have jumped into the top 30 on the money list. If they hold their positions through the season-ender at Disney World next month, both are assured spots in the Masters in April. Personally, I get a perverse thrill out of this because Augusta National has deemed the Fall Series events not worthy of receiving automatic exemptions for the tournament winners, but Haas and Slocum have wedged their way into the field regardless.
Trading Auld Sod for new
It's not exactly a huge surprise, since he has played in the States intermittently for years, but U.S. Open champion and Ryder Cup winner Graeme McDowell is the latest man with an Irish lilt to jump to the American shore, joining countryman Rory McIlroy as a member of the PGA Tour in 2011. McDowell, who attended college in the United States and has a home at the same Orlando club as several of his Ryder mates, including longtime U.S. tour member Ian Poulter, said he will play the required 15 tournaments in the States in '11 and also keep his European card in the process. Shouldn't be particularly hard, since seven tournaments in which he is all but guaranteed entry count toward both totals. In case you hadn't noticed, the Northern Ireland native is nearly as animated and articulate as Padraig Harrington, the effervescent Irishman and three-time major winner. With Germany's Kaymer also likely to set sail for the States, it would mean that 18 of the 24 players from the Ryder Cup will be playing a full schedule here next year. The PGA Tour smorgasbord, which currently features 77 international players from 21 nations, gets even more diverse.
Love walks through the door
Davis Love is personable, articulate, funny, even a little self-deprecating. In short, when joined with his Hall of Fame résumé, he has all of the attributes necessary for being an ideal candidate for Ryder Cup captain. Not to pick on Corey Pavin, but when the PGA of America installed him as captain two years ago, it didn't take a visionary to see it was going to be a boring run-up to the Cup. Pavin was so mind-numbingly vanilla during the matches, one outlet began calling him Borey Pavin. Coming on the heels of Paul Azinger's stint at the helm, the contrast could not have been more stark. Love, 46 and a former PGA Championship winner, wanted no part in being captain in 2010, but doesn't want to miss the boat next time around, especially with the matches set for a home game in Chicago. Smart guy. "If you asked me two months ago, I'd have said no, I don't want to take any chance on screwing up playing," Love said. "But now I look at it, I don't want to take any chances on not getting to be the Ryder Cup captain." The PGA of America, which runs the Ryder in the States, ought to be sticking a contract under his nose as soon as possible. Two years of yawns were enough. It's an exhibition -- anything that can be done to accentuate the golf itself is a good thing. Besides, if not Love, then who?
Loving the 18th, hole-heartedly
With all the global golf happening Sunday, it was easy to miss the quirky accomplishment of Nationwide Tour player Scott Gardiner at the Chattanooga Classic. It wasn't just that he survived a four-hole playoff with two other players and climbed to No. 24 on the money list, which would land him a PGA Tour card for 2011 if he maintains that spot through the three remaining events, it's how he did it. He birdied the par-5 18th in the first round, then eagled it in the second. He birdied it again Saturday and secured a spot in the playoff with a clutch 20-footer for another birdie Sunday. Amazingly, the 34-year-old Australian birdied the hole three times in as many opportunities in the playoff before winning his first Nationwide title. So, in seven tries, he played the hole in 8 under. If Gardiner earns his PGA Tour card for next year, it won't be mostly attributable to one particular week, but one particular hole.

Down
Rankling with rankings
What do Phil Mickelson, Sergio Garcia, Jim Furyk, Steve Stricker and Lee Westwood have in common? Every one of 'em has climbed to world No. 2 at some point over the past three years and failed to displace Tiger Woods atop the heap. Well, until Westwood, anyway, who because of the curious manner in which the points ebb and flow over a rolling two-year span, is poised to unseat Woods while seated on his posterior. Westwood will dislodge Woods later this month even though he isn't planning on playing because of his nagging ankle issue. Amazingly, at the point he supplants Woods, Westwood will have played in one tournament in a nearly three-month span. Ridiculous as it might sound, Westwood is already ranked No. 1 in the Sagarin/Golfweek rankings, which use a completely different statistical measure. With a chance to finally knock off Woods and climb to No. 1 for the first time in his career, Mickelson failed in spectacular fashion in 13 consecutive starts. But Lefty did note that if it was going to happen, he hoped it was because he was playing well and earned it. Well, there's not much doubt that Westwood managed it partly by attrition. Sort of like how Boise State is likely to eventually become No. 1 in college football.
Merritt gets turned inside-out
For those of us who watched the guy cruise through Qualifying School last fall as the frontrunner for six days, there was little doubt that talented, seemingly fearless rookie Troy Merritt would keep his card this year on the PGA Tour. He never batted an eye. Well, now it's the time of year when everybody is blinking, and Merritt is exhibit A as to why the Fall Series can provide some crazy twists and turns and serious gastrointestinal distress. Merritt entered the McGladrey Classic ranked No. 124 in earnings, one spot inside the number required to keep his card. He played in the final group Sunday with winner Heath Slocum. Merritt promptly shot 41 on the front nine and, despite being poised to put a huge cushion between himself and the 125 slot, actually lost three spots on the earnings list and is now on the outside looking in. Trust us, one title nobody wants to defend is that of Q-School medalist.
Yang has Noh worries about kid's collapse
It was lost amid a very busy schedule, but Y.E. Yang, who started Woods' personal and professional fall last summer by whipping him head-to-head at the PGA Championship, pulled off one of the biggest comebacks in recent professional history by rallying from a 10-stroke deficit in the final round to win the Korea Open. It usually takes a weird confluence of talent and torment for a 10-shot lead to be overcome, as was the case when Paul Lawrie won the British Open as Jean Van de Velde collapsed at Carnoustie. This time, 19-year-old leader Seung-yul Noh took a huge header and opened the door for Yang, who had a very disappointing year in the States. Noh had six bogeys and two double-bogeys and finished with a 79 in the closing round, though he has already proven he has the chops to play with the big boys after winning a European Tour event in Malaysia earlier this year. "To have that swing and that game at 19 is amazing," Yang said. "He's so far ahead of where I was at that age. His talent is incredible."
Daughters and dollars of Uncle Sam
When Cristie Kerr bogeyed the ninth hole Sunday at the Navistar LPGA Classic, it marked the first time she hadn't held at least a share of the lead since the 15th on Thursday. But we're taking a far more macro view of things here. Kerr shot a throwaway 72 on a day when players were destroying the course, finished a disappointing T3 and thus wasted a chance to pocket far more money in her bid to become the first American to top the LPGA earnings list in an incomprehensible 17 years. Annika Sorenstam won the money title five years in a row starting in 2005, while Lorena Ochoa won it from 2006-09. Both former world No. 1s are retired and out of the picture. Kerr is $125,000 behind money leader Jiyai Shin. The difference between winning and T3 on Sunday was $118,000. Kerr is about as embraceable as a barrel cactus, but if an American is holding the money title after such a long drought, that has to help the LPGA pitch its product with more success domestically and give the tour more currency with American fans and TV audiences. There are six tournaments left on the schedule before the season-ender in Orlando Dec. 2-5. How long has it been since an American won the LPGA cash title? Betsy King was the last to accomplish the feat, in 1993. She is now 55 years old. Sigh.