Tiger's off No. 1 perch, yet ratings questions linger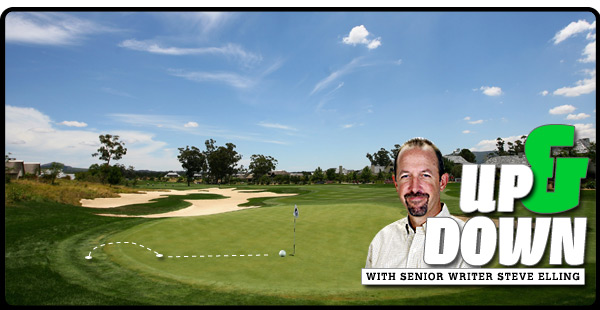 These are confusing, confounding times. We have a new world No. 1 for the first time in more than five years and the game's newest transcendent player assumed the top spot from Tiger Woods while watching golf on television with his family on Sunday. But at least the computerized tableau sets up an interesting event later this week in China, where three players have a chance to supplant newly minted No. 1 Lee Westwood with a win in the final World Golf Championships event of 2010. CBSSports.com senior writer Steve Elling sorts through the international intrigue.
Up

When rankings rankle
All hail the new chief. Plenty of scribes wrote variations of the sentence over a period of weeks in the middle of the year, particularly after Lee Westwood won in Memphis. Over the past year, if not more, he was the true No. 1 player in the world, not Tiger Woods, who was hanging on to the spot based solely on his previous body of work from earlier in the two-year grading period. Now that Westy has officially supplanted Woods in the top spot, despite playing one tournament since July, it feels all wrong. It's like giving out a posthumous Oscar. What's next, a Grammy for the late Ronnie James Dio? The numbers support his ascent because nobody else has seized the moment, but timing is bad. Westwood climbed the ladder while watching the European Tour broadcast Sunday at home, and popped some champagne when the event ended and his spot was assured. But should the rest of us feel bubbly? "To become No. 1 you have to win and win a lot to maintain it," Woods said Monday in Japan. Not really. Westwood has one win in 2010. This week in China, Woods and two others have a chance to unseat Westwood. Maybe somebody will ascend to the game's top position the memorable way –- by actually winning something.
Ruminations on numero uno
Want to win some beer nuts in a bar bet? After Tiger Woods, can you name which American player has spent the most weeks at No. 1 since the world ranking was first unveiled in 1986? The answer will amaze, and probably embarrass, many of you flag waver-types. Second in longevity is Fred Couples, who spent a meager 16 weeks in the top spot, exactly seven days longer than did David Duval. The only other Yank to claim the mythical title was Tom Lehman, the top gun for exactly one week. The Americans are the dominant force in golf, huh? Outside of Woods, the trio held the top spot for a combined 32 weeks, which is less than the individual totals of Greg Norman, Nick Faldo, Seve Ballesteros, Ian Woosnam, Nick Price and Vijay Singh –- all international players. Of the 13 players to reach No. 1 since the ranking was first released, 10 are foreign born. Westwood becomes the fourth player to reach No. 1 without having won a major, though all 12 players before him eventually claimed at least one Grand Slam title. Incidentally, the Sagarin ratings compiled by Golfweek, which places a heavier emphasis on recent play and head-to-head performance, Westwood is ranked first, in order, over Steve Stricker and Matt Kuchar, followed by Phil Mickelson and Woods. So the short answer is, no perfect ranking exists. That point was made clear this week, but maybe the controversy will prompt some nerdy kid in his mom's basement to fine-tune a better system.
This is what we're talking about
Westwood didn't write the trigonometric mud that passes as the world ranking, so blaming him for his ill-timed ascent is unfair, but one player on Sunday took his future by the lapels and shook for all it was worth. Brendan Steele entered the Nationwide tour finale at 30th on the money list, five spots outside the number required to earn a promotion to the PGA Tour next year. In a five-hole playoff, he not only won for the first time on the developmental tour, he jumped to sixth on the final money list and guaranteed himself a good chance of playing in some early events in the majors in 2011. "I'd like to say it was a lot of fun but it wasn't," he said. "It was an absolute grind from the first tee shot all the way to the end." Four players who began the week inside the top 25 were bumped and are looking at return trips to Q-school later this month. Former USC star Jamie Lovemark, who lost a PGA Tour event last fall in a playoff, topped the money list and earned the de facto No. 1 seed in 2011 on the PGA Tour. Here's to new blood: 15 of the 25 promoted will be rookies, not retreads, on the PGA Tour.
Taking care of business at home
The two-week Asian detour is confusing for a variety of reasons for even the most devout fans. The tournaments in Malaysia and China don't offer official money, neither counts as an official PGA Tour victory, and the time difference make watching the event live impossible, unless you happen to be nocturnal. But the biggest mess is the timing. There's still a tournament left to be played in the States, the season finale at Disney World, next week, and the Asian vacation is putting a huge crimp in the tournament's stature. Last year, one player flew from China to the States to play at Disney. This year, the tally won't be much better, if at all. Disney confirmed that the tour is discussing moving the tournament back to October in 2011 and playing the two quasi-sanctioned Asian events afterward, which makes sense on so many levels, it should have been conjured up earlier. With Disney pushed into mid-November, some players in the Florida field next week face competing in the second stage of Q-school seven days later unless they fail to secure their cards. Moving Disney up two weeks would relieve some of that stress and restore some semblance of calendar credibility to the disjointed Fall Series, which this season actually began during the Ryder Cup. Disney is celebrating its 40th year as a tour event next week. Here's an idea that isn't goofy: Why not take care of the loyal domestic events before diluting their fields with overseas flights of fancy and no-cut cash grabs?
General motoring
According to a highly credible report, General Motors is looking at getting back in the golf sponsorship business after a one-year hiatus to, you know, powerwash off the red ink from its government bailouts. The huge-money PGA Tour event at Doral is said to be the sponsorship target with Cadillac as the particular signee. Let's be clear -- the only thing more unsettling than using public funds to prop up private business is when those companies use portions of that money to sponsor sports events. For instance, Chrysler and Buick did it before bailing on their tour sponsorship deals. But in truth, the public has been forking over so much unwitting money for sports, it can't keep track of where the dollars go. Here in Orlando, a downtown arena built largely with public tax funds just opened with an NBA team as the sole tenant. More directly, unwitting cable TV subscribers fund professional and college entities through subscription fees paid to ESPN or other networks, whether they watch those stations or not. It's easy to grow tired of tilting at windmills. All this stuff just makes what hair I have left turn gray and quickly fall out. Sigh.
Down

All tricks, no treats
As the one-year anniversary of his career-altering car crash approaches, Woods is again back in the news for all the wrong reasons. Firstly, he was unseated after five years atop the world rankings, the result of his first winless season in official PGA Tour competition. Second, the public vestiges from his extra-marital sex scandal continued to linger like a bad smell, with one of his alleged dalliances unveiling a kiss-and-tell book in which she incomprehensibly blamed ex-wife Elin Woods for Tiger's behavior. (Sarcastic aside: Yeah, Elin was occasionally out of the house while completing her college degree. She's obviously a terrible person). Perhaps worst of all, Sunday night's holiday brought out the parodies. A Boston media outlet reported that a local costume shop sold out of Tiger Woods-themed Halloween costumes, which featured a fake golf club through the head, and a Chicago city councilman is in hot water for wearing blackface as part of the Woods outfit a pal wore to a party. For the Tiger-bashers, and there are plenty of them, the residual effects of the scandal are like having Halloween every day -- free candy.
Easy come, easy go
It was quite a Friday for the Empire State, where fans learned in a span of hours that the LPGA had re-upped for two years with its popular and well-attended event in Rochester, while the PGA Tour announced that its event at the Turning Stone casino had rolled craps. Turning Stone began four years ago as a Fall Series event and the casino put up an enormous purse to make a splash, producing winners like Dustin Johnson and Matt Kuchar. This year, the tournament agreed to be moved into the so-called FedEx Cup season, although as a third-tier "opposite event" staged the same week as a World Golf Championships tournament. Rather than wait a bit longer for an open spot to become available in they deemed an "unencumbered" week –- that seems almost a certainty in the next year or two since three 2011 events don't have title sponsors -- the casino said it would pursue other unspecified tournaments instead. As the lyric goes, you've gotta know when to hold 'em and know when to fold 'em. If the casino had been a bit more patient -- remember, the place is run by a guy who thought it was a good idea to give himself a sponsor exemption -- it seems a mortal lock that a spot on the calendar would have opened eventually. After all, other locales, like Tampa, waited for an opening and eventually succeeded.
Can any of you guys read?
The Mission Hills golf complex in China, undoubtedly the most sprawling golf resort on the planet with signature courses by everybody from Annika Sorenstam to David Leadbetter, hosted a celebrity event as a means of drumming up publicity last week. If you thought famous folks like participants Hugh Grant or Matthew McConaughey were vapid types, you won't believe what the professionals who participated in the event did. Three different prominent players were zapped for rules infractions because they were too busy to read, if not grasp, the rules sheets -- paging Dustin Johnson -- and thus were hammered by added penalty shots. PGA Tour veteran Ryuji Imada was hit with 13 separate two-shot penalties for taking incorrect drops when lift-and-clean provisions were enacted and was credited with a 97 after taking the world's first 26-shot penalty. "I'm an idiot," he said. And not the only one. Former world No. 1 Nick Faldo picked up a putt on one green, unaware that the 18 professionals on hand were required to complete every hole. Worst of all, veteran Colin Montgomerie cost himself a chance to win when his caddie removed an advertising sign from his line of play, rather than take the required line-of-site drop, and was whacked for two shots. Monty paid the steepest price because his gaffe cost him a chance at $1.28 million, which was won by Lorena Ochoa, a retiree, and, you know, a girl.
Konichiwa and welcome to the majors
The Japan Tour last week, after a top official admitted to the tour being disgraced by the drug bust of one of its players, agreed to implement random testing next year, joining the PGA, European and LPGA circuits in that regard. Earlier this year, married Japan Tour veteran David Smail was publicly humiliated after it was learned he had been carrying on a lengthy affair with a Japanese woman who wasn't his wife. Smail is a 13-year Japan Tour veteran and the top-ranked player from New Zealand in the world. The woman claimed she had a sex tape and more than 2,000 photos of Smail. Welcome to the big leagues, Japan. Plenty of room left on the police blotter and in tabloid headlines for your players, too. By the way, American rookie Matt Every, in the midst of a three-month suspension from the PGA Tour as a result of his pot bust in a hotel room while playing at the John Deere Classic, is set to return next week at Disney. Is Smokey one of the Seven Dwarfs?