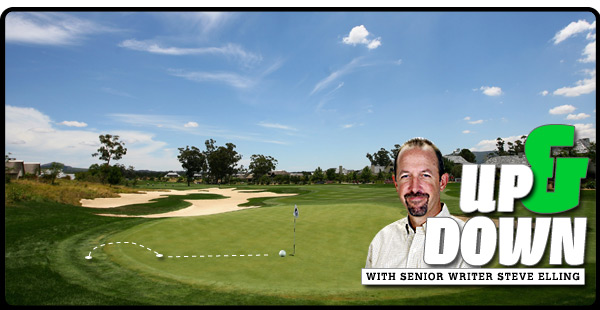 The richest tour on the planet has put it in park for the year, at least officially, but they are still plowing away on the European and LPGA circuits as the PGA Tour castoffs come to grips with the final results last weekend at Disney World. CBSSports.com senior writer Steve Elling looks forward, backward and sideways at the victors and vanquished.

Up
Feeling sky high the right way
Robert Garrigus ought to change his name to Robert Garrulous. Always a popular guy with his peers and downright chatty with the media who bothered to speak with him, he never hid from his spectacular failure this year at Memphis, when he absolutely butchered the 72nd hole to blow a three-shot lead, then lost to Lee Westwood in a playoff. In fact, he swore he would use the cataclysm as a growing experience -- but we've heard that before from plenty of guys whose spirits were so crushed by failure, they never resurfaced. Garrigus, indeed, seemed to learn from his header -- if nothing else, he remembered to wear darker pants Sunday -- and he cruised almost effortlessly to his first PGA Tour victory at Disney World. Garrigus hits it big and used to live even larger and has freely discussed his stint in rehab and wild partying days -- if he was one of the seven dwarfs, he would have been Dopey -- and became the first guy to win while leading the tour in driving distance since John Daly. First, Garrigus turned his life around. Sunday, he did the same with his career. He also authored the best line of the week, when told that Rory McIlroy was quitting the U.S. tour after characterizing the FedEx Cup series as being all about money. "Did he think it was about free shipping?" Garrigus said.
Ole, ole, ole, Ollie
The U.K.'s Sunday Post, in a story not available on the Internet, reported that while the final announcement won't come for several weeks, Spanish hero Jose Maria Olazabal has already been selected by European Tour brass to captain the next Ryder Cup team in Chicago in two years. Ollie is exactly the right choice, a player who picked up where Ryder hero and countryman Seve Ballesteros started, won two Masters and, despite medical issues that have cost him several years in his prime, is conversant with players on two tours. Ollie used to be a PGA Tour member and among his friends, none other than Tiger Woods holds Olazabal in very high regard. According to the report, Ollie met with E-Tour officials and assured them that his medical issues would not interfere with his captaincy. Ollie was the obvious pick and a selection few can take issue with. Now, if the PGA of America will sign Davis Love to ride herd over the U.S. contingent, the unthinkable will have happened -- the two most qualified guys will have been given the captaincy jobs. Might be a Ryder first.
Kodak's photo finish
Is it a good idea when the subplot threatens to swallow the week's focal point whole? In the event of the second Kodak Challenge, nobody seemed to mind. After all, the $1 million on offer from the title sponsor was a bigger chunk of change than the winner's share at Disney. All week long, the trio of Troy Merritt, Rickie Fowler and Aaron Baddeley jockeyed around for the lead in the cumulative-score contest, compiled on 30 holes over the arc of the season, and about 10 seconds after the PGA Tour regular season was officially finished, they teed off on Disney's 17th hole in the winner-take-all contest. Merritt, a rookie, stuck his approach to about 18 inches for a kick-in million, giving the tour and the sponsor exactly the exclamation point it sought. The only way it can be made better? Designate Disney's easy 10th, a short par-5, as the Kodak hole next year so that eagles come into play in the series finale.
Hiccups, belching and barfing
This is going to sound a little like the decidedly perverse movie line from George C. Scott, playing the role of General Patton, as he surveyed a body-strewn battlefield in WW II: "God help me, but I do love it so." Same goes for me during the final hours of the Disney finale. For the third straight year, the real battle wasn't taking place at the top of the leaderboard, but on the projected earnings total in the tour computer, where guys like Roland Thatcher, Brett Wetterich, Michael Connell and Johnson Wagner all staged massive final-week rallies to climb inside the top 125 in earnings. But before they could get out with their hides, and their 2011 tour cards, Wagner and Wetterich fell back, ensuring a return to Q-school. In Wetterich's case, he dropped all the way out of the top 150 and faces playing this week in the second stage of the three-tier tour qualifying process. What will be remembered more, Garrigus' win, or the five-footer Thatcher made on the last hole to keep his card on the number? For tension and sheer drama, it might be the latter.
Still the King
Arnold Palmer opened up his Orlando garage and personal workshop last week to the Golf Channel, which dropped by to tape a segment for its upcoming instructional series, 12 Nights at the Academy. Palmer kibitzed about the fundamentals of the game and proved again that as a storyteller, he's right up there with the best. He talked about his mom's squirrel stew, his dad's early coaching advice, how the game is largely devoid of personal style and identifiable personalities, and when he was finished, the career path of Tiger Woods, who recently hired his third swing coach. "I just sort of giggle," Palmer told a small group of scribes. "I think Tiger has a basically sound swing, and he should stick to it. Always changing, it just takes away from something that is really very good." As if on cue, Woods four days later played a wildly schizophrenic closing round in the Australian Masters and finished fourth, completing his first winless year as a professional in officially sanctioned global events.
The ultimate journey man
He answered to many nicknames: Sidney, El Sid and one Woods preferred, "Squid." One of the PGA Tour's most recognizable figures hung up his suitcase last week at Disney after 24 years as the traveling player liaison. In short, that means Sid Wilson was the guy who got yelled at by players whenever something went wrong, at every event, for half of his adult life. At a small reception staged in his honor last week, I asked the easygoing Wilson how many frequent-flier miles he had amassed while serving as the tour's fireman/schmoozer/father confessor over the years, and he responded, "About three." He meant 3 million -- and that was just on Delta alone. One of the tour's most borderline psychotic players liked to bark to staffers like Wilson, "Your job is to keep the talent happy." Somehow, Wilson almost always managed. In a decade covering the tour, I never saw a player scream at Wilson in public. Which isn't to say it never happened in private, to be sure, but nevertheless, Wilson never seemed to be in a bad mood. Said tour official Ross Berlin: "He will be impossible to replace." In fact, the tour will use two different guys to fill Wilson's well-traveled shoes. So when you have done nothing but travel for a quarter-century, what are you supposed to do as a retiree? "Good question," Wilson cracked.
When parity is your friend
Last year, Lorena Ochoa didn't lock up the LPGA Player of the Year trophy until the last hole on the last day of the last tournament of the season. Don't look now, but there's an outright team photo being taken as the women's tour heads to its season finale in two weeks, the LPGA Tour Championship in Orlando. During a season in which several players have jockeyed for the honor of top player after Ochoa retired early in the year, little has been settled. In fact, let's go to the next rung up -- nothing has been nailed down. World No. 1, Player of the Year, the Vare Trophy for lowest scoring average and the seasonal money title are all up for grabs with as many as six different players in the running for the various honors. In fact, about all that has been settled is top rookie, given to Spain's Azahara Munoz. The LPGA season finale faces some tough competition for the spotlight in two weeks, when the Tiger Woods Chevron event, Sun City event and the final stage of PGA Tour Q-school are being held the same weekend, but with all this on the line, there's little question which event is the most meaningful. Hey, maybe the LPGA can use this positive mojo to, you know, finally secure a title sponsor for the tournament.
Paying it forward
LPGA player In-Kyung Kim would not have made it to the States to try her hand on the world's toughest tour if not for a helping hand from a sponsor back in Korea. Her parents didn't have enough money to make it happen. When she won the Lorena Ochoa Invitational on Sunday, she made a surprising announcement -- she was donating her $220,000 winner's check to charity, including half to Ochoa's foundation in Mexico. "Everybody needs help," Kim said. "I think that's why I'm all about that." Even for a player who ranks No. 8 on the money list with $1.12 million, that's a serious bucket of dough equal to about a sixth of her yearly earnings. Truly impressive.

Down
Can you hear me now?
It's pretty easy to poke fun at the PGA Radio Network. After all, golf can be brutally boring to watch even with TV pictures added to the sensory mix. Minus that, well, it's a tough sell for live coverage. Still, the network has a solid lineup of chat shows, especially in the morning, with Peter Kessler, Chris DiMarco and other funny, knowledgeable hosts. Which is why the news that the folks running XM/Sirius aren't much interested in continuing beyond this year a bit troublesome. According to a source, the PGA Tour has been paid $4 million annually for the radio rights fees, and the celestial broadcaster isn't going to re-up. Moreover, it doesn't want to pay the salaries and travel costs for the folks who handle the live tournament broadcasts, either. Consequently, last week at Disney, the tour's radio crew had no idea whether they'll be back in 2011, and if so, in what form or fashion. Pardon the pun, but stay tuned.
Much ado about very little
The PGA Tour is preparing comprehensive data on the before-and-after that should be ready by midweek, but it doesn't take a real man of genius to see that the ballyhooed grooves changes of 2010 basically caused zero disruption. Don't really need the numbers on tour-wide greens in regulation from '09 and '10 to tell that as far as being a game-changer, the grooves revision was an early-season story deservedly forgotten before the West Coast Swing was in the books. One tour player last week laughed when asked whether the grooves had caused a problem and said, "Players made the adjustment. They should have changed the golf ball instead." Be interesting to see how the USGA and R&A spin the final data in defense of the rule, which caused about a zillion golf clubs to be rendered officially obsolete, either now or in the future. I don't really need to see the numbers. Other than a couple of flier lies out of the rough that helped decide some early tournaments, new grooves didn't seem to affect play one iota.
No. 2 with a bullet -- to the head
LPGA star Suzann Pettersen moved up three spots in the world ranking to No. 2 as a result of her runner-up finish in Mexico, which is symbolic in so many ways it's hard to tell where to start. Long considered a player who has trouble closing the deal, it marked her astounding sixth second-place finish of the 2010 season, against zero victories. She made a double-bogey on the fourth hole and got nudged aside by Kim, then failed to make any birdies over the final four holes and finished three back. "Another second-place finish," the very feisty Pettersen said afterward. "It sucks." Pettersen has as much athleticism as any player on tour. She's aggressive and attacks courses, unlike many female counterparts. Clearly something is amiss, either with her tactics or execution. If she keeps this up she could climb to world No. 1 without winning over a span of several months, and after the dust that was kicked up when Lee Westwood did likewise nobody wants to see that happen again.
The great divide
It was impossible to suppress a grin upon reading the news that Rory McIlroy had elected to forgo his PGA Tour card after one season on the U.S. tour, a development that was greeted by many U.K. media outlets with something approaching outright glee. One Irish paper, in a headline, called the development a "crushing blow" to the PGA Tour. Not only was the timbre and tone of the stories downright provincial, some news outlets abroad seemed to revel in the supposed black eye delivered to the U.S. circuit. Let's be clear here: Losing McIlroy, who won at Quail Hollow, as a member, means he will play in five fewer U.S.-sanctioned tournaments in 2011. No doubt he's an exciting player, but he completed one season in the States and it's hard to believe American fans were lined up around the corner to buy tickets when he played. With American players like Dustin Johnson, Anthony Kim and Rickie Fowler in the pipeline, most fans will never notice he has cut back on his starts. A crushing blow? More like a minor flesh wound. At least it'll make the Ryder Cup more interesting.
Appearance, disappearance
One major player who apparently won't be in the mix at the plotline-heavy LPGA finale next month is Michelle Wie, who is nursing a bad back, another in a series of career-long medical issues. Wie is unlikely to play the tour finale, management firm IMG says, but plans to play the following week at the LET's Omega Masters event in Dubai. It largely passed without comment that Wie has a huge endorsement deal with Omega, so that bit of scheduling news deserved far more scrutiny. For the second year in a row, Tiger Woods secured a $3 million appearance fee -- half of it controversially derived from taxpayer money -- to play in Australia last week at an event run by IMG, his management company. Presale ticket sales were off by 45 percent, Woods never remotely contended for the title, but IMG paid Woods his cash. Sometimes the idiocy and incest in golf makes you want to take a shower.