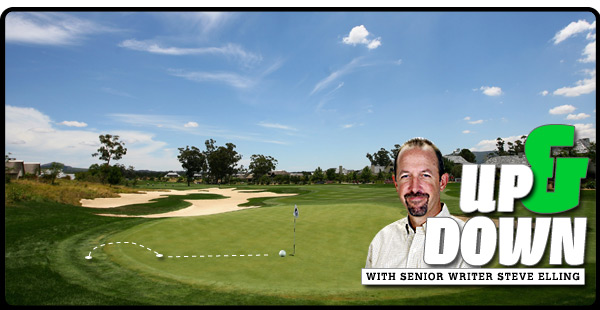 The turkey tryptophan has worn off. As we head into what effectively represents the final week of the 2010 season on two major tours, if not the last truly meaningful week for either, CBSSports.com senior writer Steve Elling sorts through the sands of Dubai, PGA Tour Qualifying School and the LPGA's incredibly crowded awards scenario this week at its season finale.
Up

Saluting many flags
If there's one particularly cool thing about the European Tour, it's the incredible diversity of its players. Sure, the foreign contingent in the States has been swelling for the past two decades, but the EuroTour is a veritable cornucopia of nations, languages, cultures and influences. Witness the money list as proof. Sure, the PGA Tour has its one-man United Nations contingent, a certain self-titled Cablinasian who seemed to win the money title every year before his personal issues derailed him in 2010. Overseas, Martin Kaymer held off Northern Ireland's Graeme McDowell last weekend in the Dubai season finale to top the tour's Order of Merit, making Germany the sixth different nation to send a player to the top of the Euro earnings chart in the past seven years. The sport's leadership factions can say what they want about growing the stagnating game, but having players from all over the Continent leading the increasingly important European circuit in earnings is as good for developing interest in the sport, and its professional tours, as any lip service paid to the Olympics movement.
How Swede it is
All things considered, I'll take Robert Karlsson in a heartbeat. For those who haven't managed to keep track of the card transactions of the past few weeks, the winner of the Dubai event last weekend is building a home in the Charlotte area and will join the PGA Tour in 2011 after earning $853,170 in the States this season. Bobby K., the nickname hung on him, is a big-hitting 41-year-old with quite a bit more color than, say, the comparatively bland Kaymer, who announced last week that he isn't joining the American tour after all. The 6-foot-5 Karlsson even says, a la countryman Jesper Parnevik, that he ate volcanic sand at one point in his career. Karlsson won the European Tour order of merit in 2008, was sidelined by a strange eye malady for much of 2009 before climbing back to No. 16 in the ranking with the Dubai victory Sunday. He lost in a playoff at Memphis this summer, so he should make an immediate impact.
Who's here, who's there
The sands keep shifting as if the world tours are in the midst of a Dubai windstorm. Last week, a few days before he secured the Race to Dubai bonus for finishing first on the EuroTour money list, Kaymer made it official and announced he will not be taking up membership on the U.S. tour. Kaymer, who won four titles this season including the PGA Championship, joins Rory McIlroy and Lee Westwood as players in the world top 10 who will be playing in the States no more than a dozen times next year as a result. But it isn't like the PGA Tour hasn't picked up a few commitments from other notables along the way. British Open champ Louis Oosthuizen and South African countryman Charl Schwartzel, a runner-up in Miami last year, will join the U.S. tour in 2011, along with U.S. Open winner Graeme McDowell and Karlsson, the 2008 European money leader. In other words, of the three foreign-born players who won majors in 2010, two are joining the American tour. In a word: Scoreboard.
All roads lead to Orlando
The biggest tours in the world for men and women intersect this week in Orlando, where the dichotomy of the final events of the year for the PGA Tour and LPGA could not be more stark. The LPGA Tour Championship is so full of top players, potential stories and plotlines, it's impossible to know where to begin. The Player of the Year, money list, world No. 1 ranking and seasonal Vare stroke-play trophy are up for grabs, which will provide a ceaseless string of daily developments. Located about 12 miles away as the crow flies is Orange County National, where the finals of PGA Tour Q-school will be held and the desperation meter will be ratcheted up several notches. The six-day funeral dirge, which begins Wednesday, nearly always delivers Cinderella stories and personal redemption, crash-and-burn finishes and improbable rallies to secure status on golf's biggest circuit. CBSSports.com will be alternately staffing both events, keeping you up to date on the triumphs and train wrecks at both events as the women seek to grab the top rung in their sport while the men fight to keep a hand on the upward-mobility ladder in some fashion, period.
Watch out for that tree I have mixed feelings about this particular corporate development, since my every DNA strand believes that companies receiving taxpayer bailout money should never use that cash -- indirectly or not -- to sponsor golf tournaments for millionaires. The notion feels one shot shy of outrageous, actually. But for the greater good of the global game, General Motors' return to golf sponsorship after deep-sixing the last two Buick stops in mid-contract because of bankruptcy in 2009 will be generally viewed as a positive development for the sport itself. There's one curious element, however, to the expected announcement Monday that Cadillac will sign on as namesake of the World Golf Championships event at Doral, which at least partly underscores why GM still owes billions in loan money to all of us. If you were going to become sponsor of a tour stop, and employed a marketing staff of dozens of alleged experts, would you pick the one-year anniversary of when Tiger Woods drove your flagship vehicle into an oak tree to announce it?
Down

Transatlantic trash, golf style
It isn't so much that top players have made a slew of headlines lately in aligning themselves with their designated home tours for 2011, it's the manner in which it happened. Last week, Kaymer announced that after much consideration, he won't be taking up his U.S. tour card in 2011 after all. Then the typically deferential and respectful Kaymer, speaking at the Race to Dubai finale to the European press, added this seemingly snide aside: "I think you play against the best players in the world [on the European tour]. You have all the great players here." Oh, really? All of them? We'll chalk up most of that brazen statement to a language barrier, although Kaymer's English is better than half the guys I know from the Florida Panhandle, but the snub only feeds a growing U.S.-vs.-them rift that has developed between the game's two biggest tours. Kaymer won four times this year and would win global Player of the Year honors if such an award existed, but I'm not sure he's the best player on a given day at his Scottsdale club, Whisper Rock, where the other half of the tour that doesn't live in Orlando seems to hang out. But Kaymer wasn't the lone guy to cause grimaces on this side of the Pond last week, as it turned out. Or even the most prominent.
Transatlantic trashing, Part 2
Days after the PGA Tour's Policy Board charitably granted a get-out-of-jail card to Lee Westwood and Rory McIlroy by changing a rule to allow ex-members the opportunity to play in the Players Championship and 10 other events, the latter strongly suggested that he would be skipping the so-called fifth major next year, set for the week after he defends his title at Quail Hollow in Charlotte. McIlroy said the famously democratic Pete Dye course doesn't suit him and that he would prefer to play springtime events in Europe instead. Earlier this year, Westwood said the World Golf Championships events had supplanted the Players in importance -- a laughable assertion given the tiny fields at WGC events -- and said it had fallen to around "eighth" on the scale of meaningful tournaments. To each his own, of course. Westwood rather famously doesn't love St. Andrews, either. But when the PGA Tour carves out an exemption specifically to allow those players who resigned their membership to play in its flagship event in Ponte Vedra Beach, and that opportunity is met in some quarters with indifference or criticism, well, the Atlantic Ocean has never seemed wider.
Flipping out
If the tableau sounded at all familiar, it's for good reason. Ian Poulter was zapped by an obscure rule violation his final playoff hole at the Dubai World Championship on Sunday when he dropped his ball, which landed on his marker, causing the "lucky" coin to flip. It resulted in an automatic one-shot penalty and Karlsson won the title. In 2002, at the Genuity event at Doral, Jesper Parnevik suffered the same fate when he dropped his ball on his marker and called it the "dumbest rule ever invented" and marked his ball with a tee for several rounds thereafter. Some of us recall the odd Parnevik issue -- that might be redundant in his particular case -- with a lot more clarity than we do the Genuity, which is one of an astounding six different titles that the Doral tour stop has carried since 2000. Monday, the PGA Tour was expected to announce that General Motors had taken over sponsorship starting in 2011, replacing software company CA, which lasted all of four years. By the way, two Parnevik references on the same Monday is definitely an Up & Down record.
Coin of the realm
No question, it's pitiable that Poulter's bid to win this third event of the year was marred by a rare and admittedly bizarre rules violation, which means that more than any other element outside of the Tiger Woods fiasco, 2010 will be recalled mostly for a string of bizarre infractions. Juli Inkster, Jim Furyk and Dustin Johnson were among the many who were either disqualified or damaged by penalties along the way, for violations both great and small. During a year in which the biggest player in the game was a non-factor, minutiae in the rulebook far too often became the major storyline.
Down Under blunder The PGA Tour for years has positioned and championed the Presidents Cup as a worthy alternate-year knockoff of the Ryder, its older and more esteemed counterpart in international team fare. So what should we make of the news that Michael Jordan has been appointed for the second time as an U.S. assistant, this time for next year's matches in Australia? How is anybody to take the matches seriously when a guy like Jordan, who isn't exactly a shining role model for the game and has been at least partly blamed for leading Woods down the road to temptation, was a complete sideshow at the 2009 matches in San Francisco, tooling around in a cart, causing security issues and mostly just getting in the way. In the most laughable statement associated with golf in years, he declined to conduct interviews and claimed he didn't want to be a distraction. He was the definition of a distraction, serving no purpose other than to trade tall tales with players in the team room. Jordan has been accorded inside-the-ropes access at Ryder and Presidents cups for years, lessening the sporting credibility of each. It's way past time to ask why, but not too late to wonder, why again?
Us vs. them, all over again
Call it what you will -- provincialism, territorialism or protectionism. When the PGA Tour enforces its long-established rules and regs regarding player membership, it's accused of being a bully. When the European Tour raises its membership minimum twice in as many years, it's ... what, exactly? EuroTour commissioner George O'Grady has always been a glib guy and a terrific interview, but he way overstepped his station last week in Dubai when he directly implied that Europeans who join the U.S. tour are being disloyal and that the European circuit hasn't applied any pressure to keep them from defecting. What an astounding sound bite of balderdash. "We're delighted Martin is staying loyal to the European Tour," O'Grady said last week of Kaymer's decision not join the U.S. tour. "We're not about, 'You must play here.' We're about, 'You must do what's right for your development as a golfer.'" Raising the European Tour's membership minimum from 11 to 13 events in the span of two years says all you need to know about the commish's self-serving propaganda. The U.S. membership rules have been static for years. The European Tour is making it harder for stars to be global players.